A completely naked women levitates her explicitly feminine body, gravity pulls her hair towards the floor, her legs kick playfully and hands caress – or protect – her breasts. It's an optical illusion, a hologram which twists and contorts as you scan it, in a provocative, erotic and yet vulnerable manner, as though waiting for Zeus to pull on his swan fancy dress gear.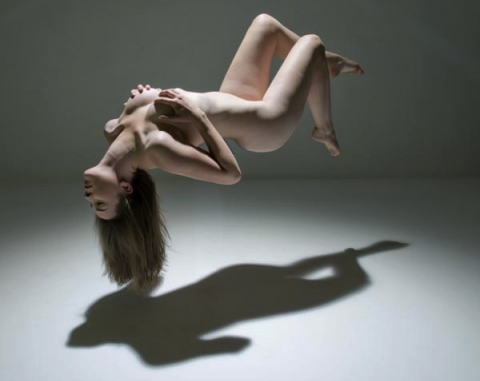 Naked ladies first attracted me to Derbyshire-born Jeffrey Robb's unusual art. At a London fair last year, which I attended with my girlfriend, Clare, I noticed out of the corner of my eye the shimmering holographic females, shifting their bodies in a teasing yet tortured way as we strolled past. I wheeled Clare around to study the fascinating work closer, which had about fifteen red dots in its left-hand corner – the piece was selling very well – and was justification enough to mask my rather excitable initial reaction.
Fast forward to mid June and, having researched his unique oeuvre, Jeff kindly agreed to take me on a personal tour of his exhibition in Shoreditch, Three Acts of Will, which, alas, had no naked ladies but further bolstered his reputation as one of the most exciting creators in Britain at the moment.
The best thing about his debut show, which was funded in a large part thanks to a portrait he produced of a nude Kate Moss (more of which below, fear not), is that this is what he really wanted to produce; pure and devoid of financial pressures.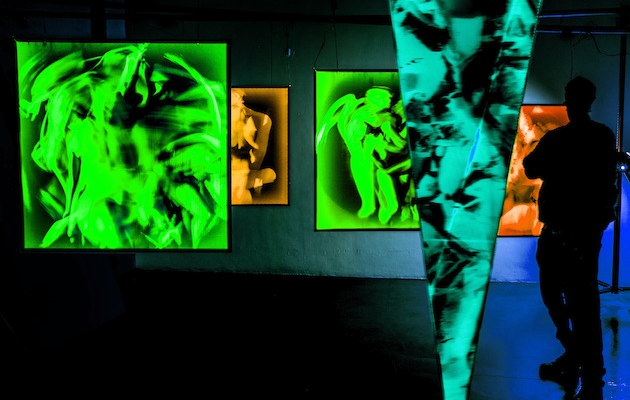 "It's completely not commercial," smiles a bespectacled and cheery Robb, who looks young for a 48-year-old (leaving me to conclude that the elixir of life must be linked to working with lithe, young models). "I've been desperate to do something that is not about making money, something that does not have those strains to it. I've not even had that in the back of my mind."
As well as coverage in the national press the exhibition has gained attention overseas. Why? Apart from being the purest demonstration of the artist's work it was the world's first ever holographic sculpture, "I don't really have any competitors," continues the Putney-based artist, "One maybe in Israel and one in America. If you are working in this medium you are not really competing with anyone. You are producing work for collectors. I've been told that people who purchase Canalettos also buy my work."
Three Acts of Will was set out in three large rooms and allowed visitors to marvel at and move between the holographic works, ideally for a good amount of time. "I wanted to do sculpture, to take my work off the wall and explore," Robb continues, "it really takes you on a trip." Indeed it does. In addition to the hypnotic works – which shift and evoke dream-like and, frankly, weird sensations throwing up deep, personal queries – it featured a soundscape engineered by John Was.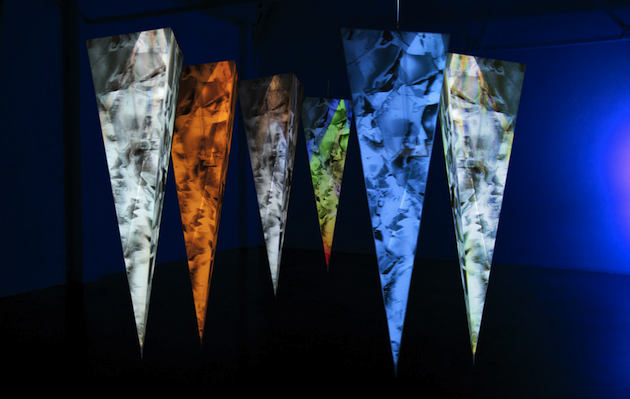 Moving from Genesis, the cavernous first room, where intriguing stalactites systematically throb with colour and trippy projections spill out below the art ("Someone said it could be the alien culture we have become, the energy of the universe…" Robb tells me), to the second room which houses a series of warping, free-standing screens, one begins to hear a synchronised tribal drum beat and the tones of Pele Cox reading her poetry.
"This is about the search for personality," Robb suggests, wafting towards one of the large screens, which flits from a very vague feminine outline to something more frightening and back again. "It has a certain violence…like giving birth, coming out of ether, dragged to reality – everyone wants a reason or an explanation but hopefully they are visually interesting."
The final room uses what Robb calls "hyper-kinetic material", as three panels which each feature a sketch of his young son, Thomas, and metallic strips, slowly turn, as though on a spit. The noise in this room is music punctuated by the gurgles, hics and giggles of his child, on a 15-minute loop. "Very small movements give you masses of animation," he says as we wander around this room. "You get this hypnotic abstract. You can really get lost in here.
"I think that people don't quite know what to make of my work," he continues. "They quite like it, but perhaps find it difficult to absorb. From experience people looking at holograms make up their own visual story. They come up with complete nonsense but it's as though they have to nail down some meaning.
"The experience of seeing it does not necessary translate in to photography, or even video. There is a dimensional, sensory thing you get from seeing it that just doesn't translate on to the web, or wherever. There is a side to me that quite likes that, though: you have to see the exhibition to understand it. You have to make the effort."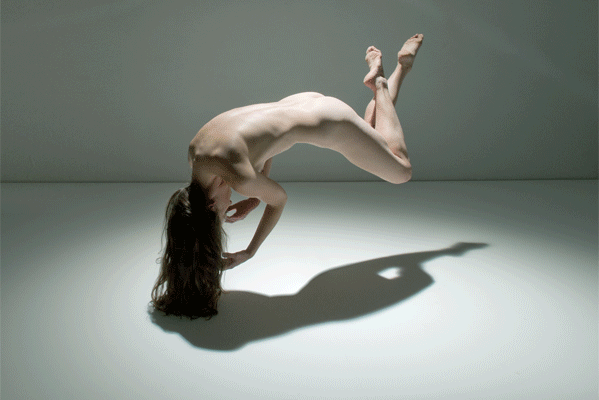 Shortly after our first meeting I called Robb to ask how Three Acts of Will had gone and he says: "The show really surpassed all expectations both in terms of the number of people attending and the success of the pieces that were very experimental. The feedback was unanimously positive. We hope to take the show to more venues and develop the sound/sculpture interaction.
"It is a massive sense of relief more than anything to have done this. I found it physically and mentally so hard. For about six months I've been rising at 6am and working through until 11pm, and fitted in three commercial shows in that time – and two little kids to look after, too. I can't physically do this all the time, because there is not a team of people – it's just me working my arse off. It's my passion that has carried me through, and I'm pleased to see that that has been ever present.
"If you are climbing Everest this is a brilliant base camp. From here I can contemplate where to go next. I want to be able to approach people to do bigger installations, and you have really got to have something like this under your belt. Actually doing this gives you a brilliant idea of what you can and can't do."
Does he have an Everest in mind? "No, there is not an endgame. The limit is the stars. You just have to keep going."
Robb's work has also recently been shown at the Fine Art Society in New Bond Street where Britain's most famous supermodel, Kate Moss, took centre stage – eyes closed, red lipstick on, and wearing a silver necklace which glitters against the holographic water-like background. He produced this, Chris Levine's large-scale holographic stereogram of Moss named She's Light.
Did she have her clothes on? "No, she was completely naked. They cropped her for Selfridges," he laughs. "I spent the day looking at a naked Kate Moss…Quite frankly it funded this show!"
And while the inevitable commissions – commercial and private – flood in, Robb has inked in some holiday time, and will visit South Turkey with his young family. "It's an amazing place, Dalyan," he enthuses. "If you go one way there is a volcanic lake with fresh water. If you go the other way there is a UNESCO turtle breeding site and the sea, and this natural aquarium with clear blue water. The fishermen will be pulling fresh crabs out and steaming them. Everything is sorted for you and you don't have to think." It sounds utterly magical.
Here is an enchanting artist – one to watch for certain, even more so when naked ladies are not involved. While those more-commercial pieces may provide the gateway to his work, look deeper and the rewards are bountiful. From base camp his progress will now follow an upward trajectory, where only the imagination sets the limits.
For more information, visit Jeff Robb's website.
For more information on the contemporary artists and exhibitions at the Fine Art Society visit the website.