As I suspect is the case for many Londoners, the English National Opera has a special place in my heart. It was the first place I saw an opera (fresh out of university, £200 tickets at Covent Garden were just a little out of my price range). Traviata, since you ask. It was where I later introduced my then very young son to opera – he must have seen about 15 by the time he was 10 (his first was Butterfly).
Nowadays, it is even more affordable with free tickets for under-21s and tickets for under-35s set at £15. If we're ticking boxes, it introduces more first-timers to opera than any other company in the country (as it did for my son and for me), and, as for inclusivity, it is notable for increasing diversity both on stage and in the audience.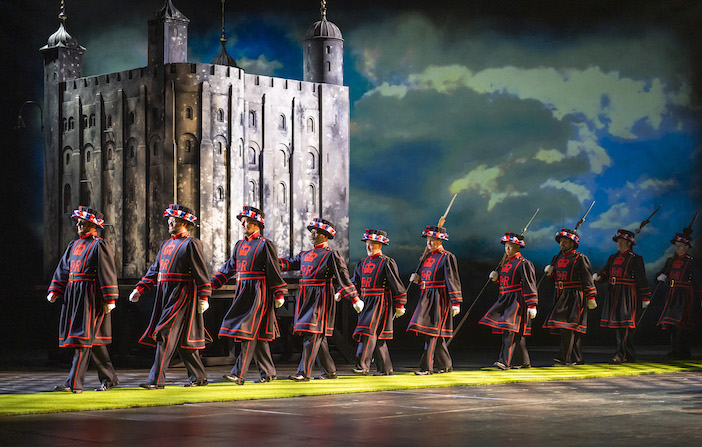 So, a London treasure, right? Not according to the Arts Council who have just removed its annual grant in its entirety. They might be given a smaller grant if they agree to move out of London to, say, Manchester. (They have heard of Opera North at the Arts Council, right?) Such a move would effectively remove all affordable opera from London – the city that serves around a sixth of the English population. Just to put that in perspective, Vienna – its population is less than a quarter that of London – has three opera houses, two of which offer daily performances almost throughout the year.
So, it was in a rather deflated mood that I went to the Coliseum last night to see the ENO's production of Gilbert and Sullivan's Yeomen of the Guard. That lifted quickly, though, because G&S can always be guaranteed to raise the spirits, although it must be said that this is not full of the usual hilarity you'd expect from the masters of light opera. Yeomen is a bit like one of Shakespeare's problem plays – in this case, you can't help but think that the wrong couples have ended up together and the prison setting, not to mention the possibility of a public hanging, give the piece a certain air of gloom.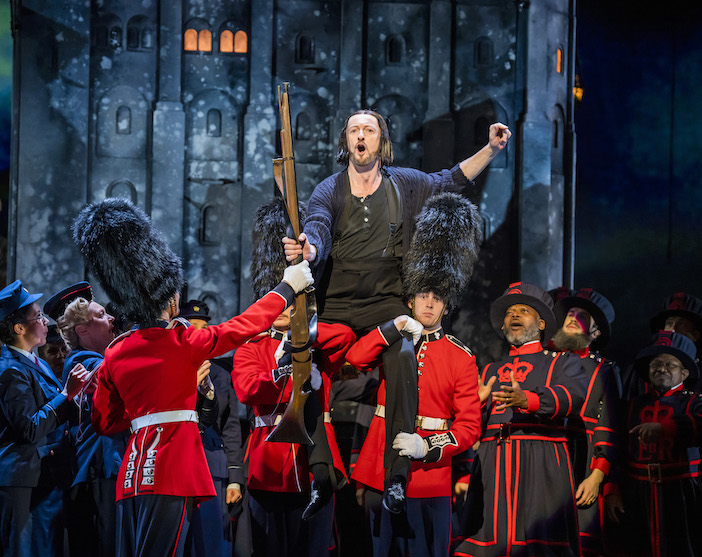 The setting has been shifted by director Jo Davies from the 16th century to the 1950s. A few adjustments were needed – the wrongly imprisoned Captain Fairfax (an imposing Anthony Gregory) is now charged with spying rather than witchcraft. Old newsreels start the show – a wry comment on how little has changed in 70 years, with the main story being about train strikes.
The plot is, of course, daft – Fairfax, wrongly imprisoned in the Tower, is due to be hanged in an hour's time. Phoebe, daughter of one of the yeomen, believes herself in love with him, while she is pursued by Shadbolt, the gaoler she despises. She hatches a plot (cue unlikely disguises) which succeeds but Fairfax falls for Elsie instead.
All this is, though, the excuse for some great performances. Alexandra Oomens as Elsie, the street-entertainer, sparkles and is in particularly fine voice as is her rival, Phoebe (Heather Lowe). John Molloy as the creepy gaoler Shadbolt is a delight and transforms into an altogether more likeable character at the end. The orchestra plays under conductor Chris Hopkins with gusto and I take my hat off to the tap-dancing, bearskin-headed soldiers.
As Jack Point, actor Richard McCabe is no singer and struggles vocally at times, especially in duets with the dazzling Oomens. However, his Pagliacci-like role as the clown with the broken heart, is utterly convincing and finely drawn and the spotlight lingers fittingly on him at the final curtain.
In the meantime, we need to make the Arts Council come to its senses. Bryn Terfel has set up a petition to keep ENO at the Coliseum where it belongs. Sign it here. 
Yeomen of the Guard is at the Coliseum until 2nd December. For more information, and for bookings, please visit www.eno.org. #LoveENO
Production photos © Tristram Kenton. Header photo © Katinka Herbert