Charlie Smith London is exhibiting Welsh-born Wendy Mayer's first London solo show, presented by international art curator and filmmaker, Simon Rumley. Rumley first saw Mayer's work in 2010 and promptly acquired several pieces. Subsequently he included her in The Future Can Wait exhibition, the museum-scale show for emerging artists that he co-curates with gallery director Zavier Ellis, where Mayer was placed for the first time into the Saatchi Gallery collection, amongst others.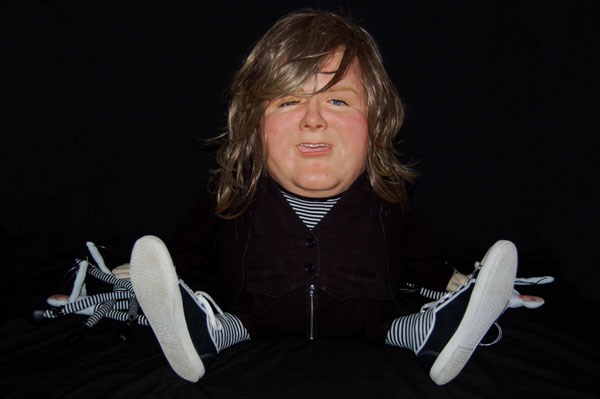 Rumley says, "I first saw Wendy's work in a show in Vyner Street back in early 2010. It consisted of three life-sized papier mache children with piercing eyes and beguiling grins, looking like a David Bowie bastard offspring from The Man Who Fell To Earth on a quick detour trip to Midwich. I wasn't sure whether I was supposed to be charmed or freaked out but I bought the piece immediately and it's remained a central piece in my living room ever since.
I curated Wendy into that year's The Future Can Wait show and the mass reaction was exactly the same; people weren't sure whether to like these little snappers or be repelled by them. Irrespective of this conundrum, the great thing was that people couldn't stop looking at them and I think that's the genius of Wendy's work. Part Ron Mueck, part Hans Bellmer, they remind us not only of ourselves but of the vicissitudes of life; some of them are crying hysterically, some look blissfully happy with pins stuck into their skin, some are wrapped in Beano comic strips and others have little creatures attacking them. It's a crazy world, a scary world, a disturbing world even, but a world which looks mischievous and eminently enjoyable; a world which, on reflection, you know you're not alone in wanting to be a part of."
Indeed, Mayer's sculptural figures represent a disturbing vision of the human form which beyond that draws on familial relations and myths, and the artist's response to them. Having always been fascinated by dolls and children's toys, Mayer constantly returns to them in order to render herself and those around her in strange doll-like, waxwork form. As such, we are presented with autobiographical sculptures that are powerfully representational but also eerily unreal. Caught in stasis, all are engaging in some activity, mostly in play. However, these figures appear to be aware of the audience. In between reality and fiction, and during action, they challenge our gaze, casting us as voyeurs who have disturbed their private moments. These moments are drawn directly from Mayer's experience as a child herself and now as a mother.
Wendy says, "The dolls in 'Duck / Rabbit' are menacingly saccharine. They appear to be protesting their innocence whilst playing with dead baby animals. The work plays with our perception of children as innocents. 'Gold Watch' (Saatchi Gallery Collection) is a portrait that references emotional damage and repair suffered at the hands of our children."
And so on, as individual pieces reference in turn a family member fallen from grace; a folk song sung by the artist's grandfather; the privilege of being a mother who must eventually let her offspring go; sibling rivalry; the fear of ageing. Thus, Mayer provides us with deeply personal works that also tend to provoke universal feelings related to simply being a child, a sibling or a mother.
Wendy Mayer: Still Life. Curated by Simon Rumley. Exhibition Dates: Thursday April 5th – Saturday May 12th 2012. Gallery Hours@ Wednesday – Saturday 11am to 6pm or by appointment. Address: 336 Old St, 2nd Floor, London, EC1V 9DR. Tel: +44 (0)20 7739 4055. For more information, visit the website.