Wayne McGregor is not your average choreographer. A former research fellow at the University of Cambridge's Experimental Psychology department, he's as much immersed in science and technology as the world of dance. Churning up the usually pristine waters of classical dance through collaborations with academics and technologists (not to mention pop culture luminaries such as Mark Ronson and Gareth Pugh) has become his signature.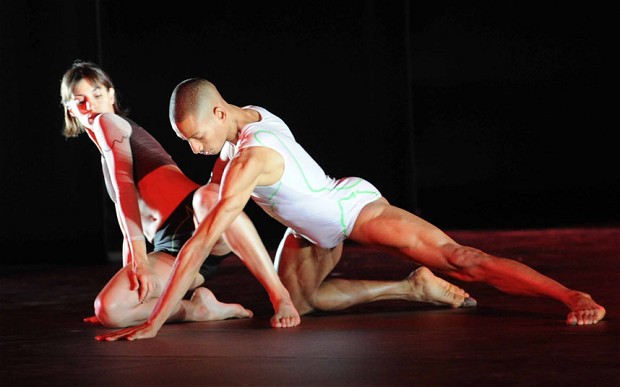 McGregor's latest project, Atomos, saw him team up with cognitive scientists in a quest to better understand the relationship between mind and movement. As told in an engaging exhibition currently running at the Wellcome Collection, the choreographic process provides a rare instance of collaborative creativity for scientists to observe. Their mutual investigations spawned a whole new 12-step system for teaching dance as well as a 'digital body' with which members of McGregor's company, Random Dance, could interact and gain inspiration.
My appetite whetted by a visit to the exhibition earlier in the week, I was expecting something exceptional and dazzlingly different from Atomos. Being handed some 3D glasses upon entering the auditorium further tantalised. However, the only indication of the ballet's scientific pedigree turned out to be half a dozen digital screens suspended high above the dancers, which proved to be utterly distracting and superfluous. Fearing I'd miss some crucial dramatic effect, these kept drawing my gaze, but despite being ethereally engrossing in their own right, the various projections, ranging from ghostly white dancers to exploding factories, never delivered that eureka moment.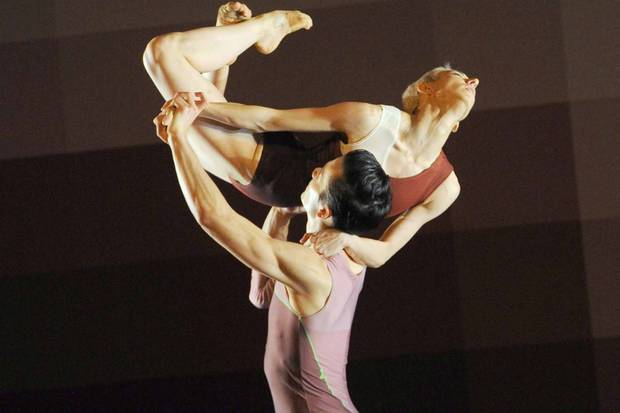 The 'human' element, on the other hand, was this show's strongest element; its ten dancers performed a fluid and emotive series of duets and group ballet, all on stage more or less continuously for over an hour. They cannot be faulted. Operating seamlessly as an ensemble, it's hard to pick favourites but Fukiko Tukase stood out for me in a raw, entrancing pas de deux. Meanwhile, McGregor's experience (he's led Random for 20 years now, having founded it aged just 21) shows in sequences that maintain the sinuous grace of classical ballet while shattering expectations with counter-intuitive leaps, contortions and interruptions.
It is in essence a plot-less production, but the human brain, as McGregor no doubt knows more than most, likes to prescribe narrative and meaning to order a cacophony of stimuli. So, to me, Atomos is a loose take on evolution. It begins with a primordial scene of writhing, interlinked group of figures, waving their arms anemone-like, lit in earthy putty tones and occupying a misty, barren landscape. Gradually the clusters disperse and diversify into ever more complex shapes and geometric patterns; civilization advances. Then it seems we're thrown into a digital age, lit by the green glow of computer screens, in which movement becomes robotically clipped and spiky. At another point it seems apocalypse descends as the music becomes especially shrill and jarring, and those screens show fiery explosions. Finally, the ballet draws to a close in searing red light, as if engulfed by the sun itself perhaps.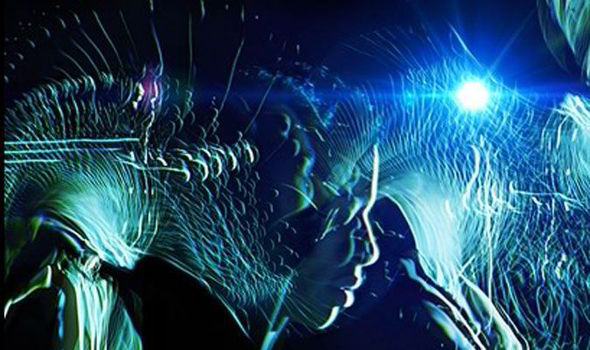 In an era where the parameters between man and machine seem to be increasingly blurring, the question underpinning Atomos, 'What is a Body?' is certainly pertinent. I do wonder if it may be a little too clever for its own good, a case of the process more compelling than the product itself – after all, I don't believe you should necessarily need to go to an exhibition and read an anthropologist's tract (as appears in the programme), to appreciate and grasp a production. That said, for anyone fatigued by yet another rendition of Sleeping Beauty or The Nutcracker, it delivers seventy minutes of some of the finest contemporary dance around, take or leave the science.
For more information on future productions at Sadler's Wells visit the website.