Contemporary dance often has to fight a bad rep: too vague, rambling, and often pointless verging on the ridiculous. Rambert usually avoids this. It is the country's oldest dance company and acknowledged to be the leading light in modern performance but, disappointingly, the first two acts of its triple bill at Sadler's Wells do nothing to quell the flames of skepticism. Luckily, the third (and headline) act erases any doubt from your mind, and is an explosion of energy that forces the dancers to throw caution to the wind as they move, shout, and act along to a surreal miscellany of music – it is joyfully infectious.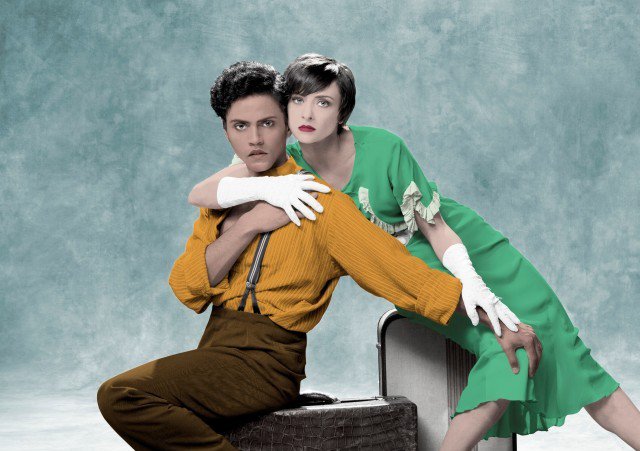 The eclectic and undeniably bizarre selection of songs in Barak Marshall's The Castaways ranges from American swing to "Yiddish pop and Soviet pomp." A man in a heavy woolen overcoat stands among debris on a dimly lit stage and shouts "Hello? Hello?" It's a bleak opening that swiftly blurs into action by the dancers. They include a jilted bride, a group of "mean girls," a besotted couple and a beggar. Their individual significance is never clear – are they a group of strangers flung together or a community banished to purgatory?
The result is perplexing yet intriguing. They fiesta and shout and the piece has a marked vaudevillian edge and choreography echoing hieroglyphics that, when done in unison, makes the ensemble look half-crazed, and almost brainwashed. It is like a dream that has a certain charm to it. The story is not directionless, as the castaways  try to find their way out of their predicament, but the problem, as Marshall explains, is that the characters "are all victims of their own weakness and perpetuate the same vicious cycle they try to escape."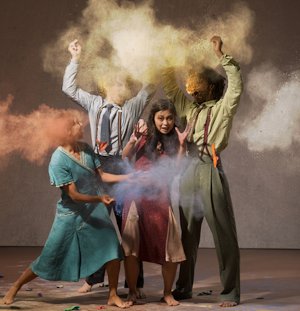 This is in contrast to the first piece of the night, Ashley Page's Subterrain, which goes absolutely nowhere: five couples languishing in an equally austere set with no plot, no point, just some meandering liaisons set to Mark Anthony Turnage's score, fused with the electronic sounds of Aphex Twin. The couples do have differing pas de deux of sorts, which imply separate undercurrents in their respective relationships – but the result is underwhelming even with the dancers themselves do a sterling job; the choreography requires painstaking core control and a vast number of lifts, which are all executed with ease and beautiful partnership.
These two pieces sandwich The Comedy of Change, by the Rambert's Artistic Director, Mark Baldwin. Created in 2009, the piece is inspired by Darwin's On The Origin of the Species and explores the evolution of man, with the dancers first appearing in sci-fi-like white pods from which they emerge as arm-hanging primitives, and there on in develop. There are sudden bursts of energy (notably from Dane Hurst, who springs strikingly into action) as the dancers – dressed in black and white gimp suits – get used to their own limbs. It has a vaguely endearing edge but is all a little peculiar and not helped by a lack of synchronicity within the group.
Once we actually made it to the third act, it became clear just where the dancers had been hiding their oomph; the advent of The Castaways was the overwhelming highlight of the evening and clearly the piece the performers have been dying to get to all along. It is surreal, fantastical and I don't think you're quite meant to know what's going on, but that is part of the fun and it is enlivening to see dancers relishing a task so greatly.
For future productions at Sadler's Wells see the website.