With a limited run of just five performances, the Shanghai Ballet Company's contemporary production of Jane Eyre heralded their London debut at the Coliseum. One of the most celebrated books in English literature, the classic love story of a plain governess falling for her master was no doubt expected to draw more of a crowd than the empty stalls seats surrounding me indicated.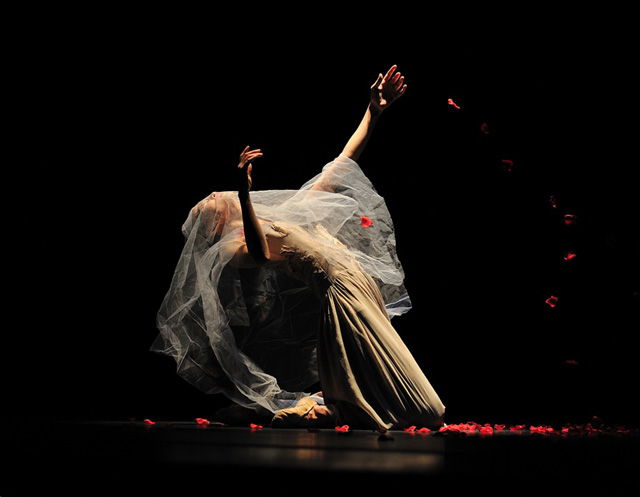 The frail-looking Fan Xiaofeng as Mr Rochester's first wife, Bertha, was by far the dominant performer of the evening, not to mention the most developed character. The eternal shadow of Jane, Bertha's story is poignantly told from within a glass box, wearing a symbolic white veil and showered by falling red rose petals. The hero, Mr Rochester (Wu Husheng) and heroine, Jane Eyre (Ji Pingping) are Fan Xiaofeng's shadows on this occasion; such is the ease with which she walks en pointe.
Despite there being much beauty to be found in the Chinese dance techniques on display, Charlotte Brontë's story appeared to have been lost in translation, or at best misinterpreted; leaving the audience struggling to identify the characters. It was strange to discover that Mr Rochester's ward, Adele, the little girl that Jane tutors, was omitted entirely from the plot, with Jane's childhood friend Helen appearing only as a doll-like spectre more akin to a horror film – no doubt intended to emphasise the gothic backdrop of the novel. The creative successes, and there were several, included the dancing rocks of the bleak Yorkshire moors and the later flame sequences.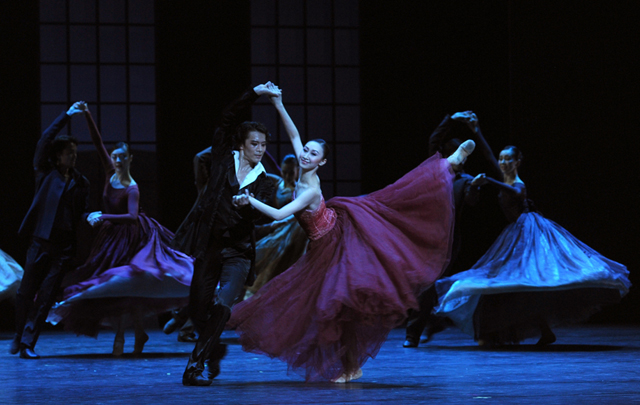 It's a production that suffers from the lack of a live orchestra, and the piped music is only made worse by the eclectic and bizarre blend of everything from Barber's Adagio for Strings to Debussy's Clair de lune. The costumes are equally mismatched and vary from a dreamy homage to the crinoline to Rochester's garishly modern suit of crushed velvet, surely on loan from Laurence Llewelyn-Bowen.
Whilst the company are jaw-droppingly talented, in order to fully appreciate or enjoy this production a certain amount of open-mindedness needs to be applied, along with a willingness to embrace the strong Chinese influences, which bring a melancholic tenderness and romance that works well. Choreographer Patrick de Bana focusses on the love triangle between Mr Rochester, his lunatic wife and Jane, illustrating the tragedy of Bertha's debilitating mental illness and the guilt Rochester experiences as a result of falling in love with his ward's governess – but then this Jane Eyre would be enough to drive anyone slightly mad.
Jane Eyre at the London Coliseum, St Martin's Lane, London WC2N 4ES. For more information on the Shanghai Ballet Company visit the website.