If you want something done right then you have to opt for the best. So if you want to see ballet the way it was meant to be, there's nothing else for it but to head to the Royal Opera House; currently on stage is the ultimate classic, Swan Lake.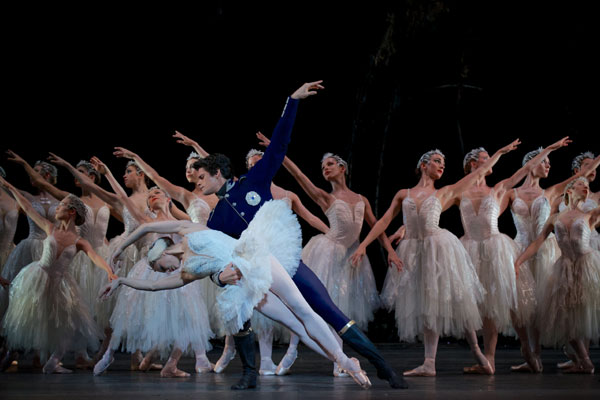 Everybody's heard the theme of Tchaikovsky's love story (la, la la la la laaaa, la laaaa, la laaaa, la la la la la laaaa) and if they hadn't, they might have caught a glimpse of feathers in Darren Oronofski's thriller, Black Swan, for which Natalie Portman won her Oscar in 2011 by encapsulating the infamous challenge behind the lead role. Clichés earn their notoriety for good reason, so whilst some may moan that Swan Lake is overdone, that is because it gives you everything you could need from a ballet, including a not un-tragic but pretty perfect ending.
It's one hell of a play for the orchestra of the Royal Opera House – the strings hacking away at their tremolos and the brass at full pelt most of the time. Even the quieter moments aren't much of a break, with a nasty, exposed yet crucially-timed solo for the leader that can easily sound like a strained cat but was performed with incredible richness, double stopping and all. The atmosphere created by the musicians with their sheer energy is crucial to the excitement of this production, which makes the most of every moment.
You are transported between the glittering iciness of the lake and the grand opulence of nineteenth century Russia, with golden candles and jewel-coloured costumes sweeping the stage. Against their more barren backdrop, the swans' skirts are looser than the traditional, stark tutus, moving when they do and ruffling like feathers. The prima is set apart by her 'proper' tutu in bright white and then jet black as she takes on the dual role of Odette and Odile.
Odette is the beleaguered and yet dignified queen condemned to live her days as a swan and her nights in human form by the evil wizard, Von Rothbart, in a spell that will only be broken by a true love's eternal troth. Enter Marianela Nuñez, in all her lithe, fragile beauty, executing each arabesque with fluidity and almost painful precision.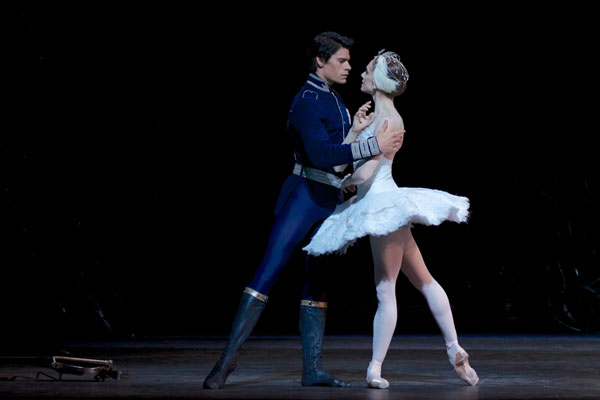 Nuñez's real-life beau, Thiago Soares, plays Prince Siegfried (whose mother is desperate for him to find a bride), and when this picture-perfect Prince Charming spots Odette, they inevitably fall incandescently in love.
Have you met Thianela? In case you haven't kept up, that's what the ballet world call this on-and-off-stage couple (move over Brangelina – no one needs you anymore). The initial love story is performed with smouldering and yet innocent tenderness, as improbable as that combination sounds. Then you meet Odile, and poor old Siegfried doesn't know what's hit him. Butter wouldn't melt as Nuñez introduces us to her alter-ego, Odile, Von Rothbart's daughter sent to seduce the Prince, who cunningly reproduces Odette's moves with a glint in her eye. With affectedly lowered eyelids and coy glances, Nuñez's facial expressions compliment her suddenly confident and malicious persona.
The childlike smile that endears so many to Marianela turns into a truly devilish one, and is accompanied by a display of such balletic mastery that you really wouldn't mess with her. I didn't actually count the fouettés en tournant but there were a lot. And completely effortless they looked too. Nuñez may as well have shrugged when she finished them. The prince steps up to the mark here as well, and Soares' equivalent display was as impressive as Nureyev or Acosta or some such (and he's not bad to look at either). Cheers erupted from the audience at every opportunity, and there was a palpable buzz in the air.
As Prince Siegfried announces his intention to marry Odile (thinking she is Odette), he inadvertently condemns his true love to her death. He tries to win her back but, bound by Von Rothbart's magic, it is hopeless. Odette throws herself into the lake out of despair and her prince decides that he can't live without her, throwing himself in after her. As luck would have it, this sacrifice breaks the spell, leaving the pair to ascend to eternal happiness and they float off together along the lake.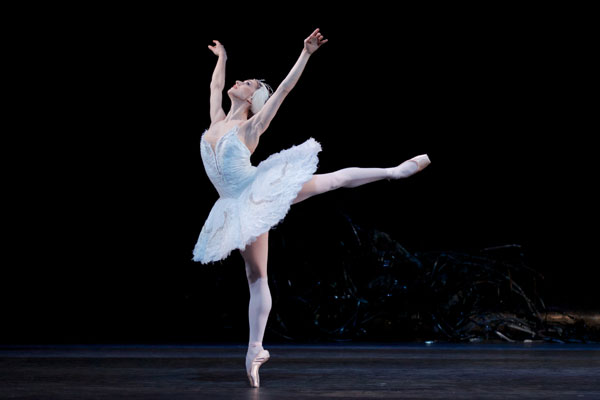 The jump which takes Odette to her death could have been slightly bigger – more dramatic, maybe with further to fall – but that is the only criticism I can find. The corps de ballet is as sharp as a tack, particularly the famous cygnets, and you even get a glimpse of the company's future talent with the pint-sized students of the Royal Ballet School joining their elders onstage. Only their height and lack of pointe shoes gives them away.
Swan Lake is a proper ballet – rich and meaty and pretty all at once, with a dollop of fairytale too. Anthony Dowell's production is as joyous as it is heartbreaking, and it keeps the work fresh.
My only bugbear comes from the people who think it appropriate to consume sandwiches, bananas, crisps and sweets with wrappers whilst such magic is occurring onstage. The ushers weren't so strictly on the prowl as usual and various audience members took full advantage…if I have to grit my teeth so firmly again, heads will almost certainly roll.
Swan Lake at the Royal Opera House runs until 24th November. For more information and tickets, visit the website.
Watch the trailer:
httpv://www.youtube.com/watch?v=1QAetb-uAhQ