Onegin is one of the most powerful ballets in the general repertory. It stems from Pushkin's verse-novel of the same name, a staple of Russian literature published in the nineteenth century. Eugene Onegin is to Russians what Romeo and Juliet is to Brits: a masterpiece of social reflection and high drama that transcends generations and is considered key to national identity, or else quite simply part of the population's general consciousness through the hours devoted to it at school. Either way, it is a poignant tale of love, longing, rejection and remorse. These central themes make it prime fodder for dramatisation, although critics have not always thought so, due in part, to the plot inevitably requiring simplification.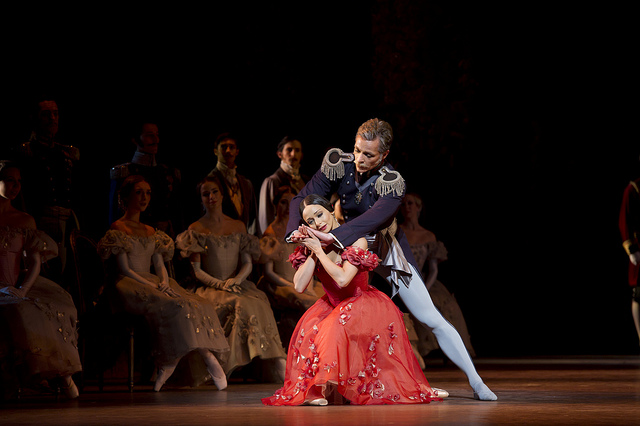 In John Cranko's 1965 ballet, we are first introduced to sisters Tatyana and Olga at their idyllic country home. Tatyana is shy, naïve and dreamily enamoured with reading. By contrast Olga is outgoing, sociable and excited by pretty dresses. Olga's affable fiancé Lensky presents his friend, Eugene Onegin, who stands out as a Mr. Darcy figure, donned in black and standing proud in the face of village jollities. Tatyana instantly falls for the dashing Onegin and proceeds to follow him around like a puppy dog, which annoys him to the point of publicly rejecting her girlish advances, once and for all – at her birthday party. He then finds himself at such a loose end after his strop that he amuses himself by flirting with Olga, much to the anger of Lensky. With Olga basking in the attention and Onegin refusing to desist, Lensky challenges him to a dual in which Onegin kills Lensky.
The final act takes us years into the future, where Tatyana is now married to a prince and in the heights of Moscow society. Onegin sees this transformed woman and realises his love for her and his folly in having dismissed her all those years ago. He writes to her and sneaks into her rooms, sending her into turmoil, but she finally decides that his change of heart has come too late and sends him away. Tatyana is left on the stage alone, distraught and exhausted by the encounter.
The score is not, as you might assume, Tchaikovsky's opera but a collection of some shorter works arranged by Kurt-Heinz Stolze. This creates a much lighter feel than your standard Tchaikovsky ballet, without the usual thick orchestration. The tutti moments are saved for the real high points and the use of part of the impassioned symphonic poem, Francesca da Rimini, in the final act helps to depict the tumultuous meeting with full Russian fervour. Ever-rising conductor Dominic Grier directs with force.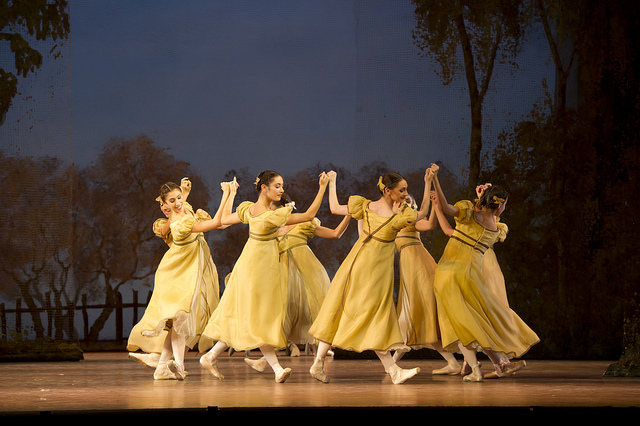 The corps de ballet helps set scenes first of countryside bliss with simple clothing and boisterous Cossack dances, and then of opulent imperialism with glimmering costumes and lavish balls. These interludes add humour and flair to what is, overall, an incredibly stylish production. Akane Takada's sprightly Olga happily matches Steven McRae's Lensky, until his final solo before the dual, which is lonely, distinguished and incredibly saddening.
The challenging role of Tatyana and the depiction of the two stages in her life, is much coveted in the profession. It is a different kind of duality from the polarised alteregos of Swan Lake, for instance, requiring a sophisticated progression from awkward teenager to assured hostess that is achieved astonishingly by Alina Cojocaru. In the first two acts she is cautious, never quite knowing what to do with her arms when lifted and standing aloof, gazing up as though at the mercy of those around her – she is very much the little girl and yet has a charm about her, an infectious romanticism that is ultimately shattered when she is treated so harshly by Onegin, who takes her love letter and tears it up in front of her. Even as she covers her eyes in distress, he takes her hands from her face and shoves the fragments of paper into them.
Seeing this slip of a thing return in a shocking pink dress, jewels dripping from her ears, is mesmerising. The beautiful extensions and lightness of touch that Cojocaru displays throughout the ballet are suddenly boosted by a poise that sends her head a little higher and softens her movements to convey the self-control and dignity that come with age and position. The pas de deux with her husband at this stage is accomplished and tender, with Bennet Gartside as the prince partnering in a regal and sensitive manner. Theirs is clearly a contented, respectful marriage. Tatyana's pas de deux with Onegin, however, are all much more fraught. This is an unconventional relationship in ballet storyland and so the partnership crucial; a nightmare for Cojocaru, therefore, when her on-and-off-stage partner Johan Kobborg got injured shortly before opening night.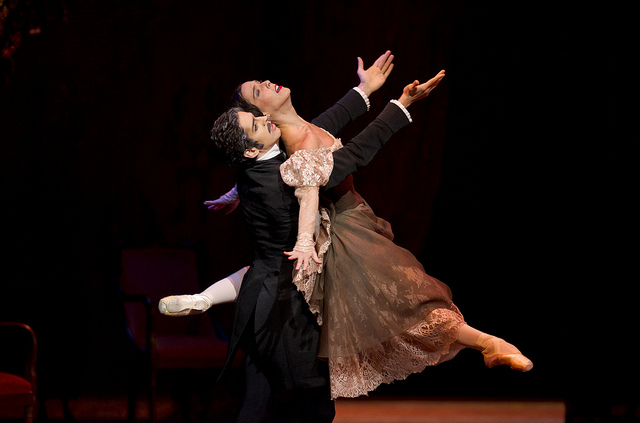 Her knight in shining armour was Canadian Jason Reilly, of the Stuttgart Ballet (where Onegin received its world premiere) who caused quite a storm. He makes a perfect Onegin with his tall, dark and handsome features but it is his command and nuanced facial expressions that had the audience transfixed. Onegin is a tormented soul, a Byronic and arrogant hero bored by everything around him. He takes a selfish delight in mocking others and though he eventually shows himself to be capable of the most ardent affections, these only materialise after years of mistakes. Reilly's style was markedly distinct from the other dancers but Onegin is supposed to be the outsider and this created a palpable tension between him and his leading lady – their dancing felt natural and far from staged. Their last pas de deux was raw, breathless and frenzied, so it was little wonder that Cojocaru looked physically and emotionally overwhelmed when she was handed her bouquet after the performance, and from which she took a single white rose and handed it to Reilly. This guest principal was most certainly a success.
Onegin at The Royal Opera House on selected days until 8th February 2013. Running time approximatelty2 hours 55 minutes including 1 interval. For more information visit the website.