The V&A's latest blockbuster exhibition pays tribute to one of the most successful British musicians of living memory by exploring Bowie's own influences as a creative genius. With the museum having unprecedented access to the Bowie archives, this extraordinary exhibition curated by Geoffrey Marsh and Victoria Broackes rivals any previous homage; visitors are taken on a series of twists and turns filled with over 300 items of memorabilia, including album artwork, costumes, photographs, instruments, indeed everything that went into the process of David Robert Jones becoming David Bowie.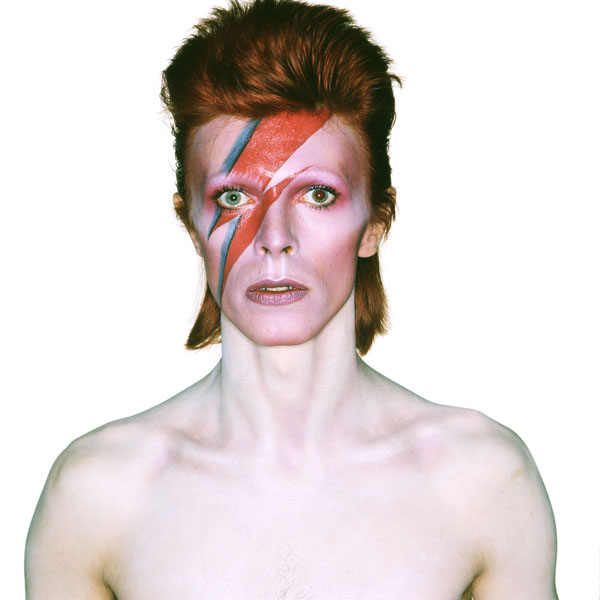 Equipped with headphones provided by Sennheiser, which cleverly tune in to the nearest installation to provide you with the relevant interview snippets and music, this is very much the V&A's own take on Bowie's career through the medium of audio, video and the artefacts they have been lucky enough to access, allowing the public to become immersed in the life of Bowie the revolutionary. A man who took inspiration from practically everything around him, from Andy Warhol to A Clockwork Orange and Orwell's 1984, the team have exhaustively attempted to intellectualise his early first drafts in handwritten exercise books, although as he said himself: "Frankly, I mean, sometimes the interpretations I've seen on some of the songs that I've written are a lot more interesting than the input that I put in."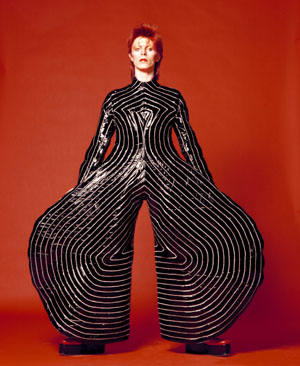 From his early years to the heights of fame, the fact that the exhibits aren't meant to be chronological creates elements of surprise reflective of Bowie's own approach to music and performing. Perhaps one of the most thrilling elements is exploring Bowie's impact on fashion. With over 60 outfits, most of which are displayed on posed mannequins, Bowie didn't just wear clothes but he created an ever-evolving brand; from the "Starman" outfit that he wore on TOTP in an era-defining performance, presented in an installation containing multiple television screens, to designs that Kansai Yamamoto created for his 1973 Aladdin Sane tour. "I re-invented my image so many times that I'm in denial that I was originally an overweight Korean woman."
Having explored several rooms, including a space dedicated to the Berlin era which contains an oil painting of Iggy Pop, the finale manages to surpass any visitor's expectations. A gawping audience can take a final moment by reliving Bowie's Ziggy and Diamond Dog tours, projected on a floor-to-ceiling screen, which, with rumours of the 66-year-old considering another tour, is probably only an appetiser to the next phase of Bowie.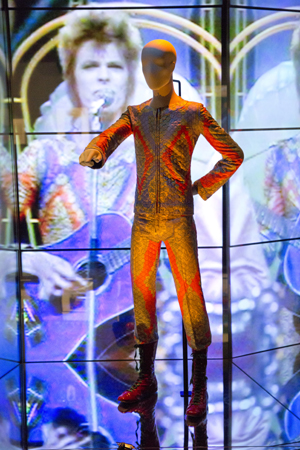 A fascinating and exciting survey of a living legend, you don't even have to be the world's greatest Bowie fan to appreciate the cultural significance of his life, although this retrospective has the tendency to feel a little pretentious, as if this is one PR exercise gone crazy. Is it merely coincidence that the exhibition, which took three years to orchestrate, coincided with Bowie releasing The Next Day, his first studio album in a decade? Co-curator Ms Broakes said in an interview: "Who would have thought that we would be opening this exhibition in a week when he is number one in 40 countries, it just wouldn't have seemed possible when we started on this project."
With a record 47,000 tickets sold in advance, the V&A are no doubt rubbing their hands together in glee as they plan to take David Bowie is abroad. I can't help feeling more pleased for them than I am for the star who hasn't even visited the exhibition. Perhaps it's better that he doesn't, after all an ego trip on these proportions should surely be reserved until after a star's death.
David Bowie is at the V&A Museum, Cromwell Rd, London SW7 2RL, until 11th August 2013. Adult tickets £14. For more information visit the website.