The Royal Albert Hall will open its doors this New Year's Eve for the first time since London welcomed in the new millennium. Two years after it charmed the world with its nostalgic look at the golden days of the Hollywood silent film, The Artist comes to the Royal Albert Hall on Monday 30 and Tuesday 31 December for a live concert version. This multi award-winning film is dramatically brought to life on stage with the London Symphony Orchestra, conducted by Ernst Van Tiel, playing the soundtrack simultaneously with a high-definition screening of the film for an exclusive UK premiere.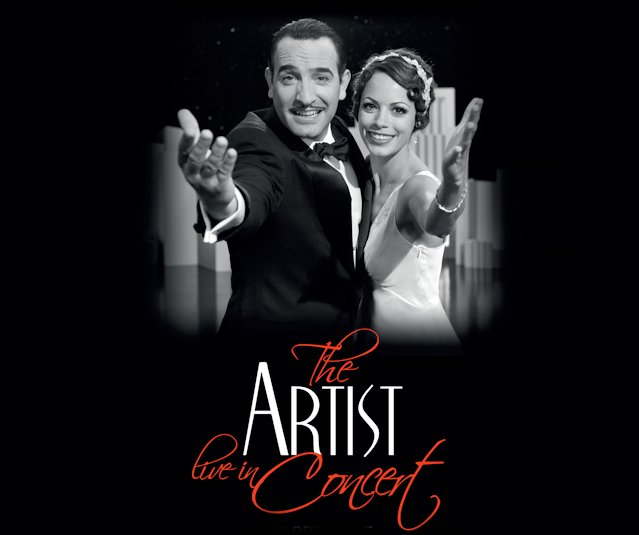 Written and directed by Michel Hazanavicius and starring Jean Dujardin and Bérénice Bejo, the film takes place in Hollywood between 1927 and 1932, and focuses on the relationship of an older silent film star and a rising young actress, as silent cinema falls out of fashion and is replaced by the 'talkies'. With the film's soundtrack composed by Ludovic Bource, The Artist received universal acclaim from critics and audiences alike when it was released and was nominated for ten Academy Awards® and wining five including Best Director, Best Actor, Best Original Score and Best Picture, becoming the first French film to ever win Best Picture.
Thomas Langmann, the film's producer, said "It is a huge honour for me to rediscover The Artist live in concert in one of the most beautiful concert halls in the world – the Royal Albert Hall. For it to be played live by the London Symphony Orchestra, one of the best orchestras in the world, will assure each performance's emotional intensity." BéréniceBejo added, "Filming The Artist was one of the most incredible movie making experiences. To now see the film come alive in this way, within the extraordinary setting of the Royal Albert Hall, will be a special event indeed."
The Artist – Live in Concert at the Royal Albert Hall, London, on 30th and 31st December 2013. Tickets are priced from £25-£65. There is no official dress code, but anyone who wishes is encouraged to celebrate the elegance and style of Hollywood's Golden Age of Glamour. For more information or tickets visit the website.