What on earth could a musical version of American Psycho be like, I wondered. Bret Easton Ellis' 1991 satirical novel is perhaps one of the funniest and most disturbing works of fiction there is, with intricate descriptions of the most twisted, grisly and violent acts of murder, torture and sex. The subsequent film version is now, equally, a thing of gruesome legend. So would a Christian Bale lookalike waggle some bloodied jazz hands, or would the corpses get up and do a jig? Would the whole audience end up covered in fake blood? No, thankfully. None of the above.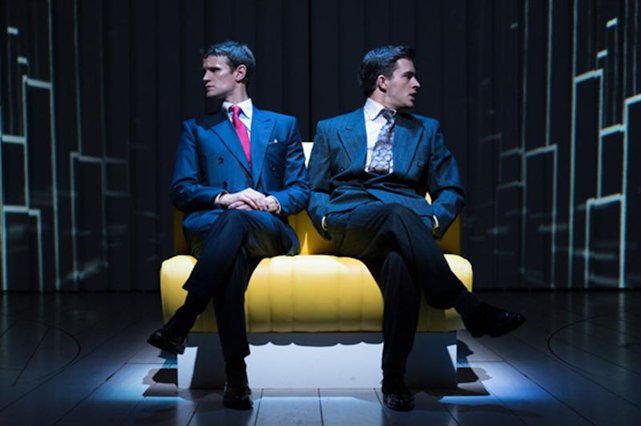 The pretentious life and horrific deeds of Eighties Wall Street banker, Patrick Bateman, are depicted on stage at the Almeida Theatre in a shrewd, funny, slightly frenetic production that entertains at the same time as portraying the actions of a homicidal maniac with a regimental beauty regime.
Rupert Goold's direction is typically clever and much boosted by Es Devlin's set, which revolves, pops up and changes background at the drop of a hat with its light installation walls. The hedonistic lifestyle of the yuppie crowd to which Bateman belongs is viciously torn apart with simple, old-fashioned ridicule, and it is gleefully funny to watch. The attention to detail of the clothes, hairstyles, choreography, menu choices – everything – is spot on for this obnoxious set of people, and it feels a bit like watching a school production where everyone in the audience is in on the joke. Take Bateman's annoying girlfriend, Evelyn: she is practically a caricature, barely even taking herself seriously, and you can't help but laugh out loud at her preposterous shallowness. The music is a mix of recognizable Eighties tunes (don't worry – Huey Lewis is in there) and an original score of synthy, hard beats and power tunes. They blend well and the new lyrics are hilarious, particularly in the business card scene.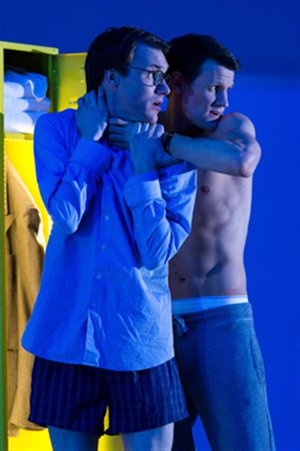 The absolute ridiculousness of the characters and their lifestyles stands in poignant contrast to the more sinister elements, and Bateman's brutality is all the more shocking when you've been lulled into a false sense of playfulness. The medium of theatre makes a powerful impact when Bateman is standing in front of you wielding a chainsaw; probably more powerful than surround sound and digital enhancements could ever be. Some people had hoped for more gore from this production but the choreography and staging of the murders are impressively done, and to focus entirely on this aspect would have missed the point; the novel is a satire about the Eighties smart set, and Ellis only intended the murders (which he wrote last and then inserted into the story) to illustrate the sinister nature of the protagonist and the existential world he inhabits.
And what of the baby-faced Doctor Who playing the infamous Patrick Bateman? Really rather good. Matt Smith's razor-like cheekbones and suitably buff body mean he looks the part utterly, which is a relief. His slightly quirky presence, with which BBC One viewers will be familiar, works strangely well in putting across a maniacal personality and he escalates the tensions brilliantly through to the end, whilst also managing the cool, controlled slickness of the public side to Bateman.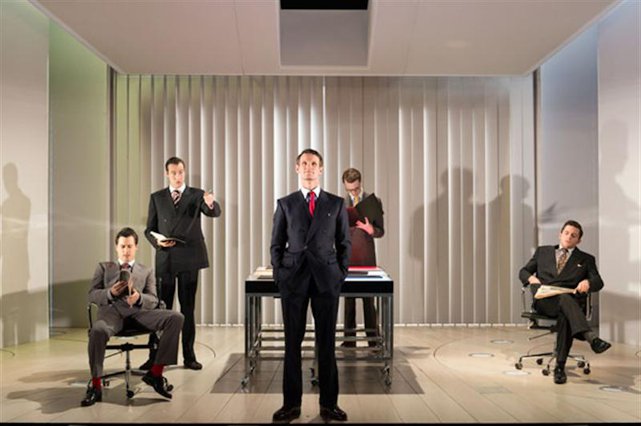 A little further into the run and Smith's performance will be honed, I'm sure, but there were occasional moments when deadpan stares fell flat or I could actually feel his nerves – a tremor in his hands when taking off his face mask in the opening scene, his eyes darting over the audience rather than fixating determinedly, for example. But this did not spoil it and he also coped masterfully with the couple of technical failures that occurred when I saw the show. As for the singing, his voice is fine. It is nothing special, but it's not nasty and it does the job. Next to highly trained musical theatre voices (the girls, in particular, are beautiful to hear) his lack of nuance is noticeable but it just doesn't matter – it almost helps the character since he is not quite meant to fit in anyway.
This is very much a 'judge for yourself' production, since devotees to the book or film may find changes hard to bear, or may not feel the same effects. It also needs refining before it can reach any cultish status, since the sense that this could be some sort of student production persists throughout. However, it is a show that is rightly the hottest ticket in town as it does what I, for one, had thought to be the impossible in immortalizing Patrick Bateman through song and dance.
American Psycho at the Almeida Theatre, Islington, London, until Saturday 1st February 2014. For more information and tickets visit the website.