Rossini's 1816 two-act opera The Barber of Seville was a bold prequel to Mozart's revered Marriage of Figaro, and whilst now considered a comic masterpiece over 200 hundred years since first premiering in Rome, like all good things, it was initially loathed by an audience who delighted in showing their dislike by jeering and whistling. With a libretto by Cesare Sterbini The Barber of Seville was based on playwright Pierre Beaumarchais's comic trilogy which followed the fashion for blending a spoken play with music. Rossini, aged 24 and who is well known to have been extremely productive throughout his career, is believed to have composed the opera in as short a time as two weeks. By 1823 he had composed twenty operas, but The Barber of Seville remains his most popular comedy.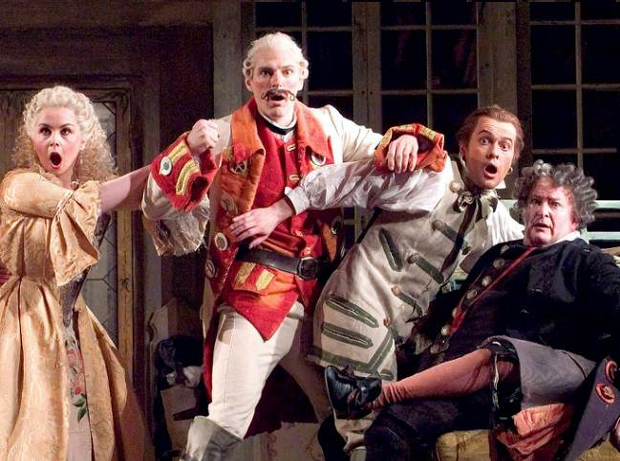 Outside music Rossini prided himself on being a dedicated gourmand, lending his name to the extravagant dish Tournedos Rossini created by French chef Marie-Antoine Carême and comprising of filet mignon pan fried in butter, served on a crouton, topped with a generous slice of foie gras, garnished with truffle, and accompanied by a rich Madeira sauce. This dish, still served in restaurants around the world today, symbolises Rossini's exuberance almost as much as The Barber of Seville. When Rossini was granted a meeting with his life-long hero Beethoven in 1822, despite being deaf and suffering from increasingly poor health he complimented the young composer by saying "Ah Rossini. So you're the composer of The Barber of Seville. I congratulate you. It will be played as long as Italian opera exists."
It was a pleasure to see that the ENO haven't entirely turned their backs on the more traditionally staged productions, even if they do only appear to have confidence in those Jonathan Miller has had a hand in. Having said that, Miller never disappoints in vividly bringing to life any opera – whether opting for a traditional or modern setting. The second of three Miller revivals to be staged by the ENO this season, the acclaimed director's long relationship with the company continues to act as a hugely important box office draw. This production, celebrating its 25th anniversary and the 11th revival, is set in 18th century Seville and follows the story of Figaro the barber and his side-line in assisting wealthy aristocrats attain the marriages they desire.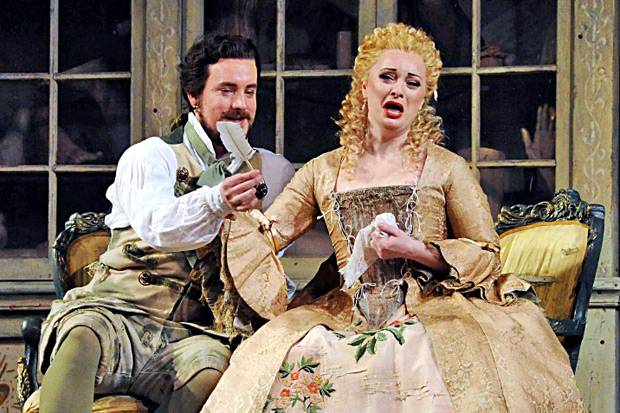 Under the command of ENO newcomer Jaime Martin, the orchestra delivered all the gusto and vivacity this work merits. British baritone Benedict Nelson, playing Figaro for the first time, gave us a suave and accomplished performance, without having the command over the production you might expect from the title character. Uproariously funny, Andrew Shore's portrayal of the lecherous Doctor Bartolo, a man in the dubious position of having fallen in love with his young ward Rosina, was nothing short of brilliant and surely the most memorable in a long line of quality performances, cleverly combining rich baritone vocals with wit and impeccable timing.
Although the role of Rosina was originally written for a lower mezzo, pretty, trill –flourishing soprano Lucy Crowe gave us an exceptionally saucy and mischievous Rosina – a woman who finds herself in a love triangle between her guardian and Count Almaviva (Andrew Kennedy) who, on the advice of Figaro, adopts the various guises of a poor student, a drunken soldier and Rosina's singing teacher in order to gain the company and hand of his beloved. An epic comedy of almost three hours, the audience found it impossible not to show their appreciation by rewarding the cast with enthusiastic and lengthy curtain calls on opening night.
The Barber of Seville at the London Coliseum until 17th March 2013. Approximately 2 hours 50 minutes with one 15 minute interval. For more information and tickets visit the website.