Carmen, Bizet's masterpiece, was first performed at the Opéra-Comique in Paris in 1875 where it initially received only limited success before catching the imagination of opera lovers everywhere. Tragically, Bizet died just three months after the disappointing première and he never knew the acclaim the work later received. The failure Bizet believed Carmen to be is thought to have brought on a deep depression and a final relapse of his chronic throat condition, leading to his untimely death aged 37 and cutting short a career at the beginning of his possible achievements. With intoxicating chorus songs and packed with hugely memorable arias like the Habanera, its themes of passion, infatuation and jealousy made Bizet's opera stand out from others in the highly competitive Parisian arts scene of the time.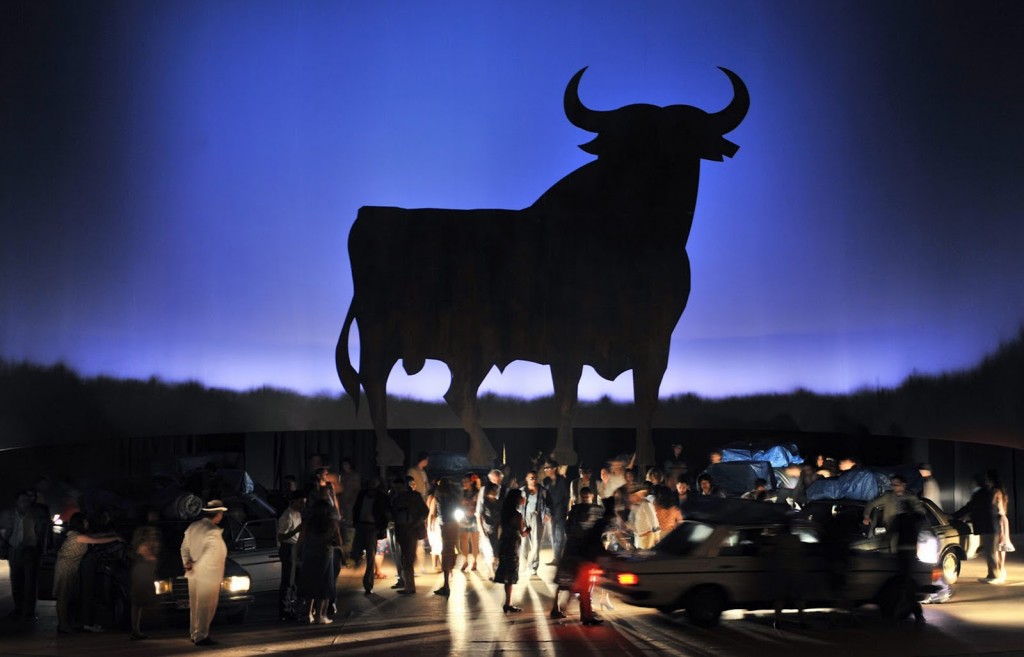 This bold production of the opera, now considered the most popular in the world, is directed by Catalonian Calixto Bieito, renowned in the opera world for his challenging yet inspired interpretations. First premiered in Barcelona in 2010 before an extensive tour, this Carmen is a far cry from the more traditional productions we have come to expect from the ENO, thrown over in favour of a stage resembling a car park, men in uniform, women in tight dresses, and a pink handbag. The cigarette factory ladies no longer seduce the audience with flowers in their hair, tasseled shawls and flamenco moves, instead they sprawl themselves on car bonnets and swig black-market booze from the bottle. From the telephone box to the bull silhouette, Alfons Flores's set design brings a seediness that strips the romance and beauty of the gypsy – elements we all love. The modernity of this Carmen has a rawness that should be captivating, but at times it just leaves one rather cold.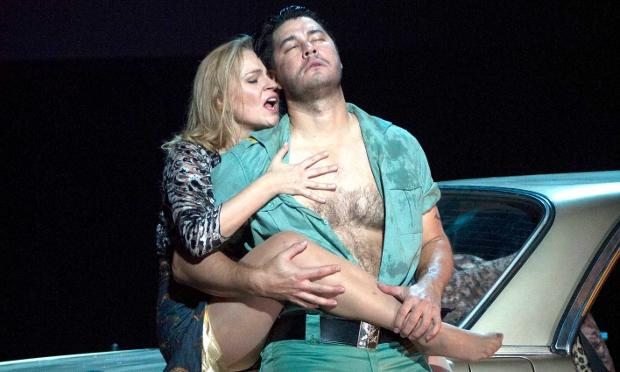 Set in 1970s Spain, blonde Romanian mezzosoprano Ruxandra Donose, whose portrayal reminds one of Brigitte Bardot, is an unlikely but refreshing choice for the role of the Spanish gypsy-seductress Carmen, comfortable using her beauty and her body in order to get what she wants. Considering Donose is pushing fifty, she did a good job of convincing us that we were witnessing a lustful young woman, and once again proving her diversity as a performer. Carmen is a feisty and manipulative woman determined to keep her independence. As the words of the song go 'love is a rebellious bird' and having charmed soldier Don José and persuaded him to dessert the army, Carmen quickly gets bored and dumps him in favour of bullfighter Escamillo, played by Leigh Melrose in a testosterone charged performance.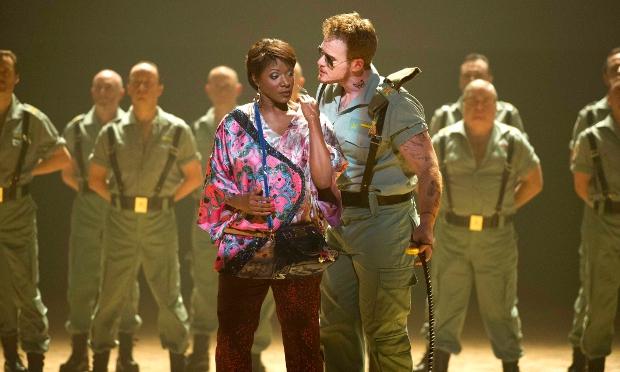 Despite Ruxandra's sterling efforts, it was British soprano Elizabeth Llewellyn as José's ex-girlfriend Micaëla who shone as a world-class performer and remains the enduring memory of the night. Having been named 'Best Newcomer' by the Telegraph following her ENO debut as Mimi in La bohème in 2010, Llewellyn continues to go from strength to strength and fully deserved the enthusiastic cheers she received from the audience. Tenor Adam Diegal, an American who relinquished his job in the corporate sector in order to pursue a career on the stage, gave us an impassioned Don José who bizarrely decides to riffle through Carmen's handbag before killing her in the finale.
Carmen at the London Coliseum runs until 9th December 2012. Tickets from £21-£99. The performance is 2 hours and 50 minutes including a 20 minute interval. For more information and tickets please visit the website.