Those who love a good musical are being treated to one of the most exciting seasons for some years, as two of the greatest living legends of musical theatre, Sir Tim Rice and Lord Lloyd Webber, go head to head with new musicals opening within a matter of weeks of each other. Both men have also opted for historic true life stories, from the Second World War to Lloyd Webber's fascination for the political sex scandal that rocked 1960s Britain, The Profumo Affair. Stephen Ward, a rather uninspiring title for a musical, is named after a key figure in the scandal, and will be vying to steal your attention away from From Here to Eternity when it opens in December.
I was delighted to receive an invitation to the opening night and world premiere of From Here to Eternity at the Shaftesbury Theatre in London, a red carpet affair attended by Julian Lloyd Webber and followed by a celebrity-studded Aloha party held at the Freemasons Hall, complete with leis and coconut cocktails for the guests.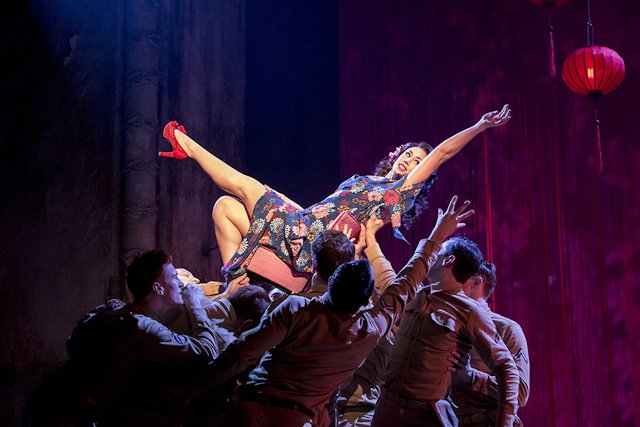 The new musical takes an altogether more modern approach to the classic novel of the same name, than the 8-times Academy Award winning1953 film version starring Deborah Kerr, Montgomery Clift and Frank Sinatra, handling controversial aspects of the James Jones book the film studio wasn't prepared to highlight back in the early 1950s, including violence, homosexuality and prostitution. Talking to the BBC, Sir Tim explained: "The film was wonderful but it was made in 1953 and, 60 years on, we can take different aspects of the book and look at it through 21st Century eyes." From Here to Eternity was the debut novel of Jones, recalling his experiences of belonging to a pre-Second World War II division stationed in Hawaii, and where he witnessed the devastating bombing of Pearl Harbor on 7 December 1941.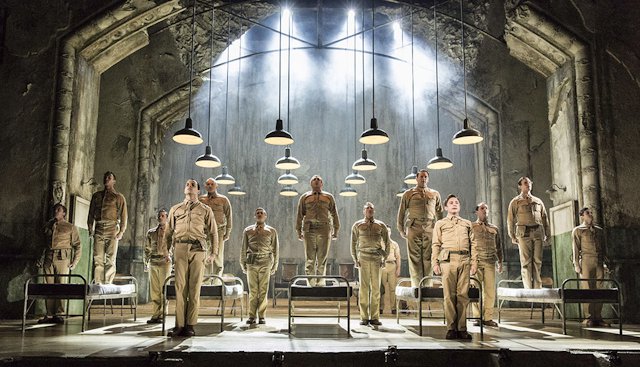 Strongly anti-war, and perfectly illustrating the feeling of claustrophobia that went hand in hand with life in the army, the musical is extremely faithful to the novel in telling the story of soldiers who, on the outside often came from impoverished backgrounds resulting from The Great Depression, and who partied and fought with their colleagues off-duty, never imagining that the war raging in the rest of Europe would find its way to the beautiful island of Hawaii. Tim Rice was delighted to gain the support of Jones' children, who felt strongly that the musical should not overly romantise war – instead, the relationships between the soldiers and their lovers are an important way of emphasising the tragedy and devastation of war.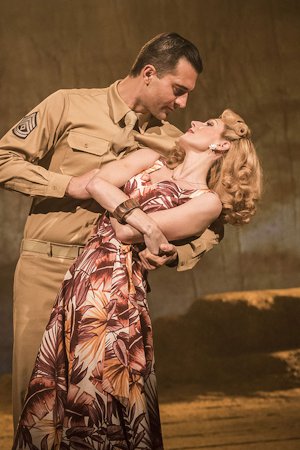 The story focusses on the intertwined lives of three soldiers including Private Robert E Prewitt (Robert Lonsdale), whose refusal to join the regiment's boxing team leads to him being made an outcast before he falls in love with the raven-haired beauty, nightclub hostess and prostitute, Lorene (Shiubhan Harrison). Opportunist American-Italian Angelo Maggio is played by Ryan Sampson, (a role decidedly different when played by Frank Sinatra) who plays cards and gives sexual favours to men in return for money. But the most outstanding member of the cast is Darius Campbell as First Sergeant Milt Warden, who risks years in prison when he embarks on an affair with Captain Holmes's steely wife Karen played by Rebecca Thornhill. The beach scene anyone who is a fan of the film is waiting for, features actual waves and a passionate embrace many will recall from the scene with Deborah Kerr, who broke her girl-next-door image when she appeared as Karen, wearing a raunchy black bathing costume and kissed Burt Lancaster as the water lapped the shore.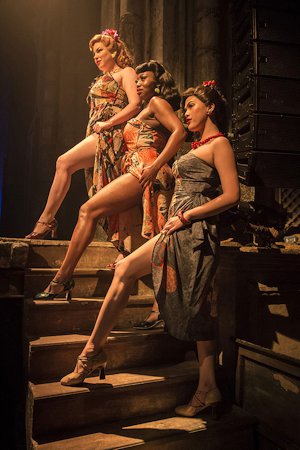 With lyrics by Tim Rice, From Here to Eternity is his first new musical in13 years, and composer Stuart Brayson makes his West End debut with an original score heavily inspired by both blues and early rock 'n'roll. Replacing the sweeping strings we've come to expect from big budget musicals for the ukelele and guitar, this musical sounds remarkably different and poppy. Stand out songs include "G Company Blues", "Don't Cha Like Hawaii" and " Run Along Joe" in Act I and "Love Me Forever Today" in Act II – just don't be expecting "From Here to Eternity", the song inspired by the film, which Frank Sinatra had a hit with.
Whist the direction by Tamara Harvey felt understandably cautious, if the cast loosen up a little there is no reason why this musical can't become a future West End classic. Sets and costumes by Soutra Gilmour will have you wearing a lei and a flower in your hair in no time, and choreography by Javier De Frutos is vibrant and creative; packed with muscle and testosterone and using slow-motion sequences to great effect, creating an all-important element of suspense in the final scenes and adding another strong dimension to what is a colourful and surprisingly bold piece of musical theatre.
From Here to Eternity at the Shaftesbury Theatre, 210 Shaftesbury Avenue, London, WC2H 8DP. Booking until 26 April 2013. For more information and to buy tickets visit the website.