Garsington Opera is an annual open air opera festival founded in 1989 by financier Leonard Ingrams (brother of Private Eye founder Richard Ingrams) at his home Garsington Manor in Oxfordshire, a previous haunt of the Bloomsbury Group. Garsington Opera reinforced Leonard's lifelong love of music, encouraged through violin lessons when an infant and his mother's personal acquaintance with the likes of Vaughan Williams and Benjamin Britten.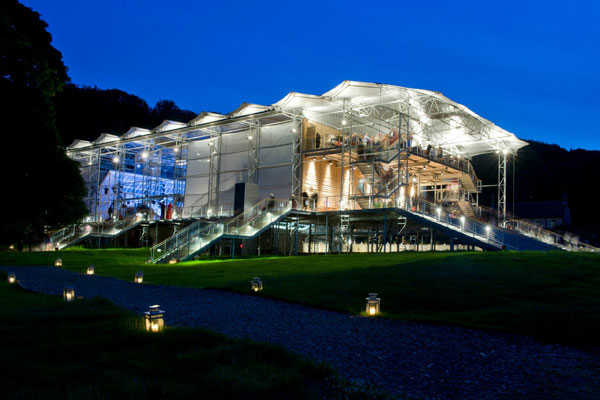 The festival relocated in 2010 to Wormsley Park in the Chiltern Hills following Leonard's death, when a charitable foundation was established in his memory. Having negotiated a 15 year lease on Wormsley estate, the trustees commissioned a temporary 600 seat covered glass pavilion inspired by traditional Japanese architecture.
Wormsley, owned by billionaire Mark Getty, was a natural choice for Garsington Opera due to its magnificent rural positioning and relatively close proximity to the festival's original home. The sweeping 2,500 acre estate means the opera can blast forth without causing disturbance to neighbours – apart from the odd fox. The restrictions of the planning consent mean that performances are strictly limited, which lends the festival a wonderfully intimate feel and blends nature with music in a most unpredictable way.
Despite architects Snell Associates designing a structure with impressive acoustics, the weather provisions, including installing a mesh layer over the roof to reduce rain noise, are largely unsuccessful. The downpour on this rainy evening in June became so torrential that it reminded me of listening to an opera on a crackling 19th century gramophone – and, however strange this might sound, I loved every minute of it. No matter how bad the weather, the audience remain stoic, armed with umbrellas and blankets and having imbibed copious amounts of Veuve Clicquot, gung-ho spirited and able to embrace Garsington Opera in all conditions whilst wearing full evening dress.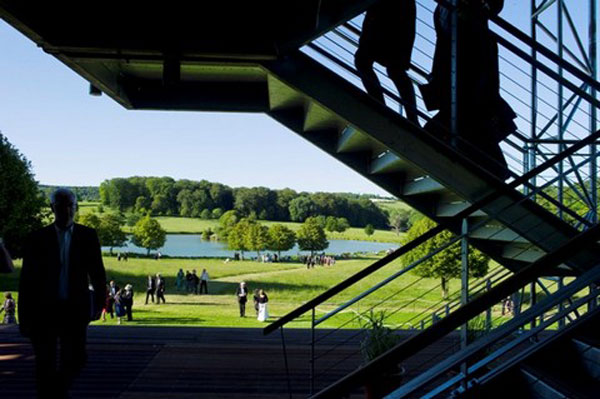 As we parked Mini Margot in the besodden field, we noticed a couple exiting the neighbouring car looking terribly well turned out – a designer tuxedo and bow tie for the gent, and ballgown and clutch bag for the lady – could it be that my chap and I, for the first time in our lives, were going to look underdressed? My darling looked down at his jeans in horror and adjusted his pocket square nervously, braving the sea of disapproving glances and desperately searching for some other fellow in equal hell – a social leper.
Guests are encouraged to spend the 85 minute interval partaking of a 3 course dinner (priced at £55) with wines selected by Berry Bros & Rudd, in the restaurant marquee overlooking the cricket ground. It was all terribly civilised. Quite frankly my chap and I weren't fit to be seen and made an adventure out of hauling ourselves up in the neighbouring marquee where we had a window view of the near flooded lawns and enjoyed a specially catered Jamie Oliver picnic on green plastic garden furniture, which included rare roast beef sandwiches, rainbow coleslaw, scotch eggs, and lemon cake with fresh raspberries and strawberries.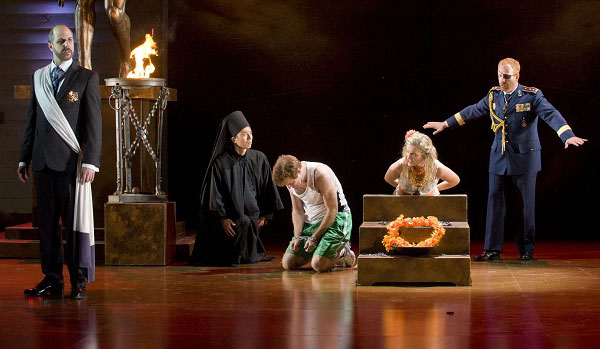 General Director Anthony Whitworth-Jones announced his retirement intentions earlier this year having tirelessly promoted Garsington and continued the festival's reputation for discovering outstanding opera talent. Although Garsington is mainly funded by wealthy benefactors and patrons willing to pay upwards of £100 a ticket, the festival's organisers want to encourage a younger audience and intend trialling an under 35s discount booking for the 2013 season. As a minor Glyndebourne offshoot, Garsington Opera has attracted opera lovers far and wide due to a carefully selected programme which aims to introduce their audience to lesser known works.
It was no great surprise to see Vivaldi's comic L'Olympiade on the 2012 programme this year. First premiered in Venice in 1734, this opera sees rivals on the track become rivals in love – in a story packed with mistaken identity, attempted suicide and a foiled murder plot. Using the original Italian libretto by Pietro Metastasio, this production directed by David Freeman and designed by David Roger has been imaginatively updated from the original ancient Greek setting with tracksuits, a boxing match scene, and the auditorium temporarily adapted into a running track (much to the surprise of those with an aisle seat) – complete with amusing slow-mo finishing line sequence to the Vangelis Chariots of Fire theme.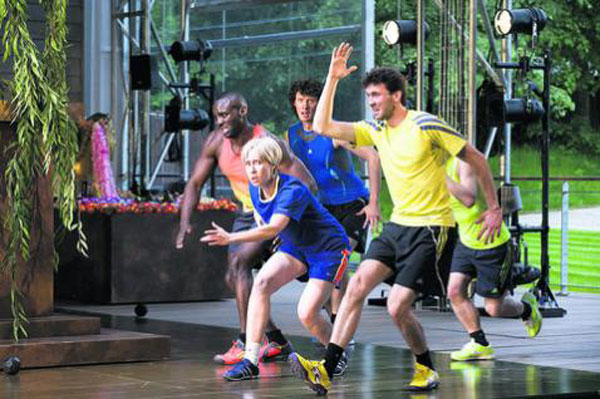 It was refreshing to hear this glorious Baroque opera performed to such a high standard by potential opera stars of the future in a unique and highly atmospheric venue. Musically, L'Olympiade is a joy, being only one of a handful of intact Vivaldi operas. Originally designed to show off the castrato voice, it was difficult not to laugh at such high pitched male warbling whilst posturing muscular actors did bottom squats against a backdrop of statues in the guise of naked Greek Olympians covered in willow branches.
Mezzo-soprano Emily Fons was exceptional, playing the athletic and lusty male Megacle, as was Tim Mead as Licida, the Prince of Crete, with solid performances from Ruby Hughes as Argene and Riccardo Novaro as King Clistene. The cast bravely soldiered on regardless of the torrential rain pummelling the roof, and distant thunder. It was so cold we could see their breath, and no special effects were required thanks to the mist seeping onto the stage. In fact the only thing affected by the weather was my own body temperature and annoyance at not having brought a blanket – after all, this is England!
For more information, visit the website or call the box office on 01865 361 636.