First performed in Turin in 1896, La bohème became one of the most influential operas of the nineteenth century. But its huge popularity caused Puccini to be seen as the Andrew Lloyd Webber of his time, decidedly unfashionable with music buffs who decried his sentimentality and catchy arias and melodies, about as far removed from Verdi and Wagner – the stalwarts of the opera world – as you could get. La bohème was the first of the composer's better known works such as Tosca (1900) and Madama Butterfuly (1904) and was based on a collection of vignettes about young bohemians living in the Latin Quarter of Paris, portrayed in Henri Murger's novel Scènes de la vie de bohème. Described by some as a "soap opera", unlike many operas that struggled to become standard names in the repertory, La bohème was an overnight success and quickly gained notice throughout Italy and Europe with the great Sir Thomas Beecham (1879-1961) conducting more than 300 performances of the opera during his career.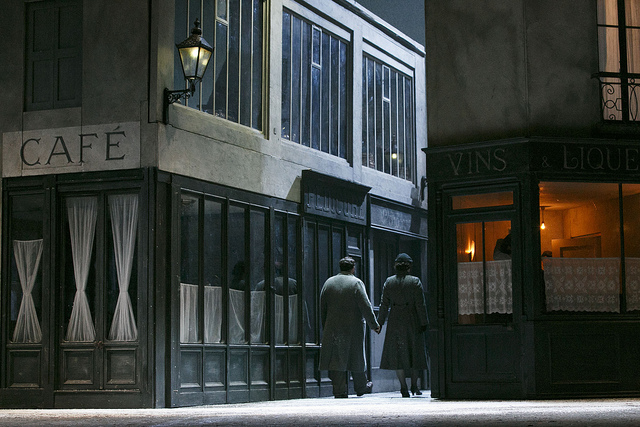 In recent years La bohème has been subject to the most bizarre and inappropriate re-workings and modernisations, all unnecessary distractions from a magnificently powerful opera which tells of loss and jealousy. Unlike many directors who have tried and failed to grasp the true subtleties of the work, Jonathan Miller brings a sensitivity that entrances the entire audience. "Puccini's operas are really rather like movies, and La bohème is the most natural and believable of them all," remarked Miller.  This English National Opera production premiered at the London Coliseum in 2009, but far from being rapturously received as Miller's works usually are, it was heavily criticised for its lack of emotional charge, which showed no signs of improving on its second outing a year later. This second revival, however, has finally come into its own; a heart rending and breathtaking piece that left even the hardened critics on their emotional knees. Translated into English by librettist Amanda Holden, Puccini, who always claimed that his operas could be sung in any language and still be understood, had a talent for creating timeless characters whose passions, jealousies and betrayals continue to resonate with us today.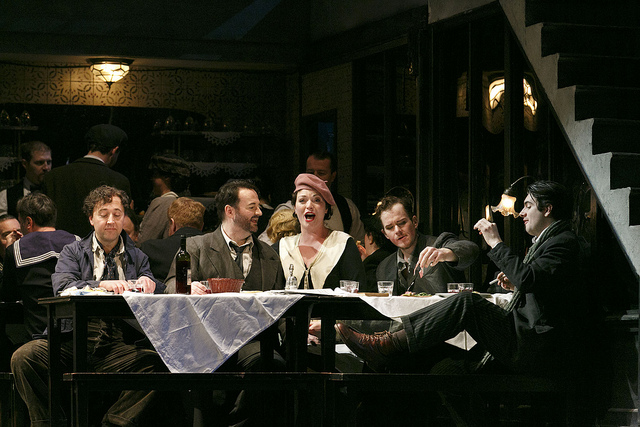 Cleverly updated to the depression era of the 1930s, the four act opera opens in a squalid Parisian garret on Christmas Eve, which the poet Rodolfo (Gwyn Hughes Jones) shares with the painter Marcello (Richard Burkhead). Tenor Hughes Jones immediately makes his presence felt; perfectly cast as the poet at the centre of a group of friends including the scholar Colline and the musician Schaunard. The costumes and set by Miller's regular designer Isabella Bywater allow the audience a voyeuristic view of the proceedings thanks to the two split level revolving sets containing the apartment and Café Momus, and fulfilling the director's intention of glamorising bohemianism: "I'm basing the artists' relationship on the movie Withnail and I – shabby, upper class boys who think squalor is very romantic." The cast certainly make a good job of convincing us that the apartment was freezing, by huddling up in blankets and Rodolfo offering to warm everyone up by burning his manuscript. Before long his friends relocate to the Café Momus, leaving Rodolfo to write and fall head over heels on encountering his pretty neighbour Mimì fainting on his doorstep – reminiscent of the Chaplin-esque heroines of the period.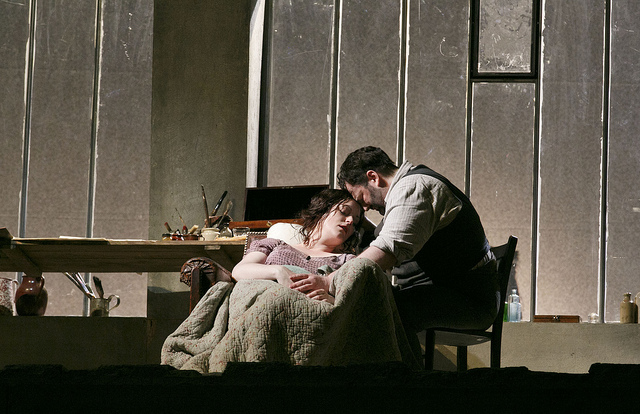 Act II features a rather overcrowded scene comprising of last minute Christmas shoppers and a festive dinner, best remembered for being our first glimpse of Marcello's feisty and flirtatious mistress Musetta, played by the magnetic American soprano Angel Blue. Her vocals overshadow the demure Kate Valentine as Mimì, who nonetheless gives a strong performance of a young woman gradually crippled with tuberculosis, unaware that her brief moment of happiness in the arms of Rodolfo is soon to end in tragedy. Rodolfo quickly turns their love into a thing of resentment and animosity due to his unwarranted jealousy and possessiveness. Having once proclaimed the overwhelming destiny of their union, Rodolfo and Mimì can no more prevent their inability to live together harmoniously or her ultimate decline. One of the most realistic romances in opera, this tale of love versus human nature strikes a chord with many of us, making the couple's final reconciliation all the more poignant and moving and fully justifying the enthusiastic curtain call cheers on opening night, which, alas, I was unable to participate in due to wiping tears from my eyes. I always consider Jonathan Miller productions the highlight of the ENO season and this is no exception.
La bohèmeat the London Coliseum until 29th June 2013. Performance time approximately 2 hours and 15 minutes including one 20 minute interval. For more information and tickets visit the website.