Christmas simply wouldn't be Christmas without hearing the immortal song lyrics: "I'm dreaming of a white Christmas", taken from the 1954 hit Irving Berlin musical starring Bing Crosby and Rosemary Clooney.
The film was intended to re-unite Bing with Fred Astaire, with whom he had scored a hit with the musical Holiday Inn, however, Astaire pulled out on reading the script – which might give you some indication that the plot, written for the screen by Norman Krasna, Norman Panama and Melvin Frank, is pure fun and not intended to provide audiences with anything either deep or meaningful, nor is it necessary to follow it this time around in order to enjoy the atmosphere of the 17-piece Larry Bank big band orchestra and the cheerily nostalgic numbers like 'Sisters', 'Blue Skies', and the song 'Count Your Blessings', for which Irving Berlin received an Academy Award nomination.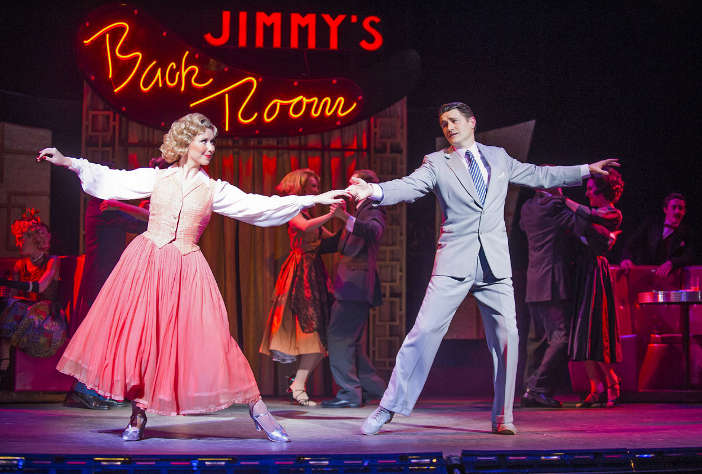 This candy-coated theatrical version directed by Morgan Young and currently playing at the Dominion Theatre, following the 12 year reign of We Will Rock You, and short-lived Evita, boasts a multi-million pound set designed by Anna Louizos, an impressive number of costume changes designed by Carrie Roberts, impeccable dance routines choreographed by Randy Skinner (making full use of an ensemble of 30) and all the glorious tackiness you hope for from an American fifties Christmas.
Aled Jones, most famous for singing the Christmas classic 'Walking in the Air' which accompanied the animated film version of Raymond Briggs' The Snowman, has left his Classic FM presenting spot to make his West End début as Bob Wallace, the character Bing Crosby originally played. Tom Chambers as Bob's army buddy Phil Davis, puts the rather unfit former choirboy through his paces as the pair embark on a series of Vaudeville-style double acts and, while Jones brings the vocals to the party, Chambers gives us the fancy footwork we've come to expect since his leading role in Top Hat.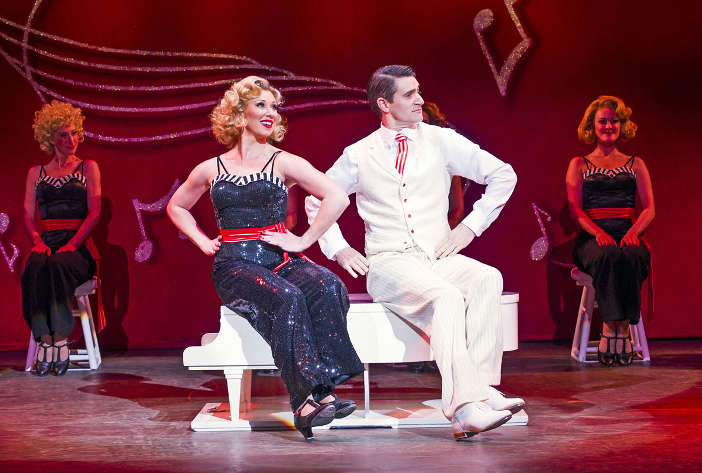 Having made it big on Broadway and radio, the chaps proceed to team up with a pair of talented singing sisters, Betty (Rachel Stanley) and Judy Haynes (Louise Bowden), to put on a show at a remote ski lodge in Vermont that has fallen on hard times – not helped by an unexpected heat wave. Where is this snow we've been promised? Coronation Street star, Wendi Peters, showcases extraordinary prowess as the feisty hotel receptionist, Martha, and provides an impressive vocal range that perhaps even overshadows Aled Jones. I predict producers will be lining up for Peters' come the festive decorations of the show being taken down in January.
Whilst it is on the long side at around 2 hours 40 (including an interval), the production is infectiously energetic throughout and is a treat for the family that makes a welcome change from tiresome pantomimes. Surely only Scrooge could go home without a smile on his face? It certainly succeeded in making me want to put the tree up (despite only being a fortnight into November), don a ridiculous jumper and hire a snow machine. Yes it's saccharine-sweet, kitsch and gushingly sentimental, but it's Christmas!
White Christmas at the Dominion Theatre,268-269 Tottenham Court Rd, London W1T 7AQ, until 3rd January 2015. For more information and tickets visit the website.