A Chorus of Disapproval was Alan Ayckbourn's 31st play. First premiered in 1984 in Scarborough, it marked his 25th anniversary as a professional playwright, later opening at the Olivier at the National Theatre and earning Ayckbourn his first Olivier Award for Best Comedy. Michael Winner went on to direct the 1989 film version starring Jeremy Irons, Prunella Scales and Anthony Hopkins.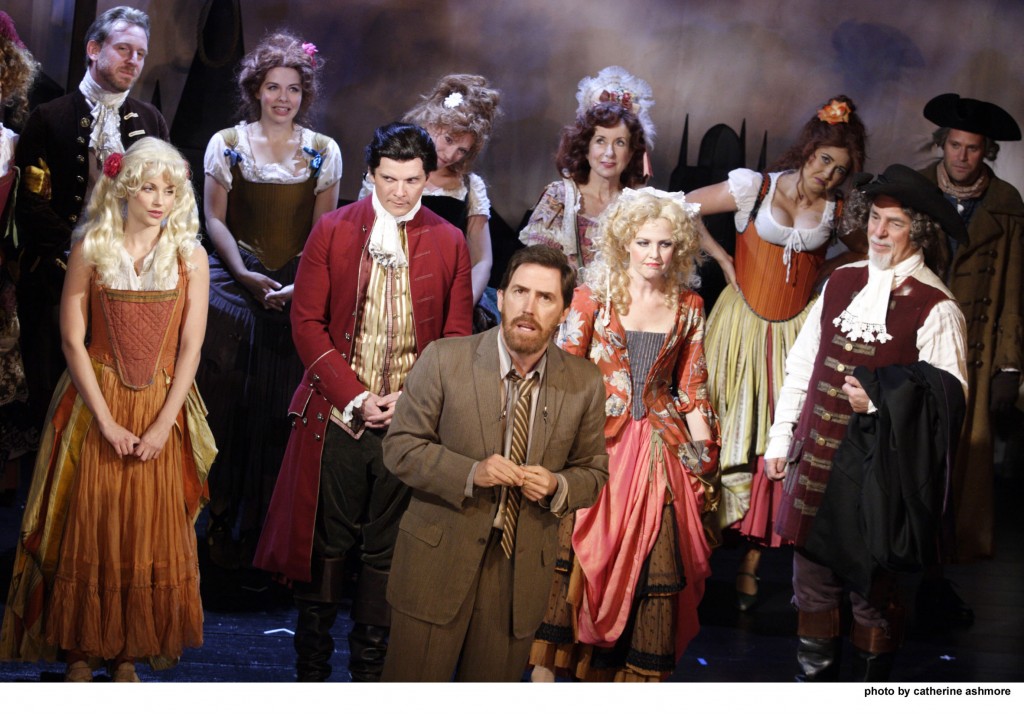 This Sonia Friedman Productions revival, directed by the great Sir Trevor Nunn and starring comedian Rob Brydon as the dim-witted solicitor Dafydd ap Llewellyn struggling to direct the idiosyncratic group of amateur actors (The Pendan Amateur Light Operatic Society) assembled to rehearse John Gay's 1728 satirical opera The Beggar's Opera, promised much and although I laughed-out-loud through much of it, it failed to get me splitting my sides, mainly due to the direction lacking any momentum.
While the play within a play device is not something I generally enjoy, it worked well when focused around the rehearsals and the relationships between the cast, namely newcomer Guy Jones, played by Nigel Harman, a young and lonely widower who gradually gets promoted to increasingly prominent roles as others drop out; Crook Finger'd Jack, Matt the Mint and MacHeath. Guy also takes the fancy of most of the women in the production, not least Dafydd's wife Hannah, played by Ashley Jensen who, even dressed in a pleated skirt, is difficult to imagine partnered with the cardiganed Celt Brydon who makes an impressive, if expectedly type-cast West End début.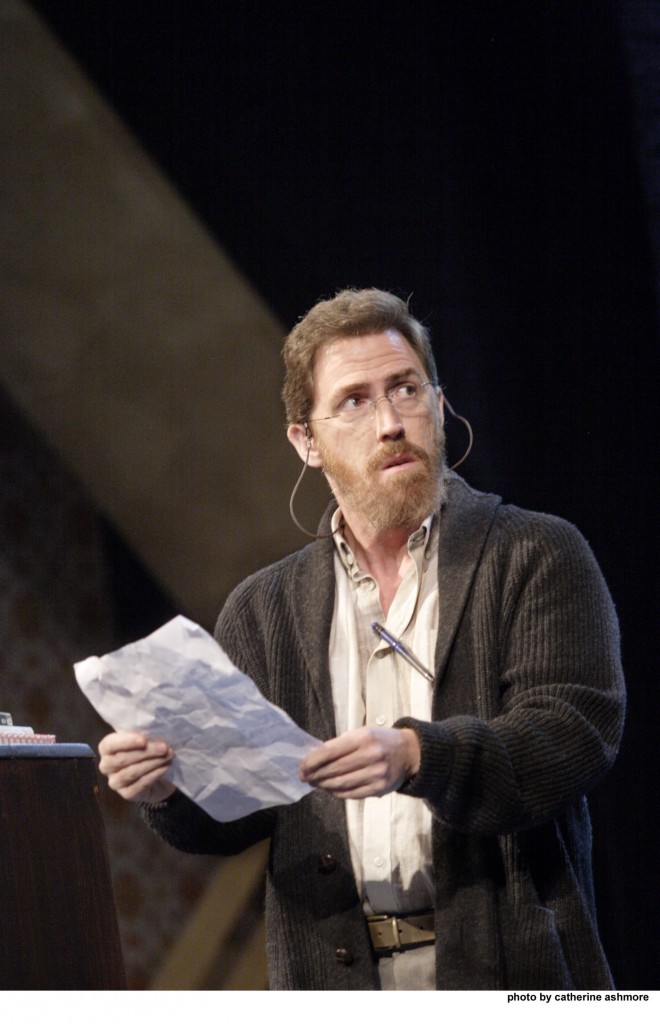 Dafydd's unstructured rehearsals leave plenty of opportunity for Hannah and Guy to canoodle in between scenes and Harman pitches his portrayal of Guy just right; a man naively relishing the opportunities that befall him without thinking too much of the consequences. With the play opening with the closing scene of The Beggar's Opera and Guy being cold-shouldered by the cast, the audience are then taken back to Guy's first audition by way of explanation.
A Chorus of Disapproval is an accurate and extremely amusing observance of the pitfalls of organising non-professional actors, most of whom are keen to add their own two-penneth to the mix. With a cast of 13, the backdrop of small-town politics and the somewhat incestuous extra-marital affairs of the group bear more than a slight resemblance to most villages. The moving sets, designed by Robert Jones, are integral to the overall enjoyment of this production and include the pub to which the cast retires after rehearsals. As Ayckbourn said in an interview with The Times in 1985, "Amateur dramatic societies always have a very interesting class structure. They're a mixture of a lonely hearts' club and a forum for frustrated would-be professionals." The entire cast are extremely proficient at switching between their true characters to give  wooden amateurish performances in the opera, as are their vocal performances; good without ever verging on the 'professional'.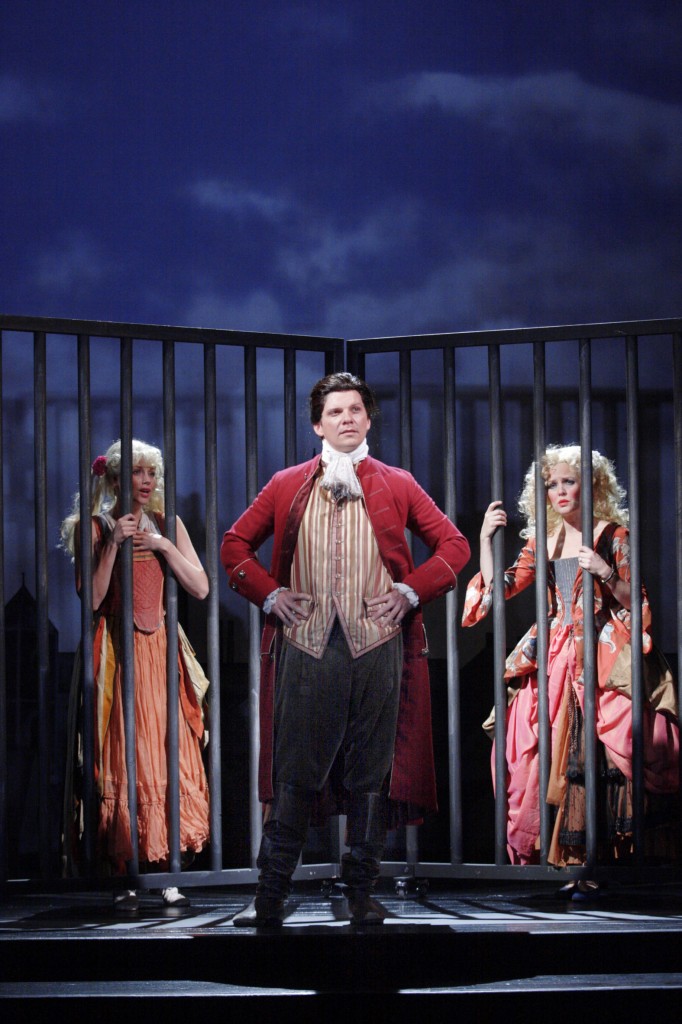 Ian Hubbard, played by Paul Thornley, and his flirtatious blonde wife Fay, openly enjoy 'swinging' which leads to one of the funniest scenes in the play. Guy is invited to their house for 'drinks' and told to bring a female friend. Misunderstanding their motivations, he arrives alone and reveals to Fay that his friend is a geriatric, describing her as a 'game old bird' and causing much mirth in the audience, especially when Ian arrives, sporting tight white jeans and a leather jacket only to get something of a surprise on unsuspectingly answering the door! Meanwhile, Guy is shown upstairs by Fay, causing him to become further embroiled in the ludicrous demands of middle aged women and having to later break up a cat-fight between Fay and Hannah in a tea shop.
It isn't the sort of play you want to walk out of in the interval, far from it, it just isn't the kind you would bother recommending to your friends. It concludes with the opening night of The Beggar's Opera and Dafydd discovering Guy and Hannah's affair. Turning to Guy, who is costumed ready to play the leading role of MacHeath, he says "You bastard. I just want you to know I think you're a total and utter bastard and that one of these days I hope you'll get what's coming to you. (Pause)  Having said that, best of luck with the show tonight and I hope it goes really well for you."
A Chorus of Disapproval at The Harold Pinter Theatre, Panton Street, London, SW1Y 4DN, until 5th January 2013. Tickets £10-£53.50. For more information see the website.