All My Sons is the 10th play by the prolific Arthur Miller and one of the most highly regarded works in American literature – a remarkable attempt by him to write more commercially. Premièred on Broadway in 1947 to wide critical praise, it caused something of a ripple in the theatre world and won Miller a Tony Award for Best Author, the first major taste of success for the 32-year-old.
Nevertheless, All My Sons has also been a play widely misunderstood, with many social commentators believing it to be an anti-captialist statement with an unusually likeable anti-hero in the form of Joe Keller, a doting father who says, "I would love to help humanity on a Warner Brothers salary."
Tom Mannion plays Joe with great sensitivity; a prosperous business man fatally flawed by greed, he has been cleared of sending faulty engines to the army, resulting in the loss of 21 men. Allowing his factory manager to take the blame, this shirking of responsibility ultimately results in the destruction of his own family and it is this unravelling of the Keller household that makes for one of the most intriguing, suspenseful and psychological works of all time.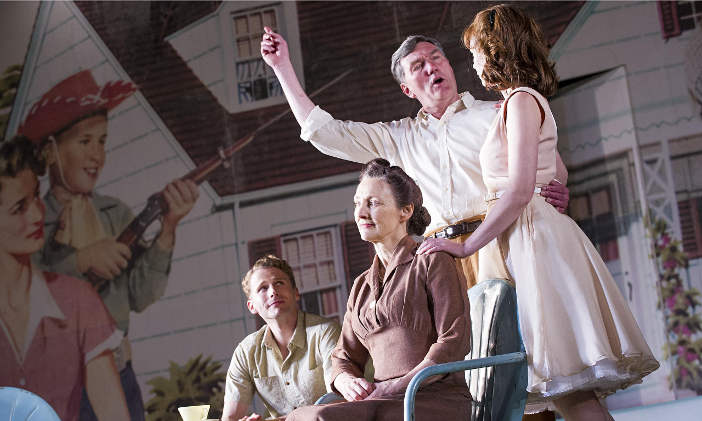 The fact that All My Sons is based on a true story, first noticed by Miller in a newspaper report, makes it even more powerful and an extremely daunting prospect for any director and cast. It was a pleasure to watch this revival unfold, however, and the play being entirely based in the backyard of the Keller house means it is ideally suited for the Regent's Park Open Air Theatre. Timothy Sheader, fresh from last season's acclaimed To Kill a Mockingbird, directs the strong cast with a confidence and ease which this play demands in order for the audience to become utterly absorbed.
Brid Brennan is mesmerising as Joe's wife Katie, a woman who attempts to ignore the guilt of her husband and spends her time obsessing over the possible return of her son, Larry, who has been missing in action for several years and is believed dead by the other members of the family, including Joe. Their remaining son, Chris (Charles Aitken) has returned from the war a hero and now wishes to marry Larry's sweetheart, Ann (Amy Nuttall). Having invited her for the weekend, the acerbic Katie wastes no time in making her opposition known, so intent is she on preserving the life Larry once knew.
It is soon revealed that Ann's father was previously Joe Keller's right hand man and friend and has been imprisoned for the factory issuing faulty engines. This understandably causes a great deal of awkwardness when she arrives and no amount of small talk from Joe can conceal what everyone is really thinking. As night falls, the audience are alert to the fact that this is just the warm-up to something more dramatic – the planes flying by overhead cannily lending themselves to the storyline.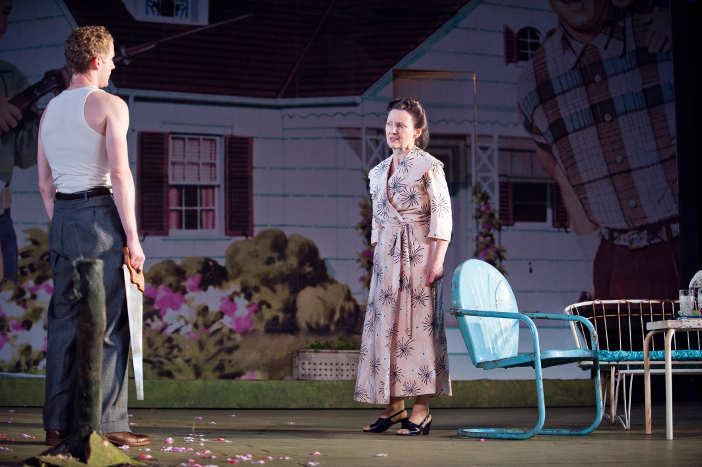 Nuttall, reminiscent of a young Natalie Wood in her pale pink Fifties gown, is a revelation as Ann, a woman willing to compromise in order to marry, and her relationship with her neurotic future mother-in-law, Katie, is utterly believable and whom she is forced to mentally break before she can reason with. In truth, both women are victims of self-deception and there is a fantastic tension between the pair which builds steadily to a terrific climax, assisted by a great performance by Mannion.
Joe has blood on his hands and everyone, including the neighbours, Dr Jim Bayliss (Simon Wilson) and his wife Sue (Tilly Blackwood), knows it. They also recognise that Katie is deluding herself in a vain attempt to hold what little remains of her family together, but she is also repressing the only way Joe can free himself of the guilt, as poignantly illustrated when the deceased 21 soldiers appear in the shadows of the stage. As Chris famously says to his father, "I know you're no worse than most men but I thought you were better. I never saw you as a man. I saw you as my father."
Whilst the story is firmly focussed on suburban life, All My Sons is a play with big themes; the American Dream, family loyalty and guilt. Can we ever escape our past? It isn't a play you're ever likely to forget and this gentle and tender production, which fully maximises on the outdoors environment, allows us to look beneath the surface of a great work. This revival might be a slow-burner but, whilst others may accuse Sheader of playing it safe and failing to pack more of a punch, I applaud the subtlety and sensitivity exhibited in what is a refreshing take on a modern classic.
All My Sons at Regent's Park Open Air Theatre, London, until 7th June 2014. For more information and tickets visit the website.