There is nothing subtle about it, Barking in Essex is like being caught in a wind tunnel for two hours and being blasted with a tirade of swearing and abuse, or finding yourself trapped inside the Big Brother house or brought up in a 'TOWIE' family – God forbid! It's not the sort of play you would take your parents to see, recommend to anyone, or admit that you enjoyed it – yet, enjoy it I did!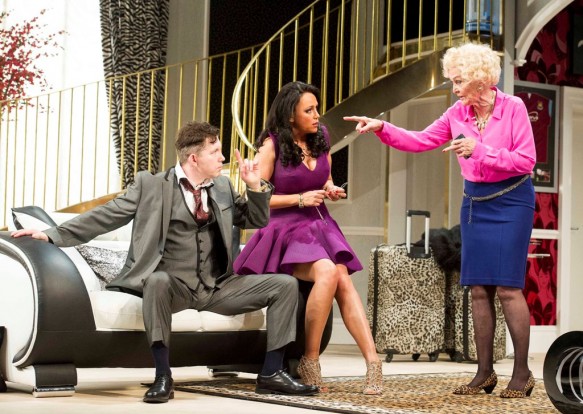 The apple certainly fell far from the tree when you consider that the author, the late Clive Exton, is better known for television classics such as Poirot and Jeeves and Wooster or films like 10 Rillington Place. This vicious piece of comedy was Exton's last completed work before passing away from brain cancer in 2007 and promises to provoke a strong reaction from West End audiences during this debut run at Wyndham's Theatre.
Although Exton's widow, Mara, explains that his use of strong language was to provide rhythm, the use of the C word is so frequent that it just detracts from the initial power of surprise. Not only do you have to get over the shock of hearing some of the foulest language imaginable, but delivered by none other than national treasure Sheila Hancock – and with quite some zeal! She plays Emmie, a woman who likens her promiscuity to King's Cross Station and whose son, Algie, is currently serving time behind bars, having entrusted her with his £3.5 million loot for "safe keeping". Talking about what drew her to the role, she explained: "my character is a thoroughly nasty woman and I just loved the idea of playing that. She doesn't have any redeeming features at all." That pretty much sums up the rest of the cast too. The stereotypical caricatures are drawn so well that it's impossible not to be enormously entertained/horrified at the unconventional Packer family.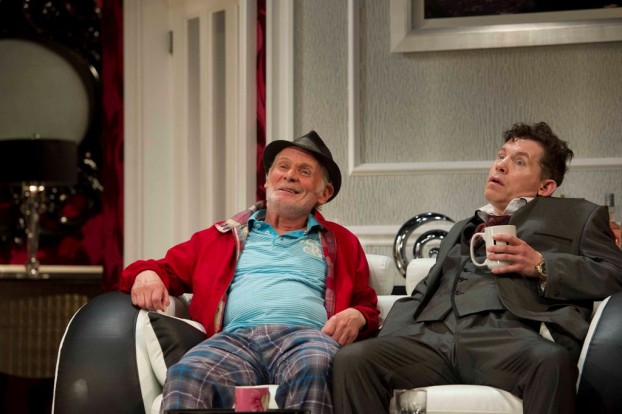 Having seen Evans very much holding his own opposite Michael Gambon in Beckett's Endgame back in 2004, there is no doubt that he could perform the role of Darnley Packer sleepwalking. His energy and timing ensured it was he who generated the greatest and loudest laughter, with several outbursts of applause the other actors were well prepared to pause for. Keeley Hawes is a revelation as Darnley's ruthless and self-centred wife, Chrissie, who helps her mother-in-law, Emmie, spend the cash without Darnley even questioning how they can afford luxury cruises and expensive cars. The only slight problem is Algie's imminent release from prison…
The living room set, designed by Simon Higlett, where we are first introduced to the characters, is chavvy beyond belief (just as it should be) and features the Packers' take on sophistication: a Ferrero Rocher tower, a juke box, and "mood" lighting. It's the eve of Algie's release, when the arrival of his new fiancée, the hoity-toity Allegra Tennyson (Monserrat Lombard) interrupts Darnley's outrage on discovering that his mother and wife have spent all Algie's money on shoes and handbags. There is only one solution when Allegra insists Emmie hands over the key to the safety deposit box – cue Rocco (Karl Johnson) as the aged neighbour-come-hitman and the unravelling of a quite brilliant modern farce. Harry Burton directs the terrific cast with pizazz – if you're brave enough to see it, you'll never forget it.
Barking in Essex at Wyndham's Theatre, Charing Cross Road, London, WC2H 0DA, until 4th January 2014. For more information and tickets visit the website.