Set entirely in an elderly Jewish couple's apartment in 1980s Brooklyn, New York, and initially focussing on their hobby of ballroom dancing, the opening of Daytona might lead one to expect a light hearted romantic comedy. The set design by Ben Stone included the all too familiar G-Plan (bringing back horrific memories of my childhood) and when Elli and Joe moved aside the furniture to enable them to practise their moves ahead of a dancing competition the next day, I was feeling rather charmed. Yet, sadly their footwork was as much limited by the size of the stage as the actors were by the structure of this play. Something about it just doesn't ring true.
Daytona is a new work by actor-turned-writer Olivier Cotton, who stars as Joe's brother Billy and makes up the cast of three in their current run at the Theatre Royal Haymarket and following the play's acclaimed première at the Park Theatre last year. This time around, however, the poor notices reflect director David Grindley's struggle to convince his new audience of the play's merit and however much potential there is to be found in the sentimental tale of long lost love and the trauma of Holocaust survivors, it fails to pull at the heart strings or deliver any great emotional impact.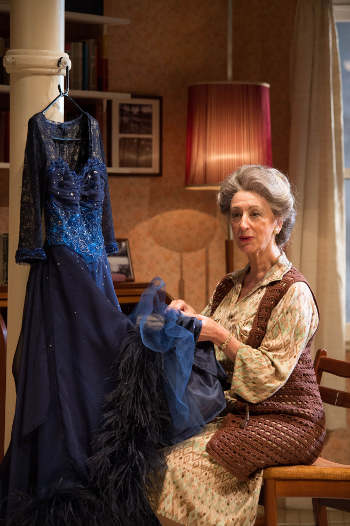 Aside from a short opening scene, we barely see Lipman in the first half – a disappointment indeed. Queue Joe's brother Billy who shows up after a 30 year absence clutching a Chinese takeaway bag and wearing a large overcoat, baggy pants, sneakers and a Hawaiian beach shirt. He has barely been introduced to us before we are hit with blisteringly dull monologues recounting the reasons for his absence and avoiding Joe's short queries as to his unexpected return. Cotton certainly awarded himself the lion share of the dialogue, therefore removing any naturalness between the brothers and ultimately a huge oversight in a play as intimate as this.
Considering the play is being revived from last year and Cotton wrote the lines himself, it's not easily forgiveable that each member of the cast succeeded in fluffing their lines on more than one occasion. Aside from that there were moments of sheer ham. Eventually, after some rather cringe-worthy slip-ups, Billy informs Joe that he is on the run after shooting a concentration camp officer they knew during their wartime internment, having chanced upon the man whilst on a family holiday at Daytona, Florida.
Every minutiae of the killing scene, in which he shoots the man by the pool in broad daylight, is relayed to a bored-looking Joe over a burnt Chinese takeaway and a bottle of scotch Cotton unconvincingly guzzles like water. Joe, played by Harry Shearer (famous for being the voice of Mr Burns in The Simpson's) isn't as shocked as you would expect on having this revelation thrust on him, or when Billy waves the gun around – seemingly more anxious about getting some sleep ahead of the dance competition the next day. Yes – the dance competition, I'd almost forgotten about that.
Daytona is trying to be a new take on a Nazi revenge saga and it was hugely frustrating to imagine how much better it could have been. The second act picked up pace on Billy's past love affair with Elli being revealed, but even then the change in tempo was too late to redeem it and Lipman's reappearance made it all the more evident that this production's good reviews hang almost entirely on her casting. When Joe refuses to journey with Billy to Daytona in order to identify the body as the Nazi officer, it's then that we see how much the flames she once shared with Billy have been reignited. Lipman not only manages to salvage an otherwise unremarkable production but a role which could have been equally bland had it not been for her skill and charisma as an actress. I sincerely hope she returns to the West End soon, but in another play.
Daytona at Theatre Royal Haymarket, London, until 23rd August 2014. For more information and tickets visit the website.