A journey through the experiences of two orphaned teenagers, Debris by Dennis Kelly was first staged ten years ago at the Theatre 503/Battersea Arts Centre. This revival, presented by Openworks Theatre in association with award-winning theatre company Look Left Look Right, marks the play's anniversary and is an utterly riveting take on Kelly's heart-and-ground-breaking work.
It's a measure of how interesting a play is if you find yourself reading it on the tube on the way home. The stark set is just a pile of rubble slightly off centre stage, which brother and sister, Michael and Michelle, play on as the audience take their seats. These children live in a grim world and speak in a series of long, dramatic monologues to the audience rather than to each other – reliving key moments of their lives using Denis Kelly's beautiful language, which at times feels like listening to poetry and makes the grimness of the siblings' lives all the more devastating. There is a sense of foreboding as their deprived lives unfold; even from the mouths of guileless children, you can predict something unpleasant is in the offing.
We discover that on Michael's sixteenth birthday, he came home to find his alcoholic father crucifying himself in the living room, but the audience are never quite sure whether to believe if these things really happened or whether they come from the fantasy of these unloved and vulnerable children. Michelle (Leila Mimmack) relives her mother's death in three quite different scenarios; the third, that she died of a ruptured appendix at the hands of her drunken husband, being the most convincing and a disturbing insight into the home-life of the siblings.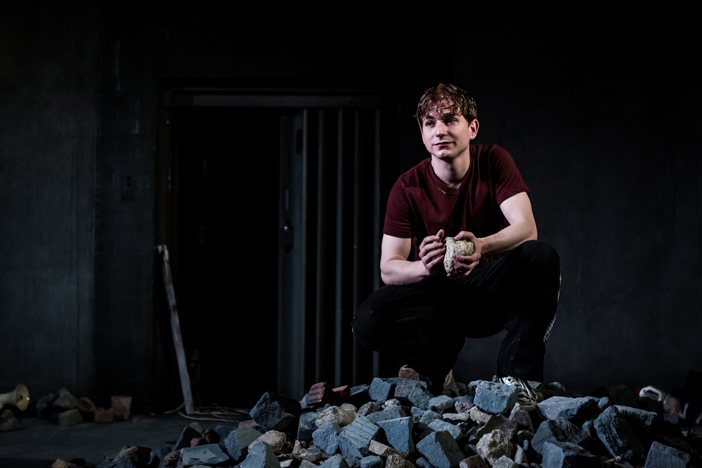 Their uncle, having taken them to live with him, showed them no more affection than their father and instead planned to sell them to a paedophile with a pet Orang Utan. McEntire cleverly mimics the other three characters; the uncle, the paedophile and notably the Orang Utan, differentiating perfectly between each and adding enough humour without breaking the spell of this horrific story. As with all great tragedies, there are quite a few laughs throughout.
Most poignantly, when Michael finds a baby amongst the 'debris', having been deprived of all love and affection himself, he is desperate to give all he can to this abandoned infant. Really moving stuff. With just two actors and nothing but a pile of brick rubble as a set, both performers manage to redefine the space by very clever yet unobtrusive staging.
Mimmack and McEntire effortlessly hold your attention by maintaining a childlike innocence and are definitely two young actors to watch. Mimmack, with her large eyes and high cheek bones, looks suitably haunted and has an affectingly disturbed quality that is hard to shake off. Debris is a stimulating and moving drama, brilliantly directed by Abigail Graham who does justice to this beautiful (if harrowing) script, delivered by two excellent young actors in a very imaginative production.
Debris at Southwark Playhouse until 17th May 2014. For more information and tickets visit the website.