Die Fledermaus (The Bat) premiered in Vienna in 1874, with Johann Strauss II conducting, but, as with so many operas, was received according to the political and social climate of the city. As Director Christopher Alden reminds us, "it premiered less than a year after the Black Friday crash of the Viennese Stock Exchange, during a major economic depression. History endlessly repeats itself, and Fledermaus will never go stale."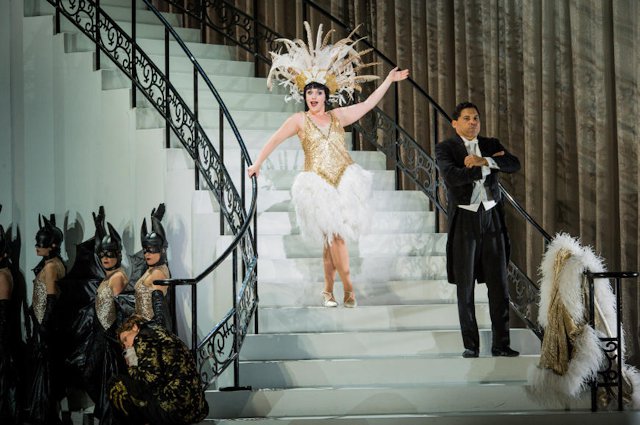 The last decades of the nineteenth century saw the Austrian capital alive with a vibrant intellectual scene, from Mahler to Wagner, but the music of Johann Strauss II offered a frivolous antidote to the Viennese self-analysis of Signmund Freud –  Die Fledermaus was an operetta whose characters laugh in the face of convention and drink champagne in the hope of turning their fantasies into realities. With a libretto inspired by French Vaudeville and German farce, the similarities of Die Fledermaus to others circulating at the time was responsible for it being labelled 'commonplace'.
This production, however, is far from it; an opera not seen at the ENO for over twenty years, Christopher Alden directs with confidence, with Eun Sun Kim making an impressive debut conducting the ENO Orchestra and enthusiastically steering the cast to the great heights of the famous Drinking Song. Although I would generally prefer to hear an opera in the original language, on this occasion it sounds decidedly softer and more approachable sung in English.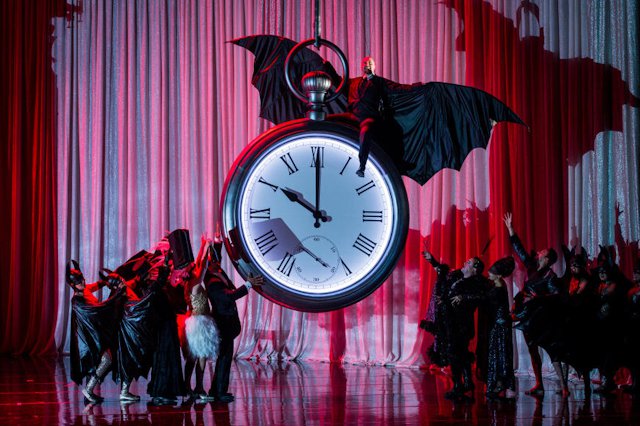 A comic tale of seduction, mistaken identity and revenge originally set on New Year's Eve 1899 in Vienna, moving the action forward to the Jazz Age with a stunning Art Deco-inspired backdrop by Allen Moyer, and costumes by Constance Hoffman, is effective as a visual feast of glamour that make the ball scenes reminiscent of RKO pictures featuring Fred Astaire and Ginger Rogers. The presence of Nazi officers act as a somewhat bizarre reminder that we are not in Hollywood, but partying our way towards the Second World War.
Act I is set in a room in Eisentein's house. With a giant pocket watch suspended over the stage and his wife Rosalinde writhing around on a large bed, her dreams pay homage to one of Vienna's most famous sons, Freud, and are marked by the hands of the clock turning several times throughout the overture. Director Christopher Alden speculates on whether the character of Rosalinde (Julia Sporsén) was intended to be one of Freud's hysterical women "trapped in a double-standard marriage where the man is free to find fulfillment outside the marriage bed but the persona of a respectable wife and mother precludes any extra-curricular erotic satisfaction." Swedish soprano Sporsén performed Rosalinde's aria, Sounds of Home (Klänge der Heimat) with feeling, illustrating the emotional undercurrents of a seemingly frivolous tale.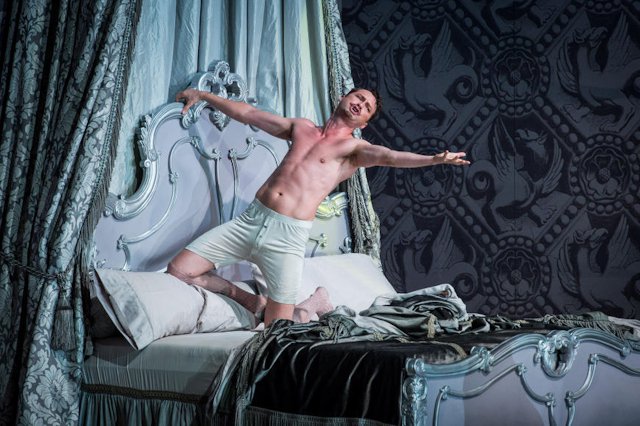 Edgaras Montvidas is superbly cast as Rosalinde's lover, Alfred, a hot-blooded tenor who serenades her whilst her husband, Gabriel von Eisenstein (Tom Randle), is away at a court hearing. Alfred pretends to be Eisenstein when the prison governor, Frank (Andrew Shore), arrives at the house to collect the absent Eisenstein for a short jail sentence.
But it is ENO regular Rhian Lois as Rosalinde's maid, Adele, who is the most memorable performer of the night. Adele claims her old aunt is ill in order to attend Prince Orlofsky's ball, where she appears in Act II pretending to be an actress named Olga. It's difficult not to find Lois' Welsh accent both highly amusing and arresting, but whether you love it or hate it, it works well with the more farcical elements of the plot. Eisenstein meanwhile, who knows nothing of his wife's lover in jail, also attends Orlofsky's party in the belief he is simply delaying serving his sentence. He is ridiculed on noting that Olga looks just like his maid and Lois is on top form for the Laughing Song (Mein Herr Marquis).
Although this production doesn't always make it easy to follow, or, aside from a fleeting reference, convey the significance of the bat, the final act sees the charade-like story unravel towards a satisfactory conclusion; everyone agrees that champagne was ultimately to blame! Well received by the audience, it marks the welcome return of an operetta with more layers than an artichoke.
Die Fledermaus at the London Coliseum until 6th November 2013. Running time approximately 2 hours 35 minutes. For more information and tickets visit the website.