Born in 1847 to a theatrical family, Ellen Terry took on her first stage role at the age of eight in A Winter's Tale, and went on to become the definitive leading Shakespearean lady in a career spanning more than 60 years. She also just happened to be John Gielgud's great aunt. After a long-standing collaboration with actor-manager Henry Irving – a much-lauded partnership – Terry funded her retirement in the early twentieth century by writing and performing a series of lectures on playing Shakespeare's various women. Terry's deeply analytical evaluations of Shakespeare's characterisations, combined with an unmistakable affinity for the mentality of each creation, set these works apart from anything that had gone before; her lectures became a sensation both here and abroad.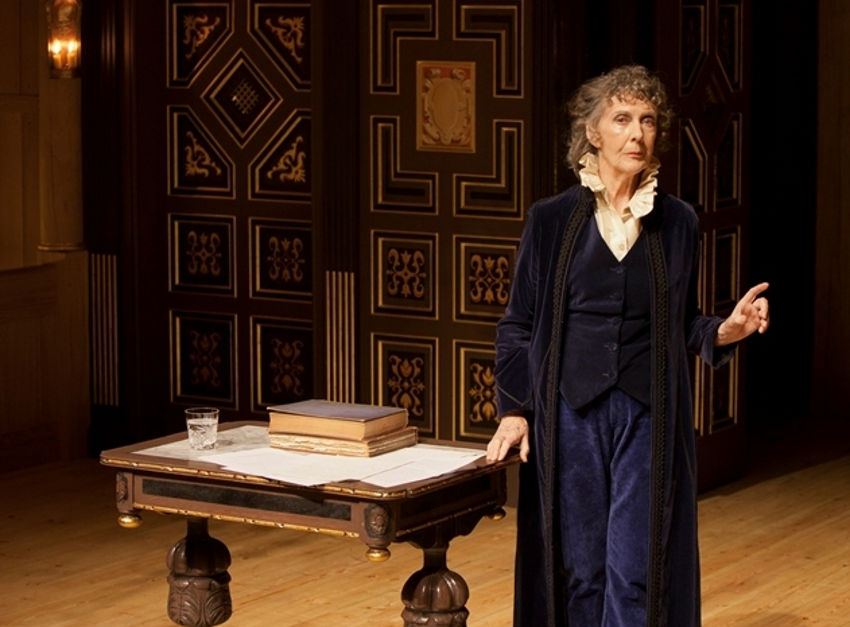 Today, these lectures have been reworked into a slick 70-minuter by Dame Eileen Atkins. Performing solo in The Globe's new indoor space – the Sam Wanamaker Playhouse – Atkins has edited the works and intertwined them with anecdotes and favoured extracts to whirl audiences through Shakespeare's – and Terry's – women.
Atkins barely needs an introduction as an actress – the damehood speaks for itself – it is fitting, then, that such acting nobility should take on this rather daunting of projects, and Atkins captivates the theatre from start to finish with a robust, intelligent and occasionally impish performance. Sweeping onto stage as a woman of purpose; the stark recollections of previous performances is inspiring to hear from any such well-established talent, and is delivered here with complete command of both the content being discussed and the surrounding room to which it is being directed. Dressed in a midnight blue velvet ensemble, Atkins stands behind a desk with a cut-crystal glass of water, and speaks as you only wish a professor could, mixed with the near husky richness of a thespian; a wealth of knowledge, research and passion for the subject are eerily underpinned by a raw intimacy with the women in question – only truly achieved by having brought them to life which, of course, both Terry and Atkins have independently done.
When not voicing marked opinions about individual characters (Desdemona should not be thought of as a "ninny"; Lady Macbeth is "a delicate little creature, with hyper-sensitive nerves"; Juliet is so complex despite her youth, that "an actress cannot play Juliet until she is too old to look like Juliet."), Atkins recites snippets of the respective plays, taking on multiple characters simultaneously without ostentation or histrionics, but with superior skill and a calm understanding of the scenes' dynamics. As she portrays King Lear's reunion with his daughter Cordelia, the audience can do no more than stare – utterly wide-eyed, totally agog – at how one person can transport so many others to such a far away world, and bring other beings into the room with nothing but the powers of speech and imagination. There is the occasional quip in the script (hinting vaguely at Wildean humour but in his more cutting of moods rather than belligerently hollow), which Atkins clearly relishes with a twinkle in her eye, and the main point that Shakespeare's women are made of sterner moral stuffs than his men is compellingly driven home. Atkins is an actress of indescribable refinement, who provides a masterclass in her art here – from the first minute right to the last, whispered ramblings of poor, mad Ophelia.
In the setting of the Sam Wanamaker Playhouse – all bare timber beams and candle-lit chandeliers – the performance feels incredibly intimate and is therefore very touching. In contrast to its open-air counterpart, this Jacobean theatre seats just 340 people and places you within a hair's breadth of the actors. Twenty years and £7.5 million in the making, it has been designed to showcase drama as provocatively as possible, and has kicked itself off with both this and a production of the Duchess of Malfi.
I am excited by what the Sam Wanamaker Playhouse will host in the future. In the meantime, Ellen Terry with Eileen Atkins is an understated yet stimulating watch that proffers enough content for an exam text whilst retaining that enigmatic, perplexing Shakespearean magic that has kept us hooked for centuries already.
Booking until 23rd February. For more information, visit the website.