I was delighted when I read that Lucy Bailey would be directing Fortune's Fool; her production of The Beggar's Opera in 2011 was one of the most side-splitting revivals I've ever seen. So no-one could be better placed to tackle Ivan Turgenev, one of the greatest Russian authors and playwrights of the 19th century, whose adroit observations of society anticipated those of Chekhov. Born into an aristocratic family of land-owners, this early work reflects the unease Turgenev felt at being one of the more fortunate citizens of Russia, on which Bailey remarked: "when he inherited his estate he freed all the serfs. I find that so moving."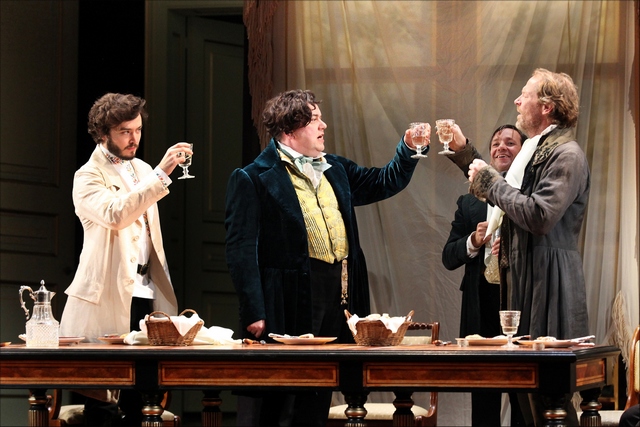 Bailey may have recently been quoted in an interview as looking for "sex and violence" in a play, but this is an altogether more restrained affair, with a lightness of touch that completely revitalises a potentially stuffy drawing room comedy into something cruelly funny and tragic, with Mike Poulton's brilliant adaptation successfully delivering Turgenev's cutting statement about the 19th century Russian class system, and brought to life by unfaltering performances from the cast.
Set on a vast Russian country estate in 1848, the middle-aged Kuzovkin, played by Iain Glen, is awaiting the return of the the estate's owner Olga (Lucy Briggs-Owen) and her new husband Yeletsky (Alexander Vlahos) from the fashionable St Petersburg. Expressing his deep affection for Olga, whom he has watched grow up, he describes himself as a gentleman and a friend of the family, but in truth he's no more than a tolerated and impoverished jester who has been living on the charity of the family for over 30 years. Possessing no quarters of his own, the opening act finds him sleeping in the linen cupboard. His clothes are frankly not fit to be seen in polite company and he's an easy target when the wealthy neighbour Tropatchov, played by Richard McCabe, arrives to welcome the newly-weds – a grotesque but brilliant portrayal that puts one in mind of a caricature of King George IV.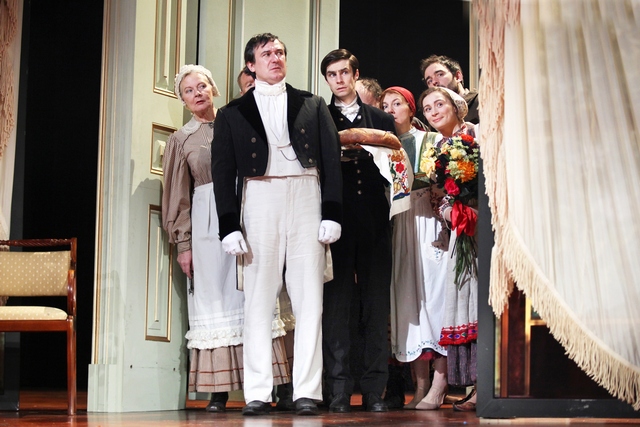 When the young and giddy Olga and the cold Yeletsky arrive, Tropatchov wastes no time in suggesting Kuzovkin should be sent on his way. Bailey's husband, and perhaps her most important collaborator, designer William Dudley, cleverly utilises the expansive stage of the Old Vic, making the audience sympathetic towards Kuzovkin and his fear of having to fend for himself. And Glen, who suggested the play to Bailey after reading Poulton's translation, truly gets under the skin of this pitiable character.
A champagne-fuelled lunch sees McCabe (with no reprimand from Yeletsky) make a mockery of the poor kind-hearted Kuzovkin, who describes the Jarndyce-and-Jarndyce-esque legal battle that has resulted in him losing his entire fortune. With strong support, both McCabe and Glen were in their element as, the audience looking on in awe, both men took the helm of this epic slanging match. The lunch, in many ways the most important scene of the play, ends in a startling revelation by Kuzovkin.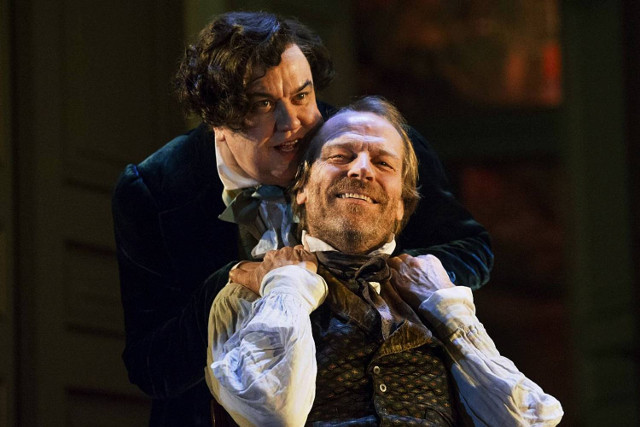 The second half, set in a lavish drawing room, is decidedly more mellow and sees Lucy Briggs-Owen give a commanding portrait of Olga; a young woman who has overheard something she would probably like to forget. Nonetheless, it's a relief to see her assert herself with her cocky new husband, and the conclusion of Fortune's Fool and the fate of our friend Kuzovkin is as ambiguous and thought-provoking as this production is well judged. If Christmas itself doesn't tire you of family fracas and make you all too aware of your own bank balance, then be sure to book your ticket to this – you'd be a fool not to.
Fortune's Fool at the Old Vic Theatre, The Cut, London, SE1 8NB, until 22nd February 2014. For more information and tickets visit the website.