Following Peter Morgan's The Audience last year starring HRH Helen Mirren, and the 'future history' production of King Charles III that recently premiered at the Almeida, Moira Buffini's Handbagged continues the trend for royal-themed theatre productions appealing to the curiosity each of us have about life behind closed doors at 'Buck House'. The play recently won an Olivier Award for Outstanding Achievement in an Affiliate Theatre.
Playing to a full house at the Vaudeville Theatre, having transferred from the Tricycle Theatre in Kilburn, Handbagged 'floats like a butterfly but stings like a bee' and skilfully captures our bemusement of political figures during the true-blue 1980s and the horror of many of the government's decisions during Margaret Thatcher's reign – the poll tax, miners' strike, Falklands War to name just a few. It's important to argue that Thatcher, rather than being the catalyst for every diplomatic crisis, inherited a particularly testing political poison chalice – or then again, maybe not.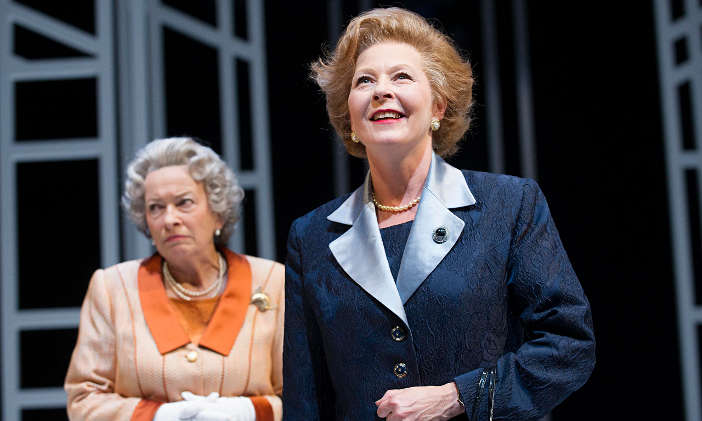 The Tricycle's first ever West End transfer, this production is testament to artistic director Indhu Rabasingham's foresight to plump for a controversial offering with such quality writing at its core. Taglined, 'The monarch – Liz, her most powerful subject – Maggie. Two enduring icons born six months apart. One destined to rule, the other elected to lead' it was a powerful and tantalising premise to two hours of absorbing drama centring around the imagined meetings between HM The Queen and then Prime Minister Margaret Thatcher, and taking place over the course of her 11 turbulent years at Downing Street. Buffini plays up to all the speculation which has surrounded the relationship between the two women; portraying Thatcher as being in awe of Her Majesty, yet bizarrely formal and patronising, while the Queen is painted as surprisingly warm hearted and relishing a good old gossip over the tea and shortbread.
Extremely well choreographed, the play ingeniously features two Queens and two Thatchers (a younger and an older) and two male actors, Neet Mohan and Jeff Rawle (of Drop the Dead Donkey fame) who drive the action forward by playing a multitude of characters including Rupert Murdoch and Neil Kinnock. Whilst I appreciate Buffini's attempt at introducing the younger audience members to unfamiliar events through Mohan's role as part Buckingham Palace footman and part-narrator, unlike most of the cast, his talents do not lie in impressions, which is something of a shortcoming. Saying that, he does boast a very fine pair of legs, something which brought the house down when he adopted the role of elegant First Lady, Nancy Reagan.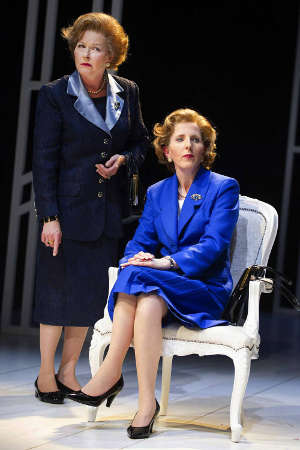 The two stand-out performances come from the younger Margaret (Fenella Woolgar), whom you could easily believe had been re-incarnated when she recites many of Maggie's famous speeches, and the older Queen (Marion Bailey) whose uncanny mannerisms and facial expressions caused me to do a double take on several occasions, wondering if in fact the real Majesty hadn't snuck in to have a look at the play. After her starring role in the Olympic Games opening ceremony opposite James Bond, surely anything is possible? Although I never saw the original Clare Holman play the young Queen during the initial run, her replacement, Lucy Robinson, sadly neither looks nor sounds like her. Forgive the pun, but the cast are a mixed 'bag' ranging from staggeringly good to rather pitiable.
It's the mark of a great playwright and the stronger actors, however, that even taking into account the failings of this production, it still succeeds in being royally entertaining. Although Handbagged strongly caricatures these historical figures in a way many of us will recall from the golden days of hit television series, Spitting Image, it's a work tinged with fundamental social issues which encourage us all to reflect not just on Britannia's past but on her present and future. It's hard not to chuckle if you picture future King Charles III's weekly meetings with Prime Minister Boris Johnson – but that's another play entirely, the sequel perhaps.
Handbagged at the Vaudeville Theatre runs until Saturday 2nd August 2014. For more information and tickets visit the website.