Another production of Hay Fever you cry! Noel Coward's comedy of (bad) manners was first performed in 1925 and has remained a well-loved classic, epitomising the era of aristocratic nonchalance. Although Coward went on to write over 50 plays, Hay Fever's popularity seems unshakeable with the theatre-going public. Attracting major names from both film and theatre, it last made an appearance in the West End in 2006, starring Judi Dench as Judith Bliss.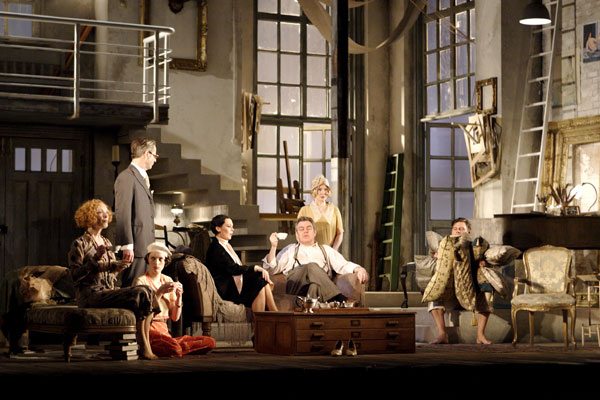 This latest all-star cast production, opening at the aptly named Noel Coward Theatre and directed by award-winning Howard Davies, is more fluid and natural, with the entire cast brilliantly delivering all the repartee and melodrama you'd expect from Coward. As Noel Coward himself said, the play possesses ''no plot at all and remarkably little action. Its general effectiveness therefore depends on expert technique from each and every member of the cast.'' And with such a remarkable cast it is easy to be transported to an English country house in Cookham during the 1920s, where we are introduced to the eccentric Bliss family just as they are about to be descended upon by tiresome weekend guests.
The brilliant studio-style set by Bunny Christie is illustrative of a quintessential 'artsy' retreat – complete with easels, nude paintings and sofas strewn with cushions and throws. Leading the cast, double Olivier award-winning Lindsay Duncan is magnificent as Judith Bliss (no offence to Dame Judi) – an ageing and recently retired actress in denial of her lessening hold over the opposite sex, especially her husband David Bliss – played by Kevin McNally – a writer who spends most of his time in his study. Despite never having seen Hay Fever performed, Duncan is clearly at home with Coward, having won an Olivier award in 2002 for her role in Private Lives starring opposite Alan Rickman and also directed by Howard Davies.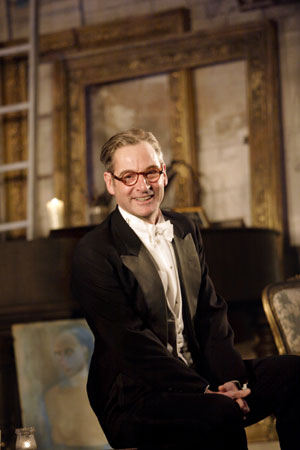 One-to-watch Phoebe Waller-Bridge, and Freddie Fox, nail the appallingly spoilt children Sorel and Simon, who have no serious occupation other than to loaf about exchanging quick-witted banter whilst awaiting their inheritance. Sandy Tyrell and Simon's sophisticated and glamorous guest Myra Arundel, played by Olivia Coleman, who ''uses sex like a shrimping net'' are the first arrivals, followed by Richard Greatham and dopey flapper Jackie Coryton – wonderfully played by Amy Morgan. Although the character of bespectacled diplomat Richard Greatham struck me as an unlikely role for Olivier award-winner Jeremy Northam, he immediately won me over with impeccable comic timing and by capturing the awkwardness of being a house guest amongst such bohemian beings.
Judith, on finding Richard alone, flirts with him in the hope of injecting some excitement and passion into her rather mundane life and overreacts after a brief and harmless kiss, jumping to the preposterous but amusing conclusion that an illicit affair will ensue. The almost farcical story unravels further when Judith discovers her husband kissing vampish Myra. The play closes with perhaps the funniest scene in the entire play; the four tormented guests creeping downstairs during breakfast with luggage in hand. They manage to make a quick getaway unnoticed by the Bliss family, who are left to continue bickering and quarrelling at leisure.
With lines like "You kissed me because you were awfully nice and I was awfully nice and we both liked kissing very much. It was inevitable", watching a Noel Coward play is as English and non-brain taxing as eating strawberries and cream – despite having munched your way through both on countless occasions, there is a familiarity difficult to resist.
Hay Fever at the Noel Coward Theatre, St Martin's Lane, London. Performances Mon-Sat 7.30pm. Tickets: £16-£53.50. Booking until 2nd June 2012. Box Office: 0844 482 5140. Website.