Polly Stenham is one of Britain's fresh, young playwrights. In 2008 she became the youngest British writer to have a play in the West End since 1966 when That Face opened at the Duke of York's Theatre. Her latest play, Hotel, is currently on at The Shed, the new temporary studio theatre in the National Theatre. Unfortunately, however, it's not very good.
The play opens on a desert island off the coast of East Africa, where an upper-middle class family is enjoying a luxury break. Yet there is trouble in paradise, for it soon emerges that mother Vivienne, a Cabinet Minister, has had to resign her post, after husband Robert became embroiled in a sex scandal.
The opening narrative is good and well crafted – there's an edge to the play as the story uncomfortably twists and turns to reveal more layers of the family's rotten state of affairs and the shaving away of the family's veneers also gives room for plenty of gallows humour. Even if the characters aren't likeable, we want to find out more, and delve deeper into their lives.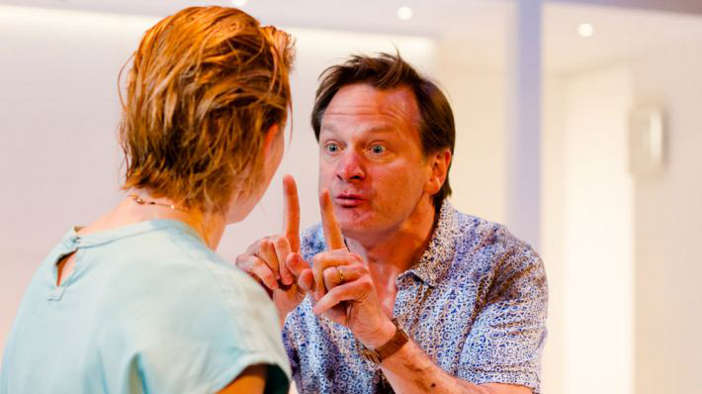 But then, Stenham starts to overload her play, and that's when it comes tumbling down. A renegade hotel maid takes the family hostage, before a bunch of Islamic extremists also get in on the action, resulting in a bit of torture, a lot of shouting and swearing, and a hefty bit of onstage violence.
Amidst all this, Stenham tries to make a serious point about the Western exploitation of African nations through international aid contracts. What she's really saying about this exploitation, however, is a bit difficult to tell. The situation and circumstances are not fully elucidated, but rather are bellowed unremittingly at a shocked and uninformed audience through a long, detailed, and thoroughly researched, rant.
The play's production is good – undoubtedly so. The set is ominously minimal, there are great special effects, and the acting too is first-rate. But when a play doesn't really even have an ending to any of the three narratives it's attempting to bring to life, you're always going to feel like something is missing.
Stenham's last play No Quarter took her four years and 18 drafts to write. Hotel, on the other hand, took her eight months – and you can tell. The play feels like a draft rather than a finished product; perhaps it should've been left to mature.
Hotel at the National Theatre runs until 2nd August 2014. For more information and tickets, visit the website.