London Wall was first performed at the Duke of York's Theatre in 1931; the work of John Van Druten, one of the most renowned playwrights of his day. It isn't remarkable, however, that his name is now relegated to practical obscurity; not only are his reflections on the social times in which he was living now sadly outdated, but he was directly competing with the great Noel Coward who was more adept and wittier in his observations, not to mention simply being a finer writer. This Two's Company production, the first revival in 80 years, was directed by Tricia Thorn and first premiered at Finborough Theatre before transferring to the St James Theatre.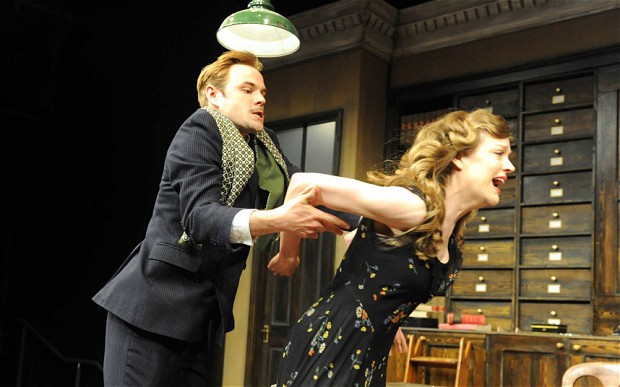 Dividing the audience, from many grimacing to others laughing enthusiastically, London Wall charts the affairs of the staff at the bustling London solicitor's office Walker and Windermere, although, aside from shuffling papers as farcically as television newsreaders once did, and making calls to lovers, they seem to do little actual work. Nonetheless, thanks to Alex Marker's character-packed set design and the intimate layout of the St James, it's hard not to become entirely absorbed. Druften's three-act romantic comedy highlights double-standards in the workplace, with most of the young male characters struggling to respect the female staff members, who, whilst being politely referred to as "Miss", are severely underpaid and overworked. In the weeks following the death of the first female British Prime Minister, it's uplifting if nothing else to see how much society has changed and that marriage is no longer the main focus of a woman's ambitions.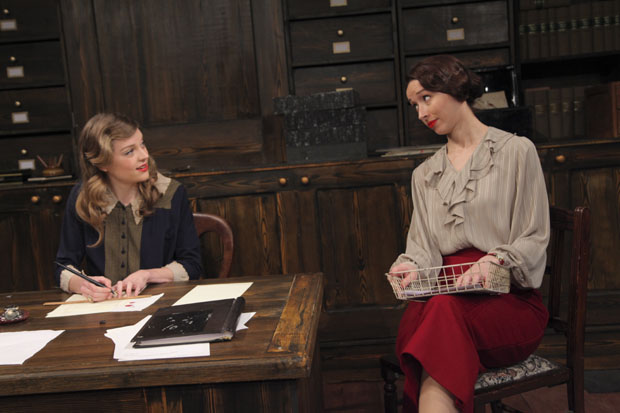 RADA-trained Alex Robertson makes a brilliant Mr Brewer, the office lech, despite making the most obvious line fluffs out of a cast one could have been forgiven for thinking had been at the sherry ahead of curtain call. Mr Brewer has his eye on 19-year-old newcomer Pat Milligan (Maia Alexander), the girl who believes men and women can be friends. It's the rather school-maamish Miss Janus (Alix Dunsmore) who informs her otherwise and takes it upon herself to educate her in the ways of the world. Dunsmore, who bears a striking resemblance to a young Emma Thompson, plays a matronly figure who has been working for the firm so long as to lose her looks, without the privilege of having a wedding band on her finger. Also a protégé of RADA, Maia Alexander is superb as Pat, the innocent abroad with Miss Janus using herself as a prime example of why Pat should be wary of a man after just one thing. Hec Hammond (Timothy O'Hara) is the awkward bespectacled knight who will rescues her; wooing her, not with flowery words but a Spanish shawl he once saw her admire in a shop window.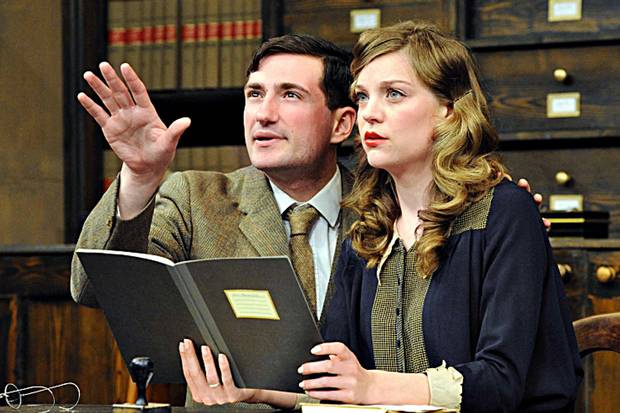 The star performances, not to mention the ones who achieve the most laughs, are by far the oldest members of the cast – Mr Walker (David Whitworth) and his ever-so-slightly bonkers but terribly wealthy spinster client Miss Willesden (Marty Cruikshank) from Brighton. When she takes a shine to Pat during one of her many visits to the firm, the outcome is deliciously sentimental. With Mr Walker taking Brewer in hand over harassing the female members of staff, and the death of Miss Janus's lover in a plane crash prompting her to make a dash for freedom, the finale is one that promises change. If you're after a non-sexy version of Mad Men and charm in spades, this is the play for you.
London wall at the St James Theatre, 12 Palace Street, London, SW1E 5JA, until 1st June. For more information and tickets visit the website.