The latest production from The Agatha Christie Theatre Company was first adapted from Christie's novel Death on the Nile (1937) and performed as a stage production Hidden Horizon in 1944 before opening in the West End and Broadway as Murder on the Nile in 1946.
Simon Scullion deserves special mention for his stylish set design of a 1920s paddle steamer where we find, cruising under the hot Egyptian sun, Kay, a wealthy and spoilt socialite, honeymooning with her new husband Simon Mostyn. Before the steamer is launched the couple is joined by Jacqueline, Simon's jilted fiancé who is apparently setting out to follow them around the globe as vengeance – the 1920s forerunner to Glenn Close.
Although I do not think familiar faces from Coronation Street, Bad Girls and Footballers' Wives constitute the 'all-star cast' billing, Jacqueline, played by Chloe Newsome, was the shining light, bemoaning her lot and wielding a handbag-sized pistol. Kate O'Mara wafted onto the stage in a lavender cloche hat with co-ordinating outfit reminiscent of the late Queen Mother, simply to pick up where she left off in Dynasty. A tirade of bitchiness followed , this time embodied by irritating and hoity-toity aunt Miss Ffoliot-Ffoulkes bossing her niece about. Miss O'Mara also decided to deliver many of her lines as though drunk and clutching a brandy glass which she managed very convincingly. Ben Nealon as Simon Mostyn bored the audience with interminably long speeches before getting shot in the leg in the second act. Instead of fainting away in agony, alas, he continued to harangue us until the doctor came to the rescue with a hypodermic to alleviate his verbal diarrhoea.
With 'coincidences' galore and an almost ridiculously predictable close Murder on the Nile has everything you would expect from Agatha Christie whodunit theatrics. This production, directed by Joe Harmston, although falling short of The Verdict of last season, remains good, light hearted entertainment for those of us nostalgic enough to find charm in such things. The company will continue their extensive UK tour, but my mood was considerably more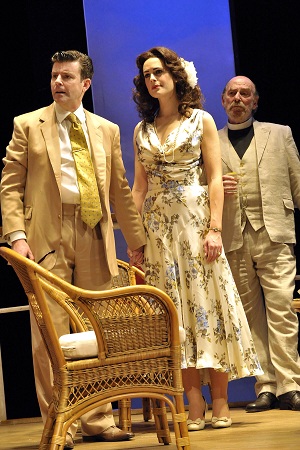 inclined to find favour whilst being in the beautiful setting of Richmond Theatre – where, inscribed above the proscenium is engraved a motto taken from Alexander Pope: "to wake the soul by tender strokes of art."
The Agatha Christie Theatre Company was founded in 2005, almost 30 years after the writer's death, by renowned West End producer Bill Kenwright, in partnership with the Agatha Christie estate who gave the theatre company exclusive rights to turn much loved books into touring productions as part of an initiative to preserve her popularity and introduce her to a younger audience.
Her estate claims that works by the 'Queen of Crime' rank third after William Shakespeare and the Bible as being most published and having been translated into over 100 languages. Named by the Guinness Book of Records as the best-selling novelist of all time, the popularity of Christie's work endures thanks to countless stage, film and television adaptations, not least David Suchet's long running portrayal of Hercule Poirot which first aired in 1989. David Suchet delighted fans when he announced his intention to film all the Agatha Christie novels featuring Poirot.
Agatha Christie's stage play The Mousetrap went beyond 'popular' long ago, to become a British institution. Celebrating its 60th anniversary this year The Mousetrap retains the record for the longest theatre run in the world, having first opened at The Ambassadors in 1952, when Winston Churchill was installed at number 10 Downing Street. Now over 24,000 performances later, and believed to have taken over £30 million at the Box Office, it is almost as much of a tourist attraction as Buckingham Palace. The great Sir Richard Attenborough, who starred in the original cast, was warmly greeted by HM Queen Elizabeth II at the 50th Anniversary gala in 2002. Although we may belittle the lack of substance in Agatha Christie's works, there is no disputing her appeal to a vast audience and her creation of humorous and exciting plots that we continue to revisit.
Murder on the Nile begins its truly extensive UK tour from Truro, Cornwall, today, Monday 6th February until it closes in Newcastle on Saturday 28th July 2012. For a full list of dates and venues, please visit their website.