One might assume Noël Coward to be outdated by now: all those bright young things gabbling cocktail talk of the latest fads whilst drooling over achingly fashionable Americans, alongside primly proper English ladies and gents lamenting the decline of social standards. Oh wait. That rings a bell. Although the entrenched social conventions of the ruling classes in Coward's era have been all but forsaken today (butlers are a dying, if not dead breed, ladies only wear hats to church at weddings, and it is now apparently possible for one to travel 'down' to London) the vestiges of our hierarchical system linger on with slothful obstinacy and we are still utterly captivated by them.
Any political gumption about equality or axing innate privileges aside, the simple formula of examining the dynamics between those upstairs and those downstairs in a large house has become one of Britain's biggest exports, and supplied the foundations for Coward's play, Relative Values in 1951. This Theatre Royal Bath Production, directed by Sir Trevor Nunn, is currently residing at the Harold Pinter Theatre and, as Nunn explains, "it's clear that our fascination with a 'class system' and the rest of the world's fascination with our fascination hasn't gone away." Spot on. Nunn's direction makes for a buoyant production, which encourages the audience to consider the very notion of service. He hints at the historical context of post-war Britain by interspersing newsreels which assists one's understanding of the predicament all the various characters in turn find themselves in. The music also helps to create the sense of an English idyll, with Forties love songs playing as the audience members take their seats, and incidental music such as Vaughan Williams' Fantasia a Theme of Thomas Tallis – evocative and very, very British.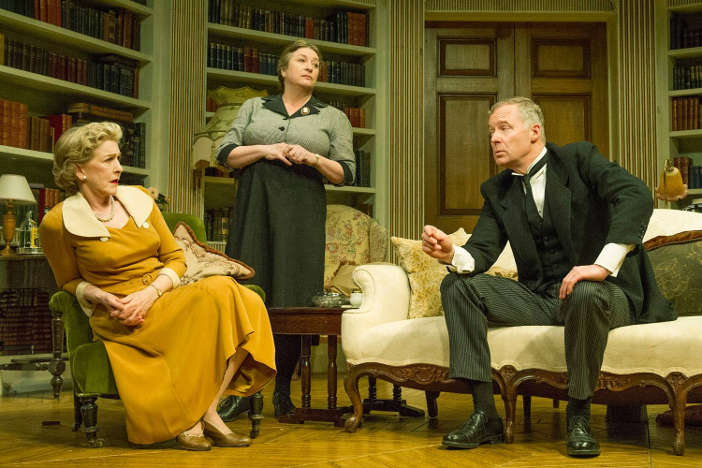 Prevailing as the Countess of Marshwood, Patricia Hodge is the epitome of old Englishness, with a clipped accent and a twinkle in her eye. Coward's script is, as usual, stuffed with sardonic double entendres and aphorisms embellished with wicked touches of irony, which Hodge effortlessly delivers, adding in the occasional hoarse screech to counter her otherwise masterfully mellifluous tones. Conniving, yes. Cutting, definitely. But as practical as a Blue Peter presenter who simply pulls up her socks and grasps all kinds of nettles with her bare hands. The role of 'lady of the manor' seems easy for Hodge, but the delight she clearly takes in making Lady Marshwood as mischievous as she does is infectious. She may be a meddling mother, but with the worthiest intentions. And she happens to be right.
The kerfuffle comes when Lady Marshwood's wandering son Nigel announces that he is returning home with his newly betrothed, a brassy Hollywood starlet named Miranda Frayle. Not only is the engagement a shock, but it is unthinkable that the Earl of Marshwood should marry an American with no title, no family money, and – God forbid – no class. When it emerges that Miranda happens to be the absconding, now estranged sister of Lady Marshwood's loyal maid, Moxie, pandemonium of the most ridiculous kind ensues. No one can work out what rank anybody is and the result is frightfully silly and jaw-achingly funny. These histrionics are Coward's glory, and a shrine to the wit belonging to the first half of the twentieth century. The dialogue is quick, shrewd and wonderfully observational, mixing nonchalant dismissals with zesty notes of acerbity.
The cast does not contain a single weak link, with every actor bringing something unique to their role. The line-up has remained the same but for Leigh Zimmerman as the statuesque American taking on the role of Miranda with measured naivety and unashamed glitz. Steven Pacey brings a sniggering campness to Felicity's nephew and Ben Mansfield creates an emotional car crash of Miranda's former Hollywood lover, Don. They all clearly have great fun, especially the two other headliners, Caroline Quentin and Rory Bremner.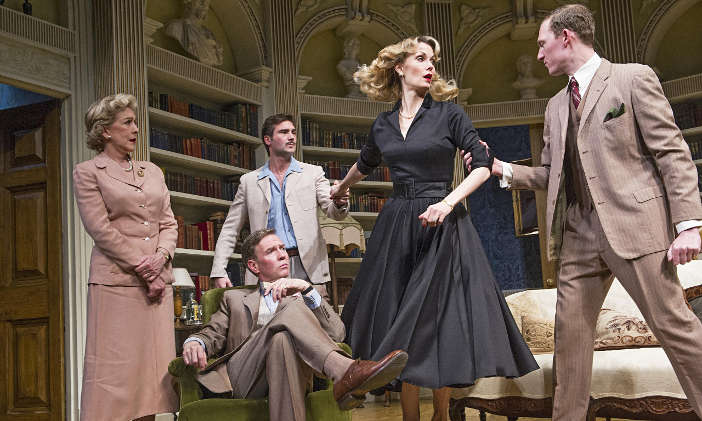 Quentin plays the rather boxy Moxie with self-deprecating sternness and her reluctant transformation from housemaid into peacock is comedy gold thanks to her magnificently expressive eyes and posture. Shouting like a barmaid one minute only to turn into Eliza Doolittle at Ascot the next, Quentin is endearingly feisty. Opposite her, we get to see the comic, Bremner in his first real acting role. Rather than over-egging his lines as the Butler, Crestwell (which are arguably some of the best in the show), he maintains the quiet control one would expect in someone of his position, whilst emulating a little of Stephen Fry's Jeeves. His pomposity is compensated by his kindness, which surfaces mostly when alone with Moxie – quite the double act.
Though not one of Coward's biggest successes compared to his pre-war plays, Relative Values is arguably more astute; pointing fun at the upstairs characters as those downstairs feel the weary weight of their positions with a worldly awareness of life's inequalities. Indeed, Crestwell closes the show with a toast between him and Moxie, celebrating with only a touch of sarcasm, "the final inglorious disintegration of the most unlikely dream that ever troubled the foolish heart of man – social equality!" This production is good fun, excellently acted, thoughtfully put together and, if you'll excuse the pun, utter class.
Relative Values at the Harold Pinter Theatre until 21st June 2014. Running time approximately 2 hours 50 minutes. For more information and tickets visit the website.