I first trod the boards at my alma mater as the Nurse in a production of Vanbrugh's The Relapse. Since my acting wasn't up to much and I wasn't entirely sure of my position within the narrative, my main weapons for extracting laughter from an audience of my peers were a pronounced limp and a cod Brummy accent. Needless to say I brought the house down. However, since then I haven't been able to approach Restoration comedy, or any of its later friends and relations such as Goldsmith's She Stoops to Conquer, without the lurking doubt that I was setting myself up for something, as Shakespeare might have put it, 'full of sound and fury' but 'signifying nothing'.
It certainly takes a little time, but once Jamie Lloyd's boisterous revival at the National gets into its stride, it is impossible not to be both carried away by the fantastic comedic performances, and touched by Goldsmith's acute investigation into the muddle of manners that was Georgian society. The production is to be congratulated in its ability to keep the latter to the fore amid the periwigs and pratfalls.
After a few false starts Lloyd's smart direction drives the play forward at pace, and the musical interludes, led by rowdy unintelligible chants from the ensemble, set each scene off beautifully.
It's clear that Goldsmith's text has lost none of its power to entertain. As the audience laughed and cheered I was struck by just how much popular domestic comedies influenced everything from PG Wodehouse's country house capers to farces like Frayn's masterful Noises Off, no doubt delighting punters down the road at the Old Vic at that very moment. Strangely I was so forcibly reminded of Gaston from Disney's Beauty & The Beast during an early tavern scene starring David Fynn's Tony Lumpkin that, when the action shifted back to the Hardcastle's house I half-expected the candlesticks to burst into song.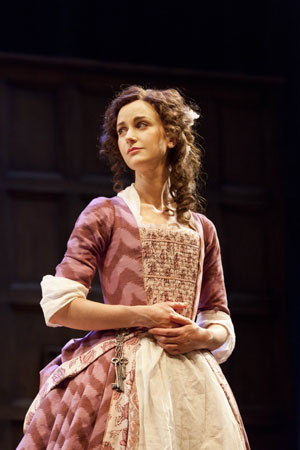 Admittedly Fynn's performance as the meddling young squire is the only one that occasionally falls flat; his uneven accent and laboured delivery at times does Goldsmith's fizzing dialogue a disservice and one yearns for Harry Haddon-Paton's Marlow or John Heffernan's Hastings to burst onto the scene once again.
These two are more than matched by fantastic turns from Steve Pemberton and Sophie Thompson as Mr and Mrs Hardcastle. Thompson's performance as the doting, social mountaineer is an absolute delight, particularly when her accent reaches for more and more extraordinary vowel sounds in a bid to seem more cosmopolitan in the presence of the two young bucks fresh from London. Katherine Kelly and Cush Jumbo also shine as the objects of affection keen to test their match's temperaments.
While Mark Thompson's fetching set fails to take advantage of the Olivier's enviable stage and only really comes to life in the final act, it is a joy to hear such a large auditorium, on an icy night in 2012, respond so warmly and heartily to this splendid production.
She Stoops to Conquer runs until April 21st 2012 at the National Theatre, South Bank, London, SE1 9PX. Tel. 020 7452 3000. Website.