One can't exactly look forward to seeing Arthur Miller's 1953 play, The Crucible; not with the bounding sort of excitement that would have you springing into the stalls for a flighty Noel Coward number. Set in 1692, The Crucible is based on the infamous Salem Witch Trials, during which scores of townspeople in Massachusetts were tried on the charge of witchcraft on the basis of the strange turns taken by a gaggle of young girls. The girls' fits and seizures, and their reactions to the accused were taken as hard proof of innocence or guilt and, ultimately, 20 people were executed, with hundreds more questioned, jailed or forced to confess. Miller's tale is partially fictionalised but the most disturbing elements remain true to fact: the spine-chilling power of collective frenzy, and the unspeakable ways in which humans can torment one another.
Richard Armitage pulls in the crowds as the local farmer, John Proctor. Heartthrob factor aside, he has an undeniably intense presence on stage. Occasionally bordering on oaf-like, the plodding tread of his boots isn't nearly as weighty as the load clearly on Proctor's heart as he battles with the guilt of a reckless – and brief – affair with his servant girl. Matters are compounded when this girl's bitterness points the witch-hunting finger at Proctor's wife. Struggling with religion, morality and family duty at a time when justice is an elusive ideal, Proctor's journey is bewilderingly complicated. And very, very bumpy. Hoarse and gruff, yet honest at heart, Armitage puts in a thoughtful turn.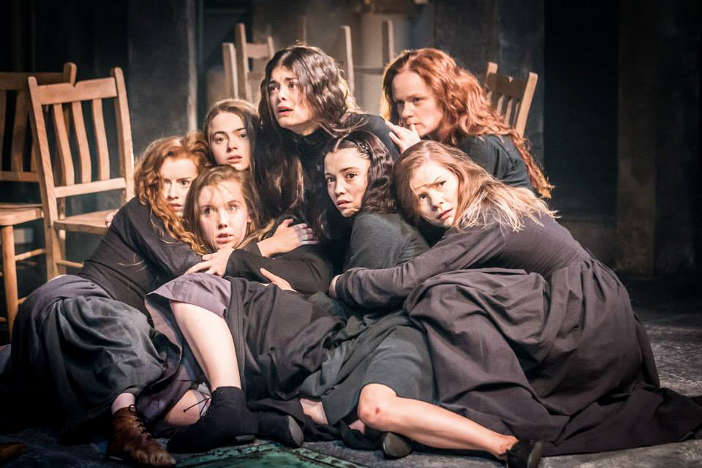 There is no weak link in the cast, and incredibly moving performances come from William Gaunt and Neil Salvage in particular. Jack Ellis is belligerent and masterful as the deputy governor in charge of the trial proceedings, and Anna Madeley weathers gracefully as Proctor's wife. However, one stunner is young Samantha Colley as the manipulative, vicious and wiley Abigail, the girl at the centre of the story's trouble. Her self-assuredness even as she walks is eerie, especially when the direction has her nonchalantly carrying a noose in one hand as she enters the court. Colley is wild, primal and terrifyingly physical, with sheer madness behind the eyes.
Director Yael Farber is bold and stylistically plucky, making this production as dark and upsetting as it should be. In celebration of Kevin Spacey's 10th anniversary at the helm of The Old Vic, the theatre has been redesigned to house a round wooden stage in the centre of what would be the stalls. If a crucible is a melting pot, then this is the cleverest of ways to show Miller's play; as the drama reaches boiling point, with any semblance of good sense, valid legal process, theological righteousness or simple human understanding being burned away, you feel as though the stage itself might implode. It is suffocating and scary, and it almost starts to feel like the witch hunters are coming for you in the audience.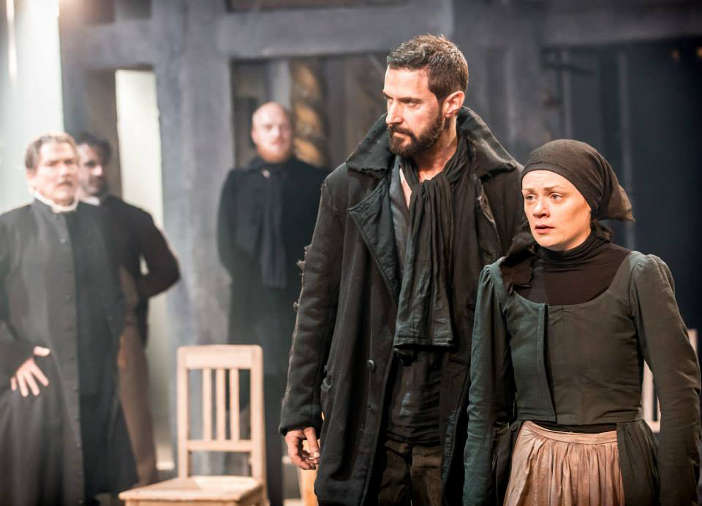 Visceral is a word that is bandied about all too freely these days, particularly in regards to theatre. It's whipped out like a white flag to defend something that is, most likely, just a bit odd but too intimidating to criticise fully. Here, it is apt: Farber's Crucible is ugly and gutsy, totally fearless, grinds right into the brain and seems so inwardly draining for the actors that you worry for their mental well-being in the blinding light of day. At three and a half hours, it's a long watch, and a bloody tough one, but it is absolutely worth it and a genuine privilege to witness. It will make you stumble into the bar during the interval, unsure whether you need a large brandy or a slap in the face. Mission accomplished, I'd say.
The Crucible at The Old Vic runs until 13th September 2014. For more information and tickets, visit the website.