This tremendous Theatre Royal Bath production of Alan Bennett's play is directed by the great Christopher Luscombe. King George III, in a spellbinding performance by David Haig, is beginning to display increasing signs of insanity, above and beyond his usual eccentricities. It is now believed the king was suffering from the symptoms of Acute Intermittent Porphyria, as indicated by the blue urine he is noted to have passed. Porphyria is a rare genetic disorder, once conjectured to be caused by the aristocratic and royal practice of interbreeding between close family relations.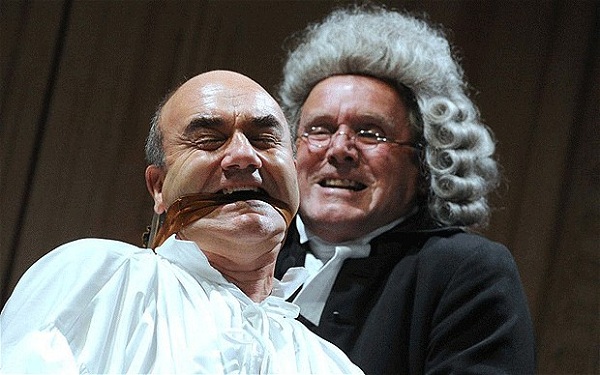 Having set the scene with period costumes and an amusing look at the king and queen in bed, Act I comes to a dramatic close with King George, reaching the peak of his illness, strapped to a chair as Handel's 'Zadok the Priest' coronation anthem blasts out, vocally accompanied by his court. One of Alan Bennett's most highly regarded plays, it went on to become a 1994 film starring Nigel Hawthorne as King George III and Helen Mirren as Queen Charlotte, having premiered at The National Theatre in 1991.
It's impossible not to find much of the play, written in the style of 18th century caricature, hysterically funny, and yet equally impossible not to feel guilty for laughing at.  The predicament in which the king, the royal family, the government and the courtiers find themselves, to say nothing of his doctors, is marvellously and wittily portrayed, as is the touchingly affectionate relationship between King George and Queen Charlotte (played by Beatie Edney) from whom he is parted against his will during much of his illness.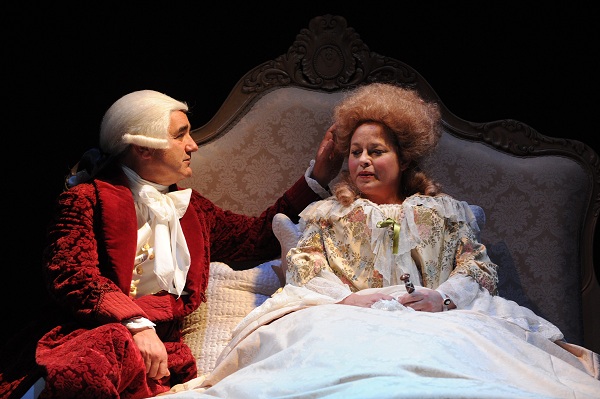 The treatments imposed on the king range from 'bleeding' to 'blistering', not to mention purgatives, all typical 18th century curatives more like barbaric torture. David Haig's energetic and skilful characterisation of the tragic and comedic elements in the play is in harmony with the entire cast, from Nicholas Rowe as Prime Minister William Pitt to Christopher Keegan as the petulant Prince of Wales keen to be installed as Regent while his father suffers at the hands of his team of Royal College physicians – most notably Sir George Baker played by Peter Pacey. With a dialogue crammed full of punchy political satire, the tale bears no small resemblance to today's dodgy dealings and connivances, with William Pitt anxiously facing losing his position to Fox if the Prince of Wales is declared Regent.
As the king's mental and physical heath decline, so does his power, not only as a monarch but as a man – a man now unable to speak without talking gobbledygook, stammering or uttering blasphemies, let alone one able to support or instruct a government. Dr Francis Willis, wonderfully brought to life by Clive Francis, is a clergyman turned medicine man, specialising in treating the insane and sent from his asylum in Lincolnshire as a last resort to cure the king. He wastes no time in removing him to Kew Palace and restraining him in a waistcoat (now fondly known as a straitjacket) until "You learn how to behave and do as you are told!" In his long white nightgown with bandaged legs, King George rages "I am the king. I tell. I am not told. I am the verb, sir. I am not the object!"
The final scenes show the recovery of the king and his return to power, whereby he is united with Queen Charlotte and promptly and jubilantly dismisses his physicians. Although King George III suffered a relapse 12 years later, the ending is perfectly pitched and remains a bizarrely uplifting piece. This production deserves all the accolades, applause and standing ovations it will surely get.
The Madness of George III is booking until March 31st 2012 at the Apollo Theatre, Shaftesbury Avenue, London, W1D 7EZ. Tel. 020 7851 2711.