I haven't eaten my dinner under the table since I was a small child, hiding from my parents to avoid the abject horror of being made to eat peas. I couldn't have imagined the next time I would be doing so would be in India, 30 years on. Yet here I am, in the banqueting hall of The Park Hotel Kolkata, huddled beneath a huge, custom-made table shrouded in muslin, while morsels of food arrive as if by magic through a curtain behind me. Peas included.
I'm at an event called – you've guessed it – Under the Table. It's an "immersive dining experience" created by Dutch eating designer Marije Vogelzang, in collaboration with The Park Hotels' chairperson, Priya Paul. Not many people can lay claim to the title of eating designer, but Vogelzang is just that. Trained at the Design Academy Eindhoven, she moved into the wonderful world of eating design after realising that food was the perfect device for getting people to interact and have fun together. Her edible installations are in equal parts art, design, theatre and nourishment. "Connection Dinner" saw a dough tablecloth being cooked overnight under lamps, only to be eaten later by diners; "White Funeral Meal" served all-white food served on white plates; "Under the Table" had guests eating beneath long, oversized tables with cushions on their laps.
The immersive dining trend has gained much traction of late, and it's great to see India embracing the trend too. Starting back in 1999 in Zurich, with dining-in-the-dark restaurant blindekuh  (blind cow), where guests are served by visually impaired waiters, this was swiftly followed Unsicht-Bar in Berlin and Dans Le Noir in Paris and London. India now has Dark Dine Invisible in Bangalore, 21 Fahrenheit in Mumbai, roaming bus Hijackk in Chennai, and a whole host of other concept dining events and pop-ups that play on all the senses and break down social barriers like nothing else.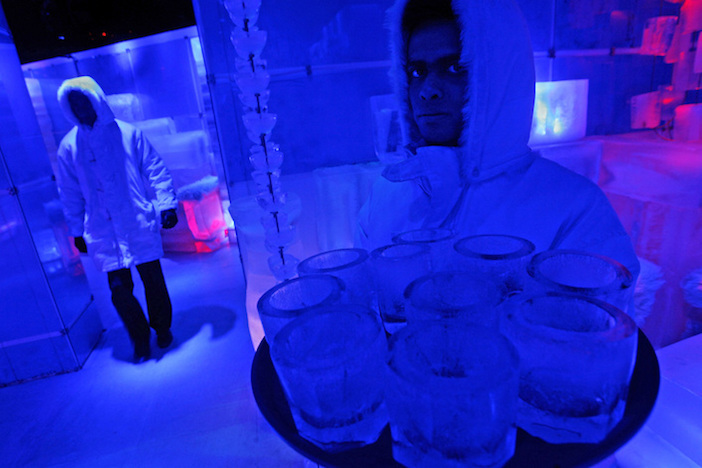 For Under The Table, our evening began with a champagne reception in the hotel's lobby, lined with artwork hand-picked by Paul herself. Appetisers with little notes sticking out of them, such as "Eat me, I'm a vegetarian dressing" or "Oysters and Pearl" were then passed around by very dapper-looking waiters. It was all very Alice in Wonderland, and the fact that the messages didn't make complete sense was half the charm. After about an hour, a bell was rung and guests were ushered into the hotel's huge banqueting hall, now in complete darkness aside from three vast, ghostly-looking tables, lit from the inside. Rows of small white chairs ran down the middle of each, and fresh flowers, lanterns and menus hung from above, outlining our meal to come.
We crouched down and took our places beneath the tables – everyone laughing together, friends, strangers, new acquaintances. Cushions were placed on our laps, and we sat wide-eyed, in childlike anticipation (Vogelzang is definitely onto something). Before long, a man's head appeared through the curtain behind us to take out wine order, then promptly vanished. Moments later he came back with glasses of merlot, followed by a series of small dishes – crab cakes, scallops, stuffed red peppers, Kashmiri mushrooms, lamb biriani – which we immediately tucked into.
The evening continued in this fashion until suddenly, the thunderous sound of fists being banged on the table above us stopped us in our tracks and prompted everyone to climb out and investigate what was going on. The once empty table tops were now strewn with hundreds of chocolates, interspersed with yet more quirky notes and phrases written around them in gold. After conducting extensive research into this topic, I can report that most of these chocolates had different (and dare I say intriguing) flavours and fillings, such as green tea and caramel. It was the perfect ending to a unique and highly memorable evening, and a great excuse to mingle with some of the other diners.  "We've never seen anything like this in Kal (Kolcata) before!", enthused one very chic-looking local lady next to me, possibly on the same chocolate research mission as I. "Who wouldn't want to enjoy their dinner in such an unusual and playful way? It brings the food to life and makes normal restaurants seem positively boring." I couldn't agree more.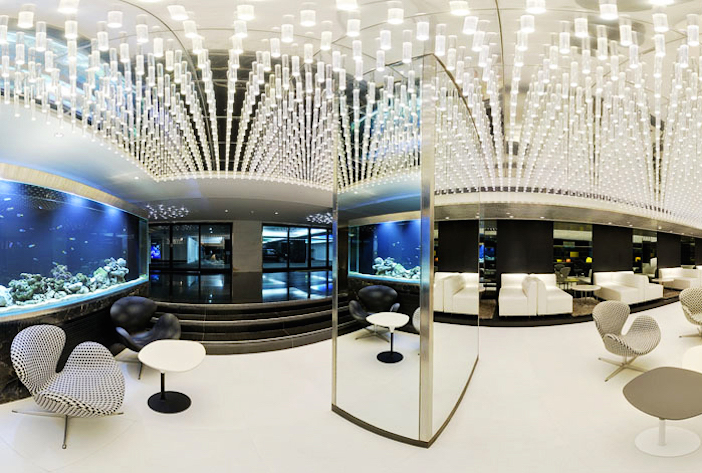 "Modern travel is all about experiences," echoed Priya Paul. "It's not just the destinations and the activities; the hotel and even the transport must propel the traveller into the new world that they have chosen to inhabit. We have to ensure that we continuously excite our guests." Immersive dining does just that.
The next day, I walked around the streets of Kolkata, stopping in at Hindu and Sikh temples and paying a visit to Mother Theresa's house. It struck me how, not only is modern India so full of contrasts – different religions, languages, rich, poor, loud, peaceful, orderly, chaotic, quick-and-dirty street food and five-star fine-dining, all existing side by side – it's also full of surprises. You never know what will happen next. Full immersion is the only way to embrace it. So in that sense, my first trip to the country was absolutely spot on.
'Under The Table' was a series of dinners that ran across The Park Hotels in India in 2014. The Park Hotels have many more immersive pop-up dinners and "Anything But Ordinary" experiences billed for 2015. For bookings and information, please visit the website. Rates start from £125.
Featured image courtesy of the author.