There's something a little brutal about Coya, and I mean that in a good way. Don't be fooled by the delicate lighting and soft furnishings into thinking that there's a soft, delicate evening lying in wait at their Peru-via-Mayfair underground home.
The brutality starts at the door, where I pass a woman pleading – at 7 o'clock on a Tuesday – for a table for dinner. She can take any table, she can eat in half an hour flat, her need is great and her flexibility is limitless, and the hostess seems sympathetic but the restaurant is fully booked. This is the kind of commitment it takes to get a table at Coya, so settling into your seat and gazing across at the other tables, you do it knowing that however mild those diners might seem, to be sitting there at all means that under their calm faces lives a bloodthirsty ruthlessness.
There's nothing gentle about the cocktails, either, there's an added punch of flavour to all the standards on the menu: my companion orders a chilli margarita with agave and avocado, and I plan to have the Mezcal Gimlet. Only plan to, because our waitress tells me very firmly that what I actually want is a tequila, chilli and chocolate bitters cocktail. I'm conflicted. On the one hand that sounds bizarrely unappealing, and I routinely choose my own drinks without notable disaster, but on the other hand I'm intrigued and she's very polite and quite sweet despite the steely-eyed conviction, and so although clearly she is wrong about this, she talks me out of the drink I wanted and into one I don't especially, without the dictatorial edge ever being very annoying.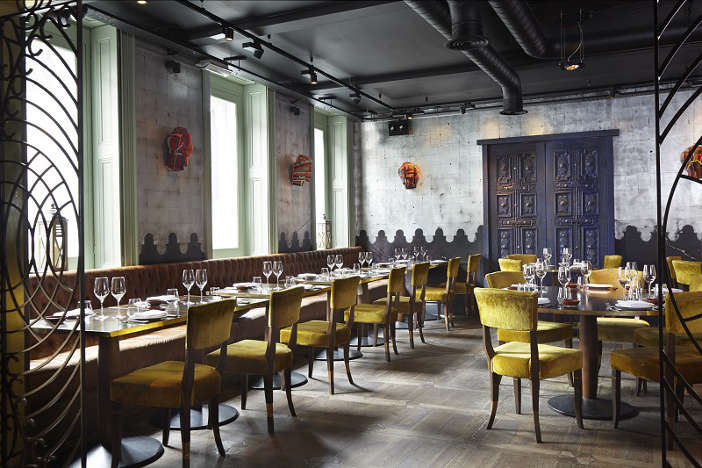 Infinitely more annoying to me is the fact that she's right. The cocktail is, as she said it would be, fantastic, and the spicy, rich density of it is, as she said it would be, exactly what I wanted. But it comes with the lingering side effect that I'm unable to take any of her recommendations at all from then on, for fear of being proved wrong again.
So that's how my companion and I end up ordering for ourselves, despite the urging to have a menu designed for us, which the staff at Coya are happy to do. Passionately eager to do, even. We order haphazardly, trying to hit every section of the menu – which is vast, and legion in its types of dishes – and although she keeps up a brave front I believe we've caused our waitress genuine pain by the time she's finished taking our order.
The yellowtail Pez Limón is the best from the smaller and cold plates, with the thin slices of raw fish – a pretty brutal foodform in itself – cut by a clean, green chilli dressing. All of the dishes have a similar punch, either from spice of one kind or another – the ox heart skewers from the Anticuchos menu laced with aji rocotto heat being my favourite – or with an unexpected jarring of flavours like the tamarillo sweetness with the lamb chops in the Chuletos de Cordero.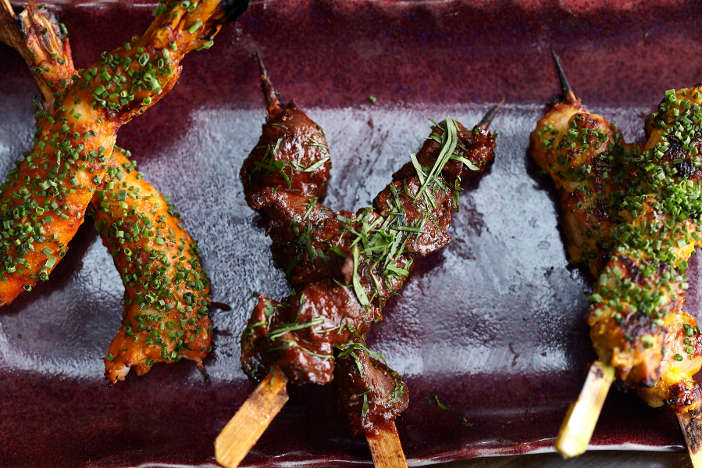 By the time we arrive at dessert, the spirit is willing but the flesh is weak and laced with mezcal. My companion manages a salted caramel slice in the interests of research, which is salted uncompromisingly, for grownups, and probably grownups who've lived through some things in their time and aren't going to back down from a little sodium chloride.
Since I've resolved to pretend that whatever we're served is exactly what I'd hoped for, to justify our reckless disregard for menu design, it makes things easier that everything is more or less spectacular. As a way to run a restaurant I can't see how this could fail, because if you're feeling submissive or simply bewildered by the sheer scale of the dishes on offer then it must be reassuring to surrender to the very knowledgeable, very strong-willed staff.
And if you aren't into having your food chosen for you, no matter how irritatingly, supernaturally accurate the person choosing it might be, then you can strike out on your own with a menu it's apparently impossible to go wrong with, and leave Coya with the sweet aftertaste of defiance burning your tongue. And salted caramel. And another one of those cocktails you didn't want but now keep craving. But mostly, defiance.
Coya, 118 Piccadilly, London W1J 7NW. Tel: 020 7042 7118. Website.