The first London restaurant from the Frescobaldi family has a Mayfair address as stately as their pedigree. The press release outlining the family's history – a quick whistlestop tour through the last thousand years; the Frescobaldis are of a Medici vintage or older – casually throws around references to Holy Roman Emperors and services done to heads of state. More recently they've been producing wine from their myriad estates across Italy, foraying into Laudemio olive oil and expanding into the restaurant business. They would have been archetypal Renaissance men, except the Frescobaldis pre-date the Renaissance by a few hundred years.
So I arrive at the end of New Burlington Place expecting the kind of restaurant I imagine would be Holy Roman Emperor-endorsed. Two parts Ferrero Rocher advert to one part The Borgias. Something grand, repressively formal and bristling with mahogany.
In fact, Frescobaldi London turns out to be much less like one of the Ambassador's parties and a bit more bacchanalian than I'd been prepared for. On the fairly quiet and narrow street it stands out as a behemoth of glass, the doors flanked by huge gas torches. Inside the walls are covered with ceramic tiles and decorated with vast paintings of vines, a ten-foot tall Dante reading a book, and some other equally huge people reclining among grapes. None of them, apart from Dante, have a full set of clothes. But they all have full glasses of wine.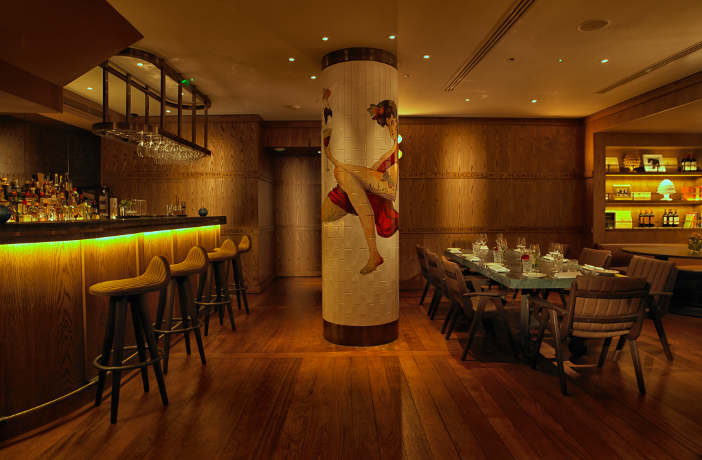 I take this to be the Frescobaldi manifesto, at least in the importance accorded to the wine. We don't actually test this theory, but I have a strong feeling that the staff would be less concerned if we took off all our clothes and reclined along the tables than if we ordered a glass of the Pomino Pinot Nero to go with a shellfish starter.
But the sommelier arrives in time to prevent that kind of error, and so does our food. My date starts with spaghetti alle vongole, which he says is excellent. I've only got his verdict to go on there, although that's not because I don't try his dish. It's just that any thoughts I have about it are then overwritten by my oxtail ravioli, so tiny and powerful that they knock the memory of his spaghetti into some distant past, back before I knew what proper food tasted like.
I hang onto this feeling of smugness for as long as I can. I've had a suspicion since we ordered that he's far outdone me with his choice of main course, and that turns out to be true. My veal alla Milanese is crisp on the outside and tender on the inside, and it's a perfect match for the Nipozzano Riserva the sommelier brings us. It's great in every way except in its total failure to be the ossobuco and polenta sitting impossibly far away, on the other side of the table. This is exactly the sort of situation I imagine James Blunt was thinking of when he wrote 'You're Beautiful', and the wistfulness I feel at the whole ossobuco state of affairs doesn't fade until I've seen the last of the marrow scooped from the wrist-sized well of bone.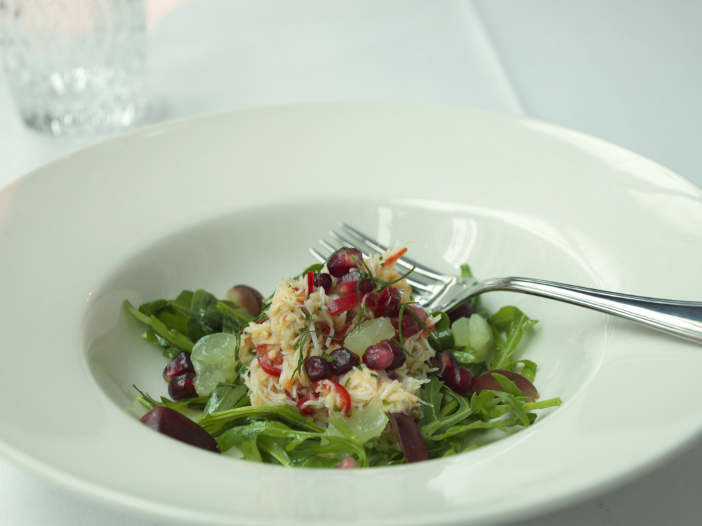 As with the restaurant itself, the menu is slightly less conventional than it sounds, probably thanks to the influence of ex-Zafferano chef Roberto Reatini. We've ordered some of the more traditional dishes, although even those involve a non-traditional twist in a few places; some genius has dusted the chips with truffles, and put together a cocktail list that covers all the standards but still finds time to play fast and loose with bourbon. And if you're not feeling that committed to the classics then the menu takes in red prawn carpaccio, langoustine tartare, and a more Pacific than Mediterranean-sounding quinoa and sweet potato sharing plate.
Obviously, though, I'd recommend having the oxtail, and then the ossobuco. And then heading to the dimmer and yet-more-bacchanalian downstairs bar, to see if doing that much reclining while drinking that much wine is as easy as the artwork on their walls makes it look.
Ristorante Frescobaldi, 15 New Burlington Place, London W1S 2HX. Tel:020 3693 3435. Website.