It seems to go by decades, how people feel about L'Escargot. Ask somebody of my parents' generation and they'll remember the restaurant in its prime, when it was a Soho media hotspot and, my colleague says nostalgically, the only place in London doing a proper cheese board.
Canvassing a slightly younger crowd the reaction's different. If they've been to L'Escargot in the last decade it's more likely to have been for a relatively sedate work function than by choice. It seems to have become something of a non-entity in the late nineties, the whole French bistro concept feeling less wildly ground-breaking with Cafe Rouge busy saturating every high street everywhere.
The venue's fortunes might be on the turn, though. Recently taken over by Brian Clivaz, of Mayfair Arts Club and Langan's Brasserie, and Laurence Isaacson of Chez Gérard, the members' club – Upstairs at L'Escargot – and restaurant are apparently being updated lovingly rather than overhauled, one piece of statuary in one stairwell at a time. I'm being taken on a tour of Upstairs before dinner, and I'm rapidly realising that a tour is essential. It's a warren of jewel-box coloured rooms with, in no particular order, fireplaces, velvet chairs, leather armchairs, a chaise-longue, a baby piano, a library, a table laid out for a 20 person dinner; members have free use of the space for entertaining, and an impressive cocktail list with an on-theme bias to the classic and French.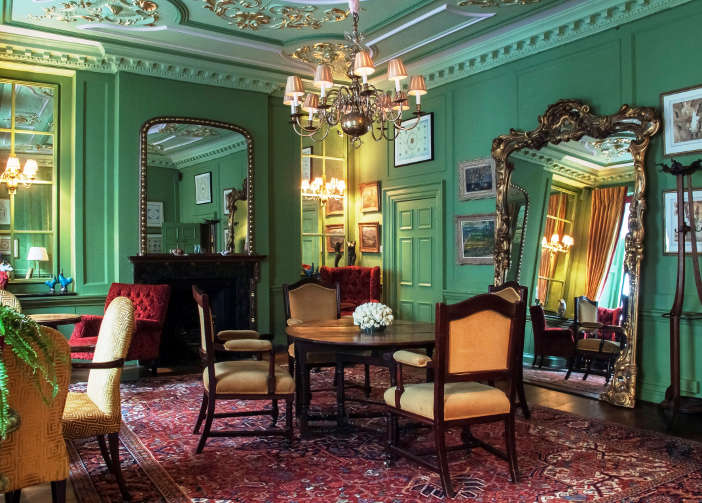 I know some people who like their members' clubs to be fortresses of solitude, and nothing more taxing in the way of small talk than whatever's needed to place a drinks order and recuse yourself to an armchair. For those people you can see Upstairs at L'Escargot would be an ordeal. Everybody's too nice and too expansive for that to work: our tour pauses a few times for a quick chat, sometimes with the people that my companion knows, once with a group of massively exuberant men in the Salon Rouge, who don't know us but indicate we could fix that if we'd care to join them. And yes, you could probably avoid all this charm and free-floating Christmas spirit – the rooms of Upstairs are labyrinthine enough that surely there'd always be a quiet corner somewhere – but that'd be missing the point. Even early on a weekday evening the club feels as expansive as the people, and despite a dinner reservation in the restaurant it's still hard to pry ourselves out.
Luckily the restaurant part of the venture is equally designed to cocoon you from the outside world, and possibly the outside century. Dim lighting, eclectic art, etched mirrors – L'Escargot is doing all the stereotypes, and doing them really well. The same's true of the food. Take the snails: they're so heavy with garlic that between two people and six snails we could hold back a whole teen-franchise's worth of vampires. I say this in praise of them, not in blame. My date has the artichoke soup and the lamb sweetbreads. I have the rump steak, served with a slab of bone marrow. Meat with a side of essence of meat. Everything is very simple, very rich and exactly as you'd expect it to be, without anything implying they're planning to redefine how London views the question of creamed artichokes or rump steak. No extreme flourishes, nothing very flashy. All the same things you can get in any French bistro. Just better than you can get them in most.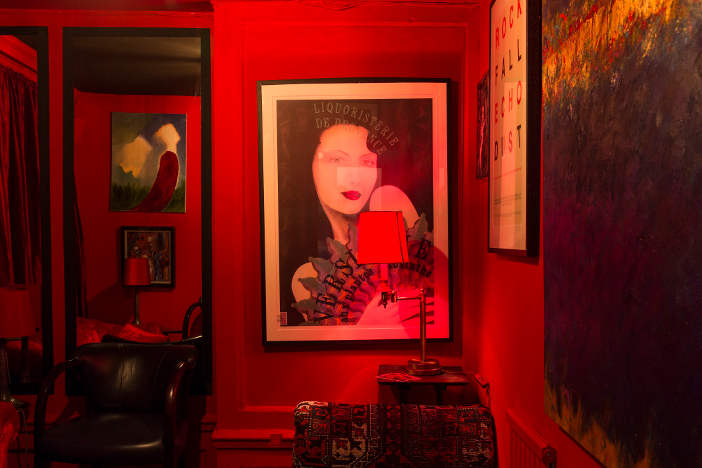 And there's something indefinably pleasing about very standard dishes, done very well. It's a feeling compounded by being in this dark red room, with only a bevelled window and a metre's distance – and the protective force of one thousand garlic cloves – between you and a wet Soho night. So although it's a been a while coming, maybe this decade will be the one that everyone learns to be enchanted by L'Escargot again.
L'Escargot, 48 Greek Street, London W1D 4EF. Tel: 020 7439 7474. Website.