On one side there's Mr Rizzo's hair grooming salon and a Subway; on the other, a model games shop, a shiny concrete office block housing the Orion publishing group, and The Ivy. In the middle sits Tredwell's, staring out obstinately across the road at the maddening monument to queuing that is Dishoom on St Martin's Lane, its snaking line second only to Five Guys for its ridiculousness in Covent Garden. This is the site Marcus Wareing has chosen for his new venture, Tredwell's. It's discreet from the outside – its attachment to the office block means that an exterior with even a hint of gaudiness would risk the restaurant looking like some kind of themed pub. Instead it's black and it's tasteful.
Inside we're welcomed warmly and led through the upstairs bar area – fairly quiet – toward the stairs leading down. I feel apprehensive about being dumped unceremoniously in the basement but the reality is quite the opposite – the handsome bar, busy with cocktail manufacture, gives way to a reasonably intimate monochrome dining hall, a world away from the tourist-strewn foot traffic outside.
Cocktails to start seem appropriate – the Cloak and Dagger (Patron XO coffee tequila, vermouth, chocolate) intrigues but as ever I'm pulled by an alcoholic tractor beam toward anything whisky-based, so I give the New Fashioned a spin. Rye whiskey and bitters but with marmalade for the syrup. My word, it's sweet, but intoxicating in the true sense of the word, and the sugar high it brings has me ready to order. My companion goes for the Coca Cado Detox – shorn of alcohol, this avocado/coconut water/cucumber/lime mix is tart and refreshing, clearing the palate in time for the first arrivals: chorizo jam and toast, and chilli chicken wings. The latter are piping hot and quickly dispatched but the chorizo jam makes me wonder why those two words aren't combined more often – chorizo! Jam! So simple. We check ourselves so as not to spoil what comes next and order a bottle of Torrontés Reserva from Argentina because we need something robust and punchy to offset all the meat and spice we've got coming.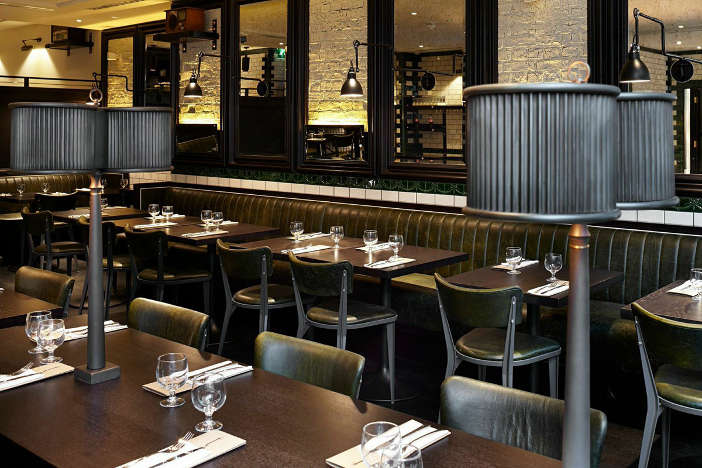 I start with harissa-glazed aubergine with peanuts, coriander and chilli. Being of the Ottolenghi school of aubergine appreciation, I'm thrilled before it even arrives and when it does things just get better. It's thoroughly blackened, sprinkled with nuts and absolutely delicious. Across the table, pumpkin soup has arrived in the shape of some viscous comfort food – thick, warming and hiding parcels of goats cheese. The only worry so far is that it might be too filling.
The mains arrive and my companion has chosen slow-cooked pork belly with nutmeg and apple sauce. The portion is deceptively large, and it's only when we're part-way through we realise that less gluttonous patrons might consider these to be sharing plates. There's none of that nonsense in our party though, and the layers of soft pork give way to yet more layers until I have to remind myself I've got a plate of my own over here. It contains lamb chops with minted green chutney. Wonderfully, there are three of them, again probably to facilitate sharing, though I don't really see it that way. The lamb is plenty rare and the green bean chutney hiding underneath is excellent. For sides we went with the kale slaw – for what is a meal in London these days without kale? – alongside the creamy mashed potato, served in a jar and drizzled with olive oil, and some exquisite broccoli. The latter is roughly grilled and sitting on a mixture of almond butter and anchovies, and it immediately renders redundant pretty much every other variant of broccoli I can think of. My companion disagrees, and it's worth mentioning that some of these comforting takes on meat and vegetables might be a bit much for some – adding nut butter and fish to your broccoli is a bit strange, after all. But my feeling is that Tredwell's wants to warm you on a cold night and pamper your palate, rather than delivering minimalist refinement and a clinical experience.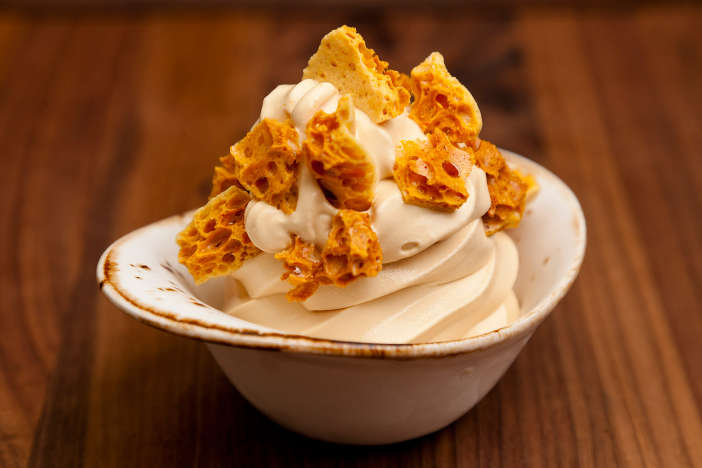 A testament to this is the length of the dessert menu. I count eleven. Bear in mind, there are only twelve mains. There's parfait, brownies, French toast, fudge – it's just not the kind of place where you skip dessert. My companion chooses the housemade salted caramel ice cream, which is devilishly salty and hides crunchy lumps of cinder toffee. I opt for the ginger cake, caramel and cream, and it's obscene, a warm syrupy vortex that culminates in a second sugar high to bookend the meal. We've reached capacity and take a few minutes to recline, finish the wine, and gather ourselves to get back up the stairs.
Outside, brave tourists are still queuing gamely to get to the gunpowder potatoes across the road. There's still a Subway on one side and an office block above me but I have a much better idea of what goes on downstairs – indulgence, high-end comfort food and sugar-induced euphoria. It's a fairly distinct offering and one that's certainly worth exploring.
Tredwell's, 4A Upper St Martin's Lane, London WC2H 9NY. Tel: 0203 764 0840. Website.