Saturday, the fifth and final day of Royal Ascot, used to be known as a dress down day – the very idea! Thankfully, however, since HM The Queen's Diamond Jubilee celebrations, which also lent its name to a new race, the day has reinstated the typical dress code and even weekenders can now enjoy the display of perfectly co-ordinated attire. Looking around, hats can undoubtedly hide a multitude of sins and it's amusing to note the effort made by all, with varying degrees of success.
For example, the majority of men (not 'gentlemen') are unaware that it is not strictly au fait to wear a black silk toppper in the height of summer and that the grey cloth version is in fact correct, as so beautifully illustrated by Cecil Beaton in the famous Ascot Gavotte scene in My Fair Lady. So a close confidant of the Royal Household informs me, the Duke of Edinburgh was unwisely bullied into wearing black silk by his dresser, having for years stuck to the traditional option. Not only is the grey cloth much cooler, but it prevents a chap resembling an undertaker carrying out his duties.
I don't go in for New Year resolutions, but I was determined that this was going to be the year I finally got to wear my beloved Peter Bettley hat, purchased from Fortnum & Mason a decade ago (showing my age). Reminiscent of the before-said Beaton film, this remarkable piece of craftsmanship resembled a pavlova worn at a jaunty angle and slathered in whipped cream, my face obscured with an ivory lace half veil. It was extremely dramatic, even preposterous you might say, but if you can't wear such a creation to Royal Ascot, then where can you?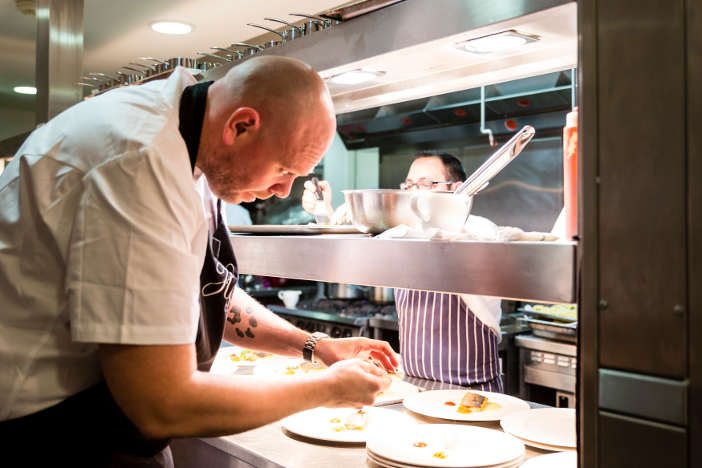 If you weren't lucky enough to be born into the aristocracy, or still haven't done enough social climbing to wangle 'sponsorship' into the inner echelons of this famous racecourse, fear not, you will be just as well off by opting for a fine dining package at the trackside On 5 restaurant, new for 2014. You may not meet HM The Queen, or, if you're a woman, have the chance to make a favourable impression on Prince Harry, but you will have a prime view of the day's sporting action from a spacious private terrace and be waited on hand and foot as if you were royalty – all whilst sipping free flowing champagne and enjoying a delicious 5 course luncheon and afternoon tea, prepared by the 2 Michelin-starred chef Tom Kerridge. I certainly wasn't complaining.
The experience of On 5 begins the moment you receive the smart ivory 'Royal Ascot' inscribed box in the post, in which you discover the official badges, a car parking pass, grandstand admission tickets and a brochure outlining the day's itinerary. The menu, however, is left an intriguing mystery, and it is testament to the Ascot experience and Kerridge's renown as a chef that people are willing to part with almost £1,000 a piece for a dining experience they can't read beforehand. My chap never dines anywhere without downloading the menu several days in advance, and I confess I eagerly followed tweets made by On 5 diners in the hope of satisfying our curiosity. Mentions of poached lobster and treacle-glazed fillet steak only built up the suspense and excitement – a kind of fine dining foreplay.
If you were going to place bets on the ingredients most diners would choose for their last meal, I fancy lobster and steak would be pretty short odds. Take Kerridge out of his Marlow public house, The Hand and Flowers (the only one in the world to have gained 2 Michelin stars), and he still knows exactly how to please a crowd. Comfort food elevated with the help of classical cooking techniques and exquisite presentation, it's no wonder he's more in demand than ever and was chosen as the chef to head up Ascot's new thoroughbred. The restaurant's innovative design is based on five craftsmen: the farrier, the trainer, the groom, the saddler and the jockey – and affords guests an insight into some of the most important people involved in bringing every race horse to the track.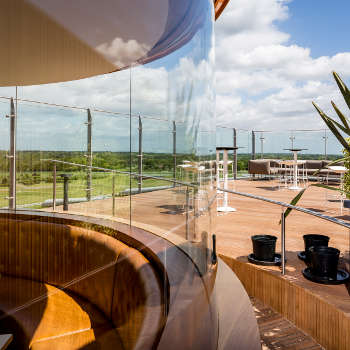 A champagne reception commenced the proceedings and gave the diners a chance to study form before a sumptuous lunch, timed to end just before the royal procession and the first race. The amuse bouche of Montgomery leek and potato croquette was melt-in-the-mouth and accompanied by a divine summer truffle mayonnaise; rich, woody and ever-so-sexy. This was followed by a refreshingly light first course of poached lobster salad featuring late season English asparagus with pickled cucumber and borage. Dainty, yet highly flavourful, it was a quiet interlude ahead of Kerridge's now famous treacle cured fillet of beef, Hand and Flowers chips, crispy onion rings and bernaise sauce. Not having any greens only made it feel naughtier and I was beginning to feel sorry for our Royal Enclosure counterparts having to miss out.
It was always going to be tough finding a dessert suitable to follow such a dish, but the lemon cream, lemon verbena, pistachios and meringue coupe was a particular high point of the meal and a zesty dream of textures and flavours. We skipped onto the terrace as cheers signalled HM The Queen's arrival, her polished coach glinting in the sunshine and leading the glorious spectacle that is the royal procession. We returned to our table to find a selection of cheeses followed by coffee and chocolates and were enjoying it all so much that we barely noticed the first race or losing our money – a theme that sums up the On 5 dining experience very well.
For more information and tickets to Royal Ascot 2015, visit the website.