As an unusually bright Tuesday lunchtime dawned, I was, in the words of Kate Bush, running up that hill. This wasn't desperately unusual in and of itself, but there were a few twists. The hill wasn't my usual residence in south-west London, but the glorious setting of the Scottish Highlands. We had been taken up to the summit by wheezing, six-wheeled machines that looked for all the world like giant mechanical caterpillars, and we were having 'a wee dram' of Glenlivet thrust into our expectant hands, there soon to join our expectant throats. There was a rumour that lobster was being served as an al fresco lunch. Was it all a dream?
Sometimes, I wonder whether things that I'm fairly sure happened to me ever did, or whether it was just a fantasy on my part, perhaps brought on by too many late evenings and too much fine whisky sipped in lavish surroundings. However, in the case of my Scottish jaunt – thankfully taking place a good deal before the independence referendum, so being English was merely an irritation to the locals, rather than potentially a source of anger – there was a clear reason why I was being disgorged north of the border. One of the leading whisky manufacturers, Glenlivet, was preparing to release a very special, very limited collection of 50-year old whiskies, dubbed 'the Winchester Collection' after their master distiller, the ebullient and near-ridiculously knowledgeable Alan Winchester. There was to be a tasting in the splendid environs of the Glenlivet distillery later that Tuesday. But I'm getting ahead of myself.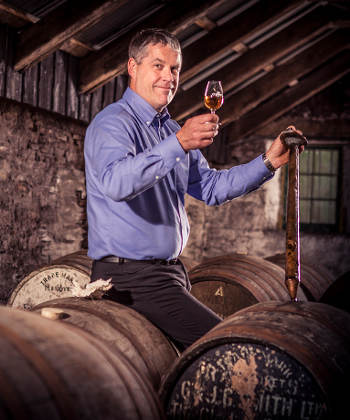 I, and a few other literary gentlemen, had been invited up to Scotland the previous day to see how the other half rolls, and so we were quartered in the appropriately baronial environs of Meldrum House, a lavishly appointed hotel a half-hour or so from Aberdeen. I was especially pleased that the room that I was put in had its own turret; a relatively small turret, admittedly, but big enough to enact my own Rapunzel/Rumpelstiltskin fantasies. The afternoon passed pleasantly; a well-administered massage relaxed me, and a walk round the hotel's palatial gardens and golf course energised me, before a memorable dinner, hosted by Glenlivet's charismatic and ebullient 'heritage director' Peter Prentice, and then an even more memorable sampling of the Glenlivet whisky range in none other than the hidden dovecote, which, lit by candles, proved a suitably offbeat and romantic setting for the discovery of some very fine single malts instead. There might have been some childish sniggering amongst the press corps when the phrase 'master blender' was misheard as 'master bender' – I cannot possibly comment if this was true or not.
The next day dawned bright and clear, without the threatened hangovers save for those who had over-indulged in the snug bar the night before, and the aforementioned hill trip took place, allowing panoramic views over the sweeping vistas of northern Scotland, which, for once, were unencumbered by clouds or rain. Then, after a delicious multi-course repast (accompanied by some grumblings by the more seasoned bon viveurs on the trip about the absence of wine), it was time for a trip round the Glenlivet distillery in the company of Winchester, which made looking at huge vats of liquid in complex machines about as enjoyable an experience as could be imagined. Then it was time for a tasting of the Winchester Collection 50 year old. It was sensational, as you'd expect – and hope, for a whisky that's going to be selling at a not-inconsiderable $25,000 a bottle. We also had a bonus tasting of the 1966 whisky, which will appear at some point in the next two years, and was a happy memory of a glorious victory in the World Cup. Probably for the last time.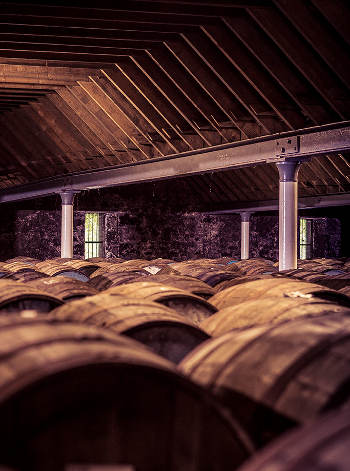 The fun was nearly over, but there was one spectacular treat left in store. We'd been advised to bring black tie, and it soon became clear why, when we were disported into the glorious surroundings of Fyvie Castle, where we were greeted by the ebullient Robert Lovie, property manager there, who moonlights in singing – rather well, in fact, so much so that he was chosen to sing the National Anthem at this year's Commonwealth Games. The evening proceeded in suitably High Scottish style – highlights included the presentation of the haggis (complete with Winchester declaiming a suitably theatrical ode to it) at dinner, a fascinating tour of the castle that revealed such oddities as an apparently ghostly inscription outside a window, and the sumptuous setting. Downton Abbey could most definitely eat its heart out.
At last, it was time to depart, although not before a good sing-along of Auld Lang Syne. And then the treat was over, with only an excellent bottle of Glenlivet 18 Year Old to take away as swag. One thing's for certain, however – the so-called 'water of life' gave a rare vigour to everyone for a hugely memorable couple of days.
Find out more about Glenlivet and the Winchester Collection at the website.