"Stirling, what's for dessert?" It was a question to which I had given precisely no thought whatsoever. Not one to only offer dinner guests five courses, however, I considered my options. "Let me go and check," I said, with the air of someone who had a patisserie chef sweating since dawn for our post-dinner delight. There wasn't much; some ageing grapes, a brown banana, and a small piece of cheese – okay, I'll admit it, it was a Dairylea slice and the chef was enjoying himself elsewhere that night, probably at Le Gavroche – things looked bleak.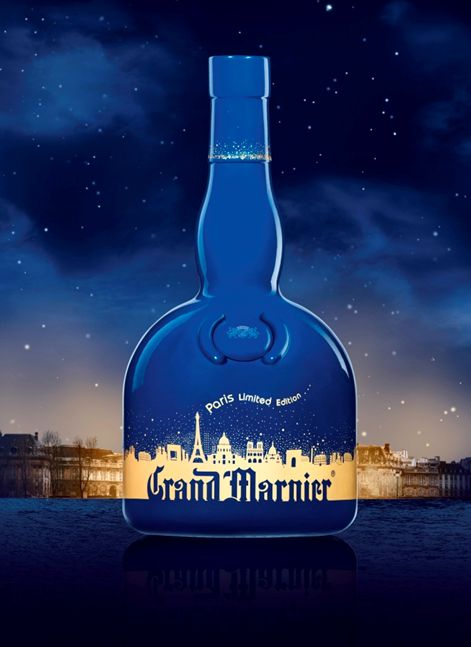 Then, winking at me from a far corner of the kitchen I saw it; a smokily-sheened, elegant-looking midnight blue bottle of Grand Marnier, their 'Paris' edition. My eyebrow raised, I might just be able to pull this off. I carried it in and presented it as if I was bringing out a Faberge egg for close, pre-auction inspection. My guests seemed suitably agreeable to the idea. We each poured a good slug then turned our attention to the Parisian prints that accompany this limited edition bottle.
Arriving just in time for Christmas, the bottle features designs that pay homage to the capital of fashion, luxury and savoir-vivre. Midnight blue lacquer overlaid with a gilded gold frieze outlines a stylised, star-filled Parisian skyline. The bottle is sitting nestled between the cutlery, candles and crystal and has now become a centre piece to the table, the pictures are strewn among the dinner detritus and discussions of who has been to which spot ensues. The midnight blue is appropriate as the time seems to have slipped away; carriages are called, drinks finished. Thank you, Grand Marnier, an evening saved.
The limited edition Paris bottle will be available at Harvey Nichols and specialist whisky retailers. Prices start from £25.99.