Charm, elegance & safe cracking; Stirling does well for a shabby rogue as he enters the fray at the launch of a new and extraordinary partnership…
My appearance was bordering on shambolic; tie better suited to a 1980s night club, stubble inappropriately leaning to 8 o'clock and the lack of polish on my brogues would have had any regimental Sergeant Major destroying my eardrums with words never to be repeated within these delicate and innocent pages.
These thoughts are foremost in my mind when my car pulled up outside the oasis of style, taste & design that is Linley – that and the note on the invitation stating 'Dress: Lounge suit'.  Security on the door gave me a brisk once over, asking with a hint of disdain if I was on the guest list, then admitting me only after stating I'd be 'checked in' once inside.  As if I needed reminding of my student-leaning attire.  My sartorial inelegance hit home even harder as I found myself in the company of finely cut, Saville Row adorned gentlemen and refined, precisely turned out ladies. Oh dear. Plan of action: take programme from host, extricate oneself to bar and review reason for being here.
And the reason? The release of the dearly awaited Bin 170 from wine masters, Penfolds.  I have a long history with this antipodean grape crafter. It was certainly the late 90's Mourvedre combinations that turned me onto red in my youth (yes, youth), and I soon became a very welcome guest at friends' houses when I arrived with a brace of fine, easy drinking, fruit laden drops when others were lumbered with cider.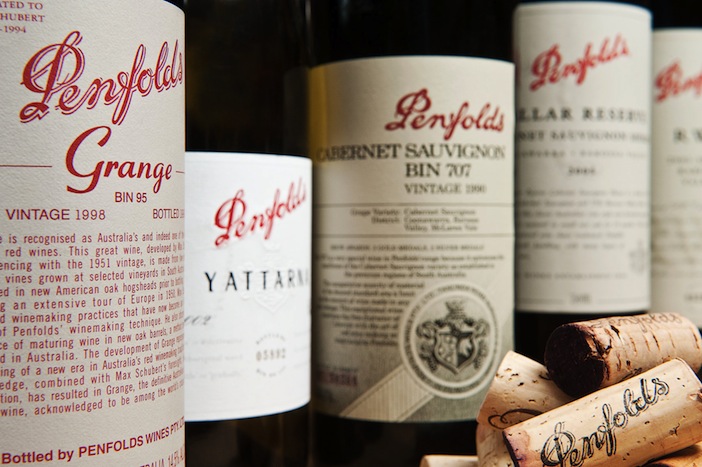 Time has moved on inexorably but, thankfully, my taste has not. I still drift towards the red signature label when browsing and look out for a bottle or two when I have free rein to spend some hard earned guineas. However, it was not only the wine on show this evening – of which several were being showcased – but the accompanying drama and elegance of the vault in which an imperial bottle of Penfold's Grange was being presented, then to be sold on in due course to an honoured, lucky six. Thus, Linley and Penfolds have melded their core skills to create something of majestic and opulent beauty, a pairing which would rival the romance of Romeo & Juliet or the work of Michelangelo with marble – possibly.
Pairing is not a new idea.  You can find celebrated chefs combining their favourite dishes with rare and delicate tipples, whisky is now presented along with cheese, a side of salt beef, even marshmallows. And rumour has it, love and marriage go together like a horse and carriage.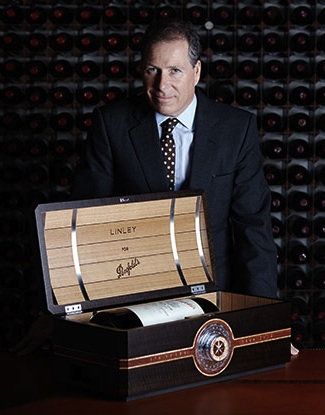 This artisan alliance between Penfolds and Linley and the expectation derived from it should understandably put expectations on the top shelf.   Does Bin 170 (a single block, single vineyard wine, sourced exclusively from old vines planted in the ancient soils of Block 3C of the Kalimna Vineyard) delve deeply into the long and honoured history of Penfolds keeping their tradition and love of balanced fruit and excellence in production? Does it, by Jove. Rich and complex, while maintaining the fruit throughout, it is indeed a delight to sip. Am I blessed with a palate able to discern the minute and delicate notes? Probably not, but savouring it slowly was a joy and I would relish doing so again.
And what of the case that holds the bottle? Crafted with a combination of English oak from the birthplace of Penfolds founder Dr Christopher Rawson Penfold and fumed eucalyptus reflecting his new home, Australia, it is striking and gallant. The opening is a moment to behold. First you must crack a combination lock of exquisite design – I revert to previous life as cat burglar. You set the precious jade inset dial marked with intricate detail and precision engraving to the longitude and latitude coordinates of Magill Estate to open the case. And, no, I shall not reveal that secret here.  What I shall mention, in passing, is the price tag. The bespoke case with an imperial bottle of 2010 Penfolds Bin 170 Kalimna Shiraz will set you back in excess of £30,000. Perhaps those safe cracking skills you need to open it will be employed prior to purchase?
Both wine and case are of the highest order. Combined they become greater than the sum of their parts, a binary Gestalt of wood and wine, an objet d'art that delights taste, touch and sight.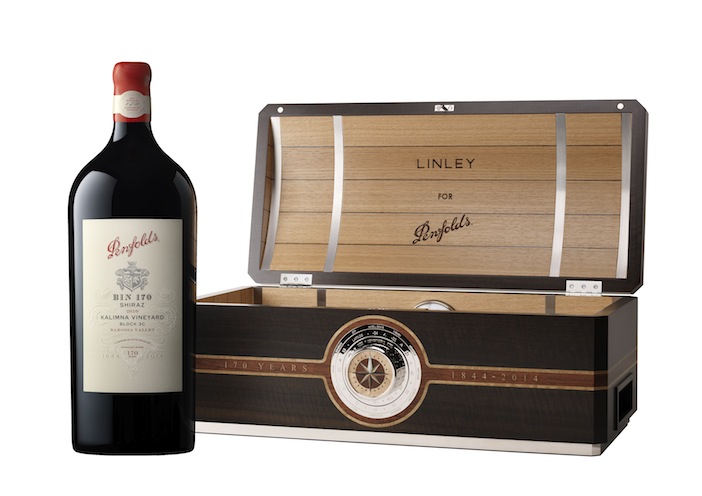 As I continued to stroll around Linley and marvel at the wondrous work on display while sipping Penfolds I note another drink/case pairing, and it catches my eye. The Tantalus! Now, I wondered, how will this delight me? I'll go home and put on my suit while I consider this important question.
For more information about Penfolds and the incomparable Bin 170, visit the website. Similarly, for more information about Linley and their exquisite craftsmanship, visit the website.