It was like a scene from It's A Wonderful Life. My sister and I journeyed to The Dorchester by bus. We asked the driver which would be the nearest stop to use. He then proceeded to completely buck all my opinions about London bus drivers by stopping the bus IN BETWEEN STOPS on Park Lane so that we could get off right outside our prestigious destination. Only The Dorchester, we mused, could provoke such benevolence. And so it was with light hearts, good cheer and happy feet that we passed the obligatory supercar parked outside and entered the legendary hotel. Venturing further within we took up a comfortable corner in The Bar.
It's not underground but it feels akin to a cosy cavern with the red glass stalagmite features following the contours of the banquettes and alcoves, and the aubergine and black colour scheme. Even the ceiling is delicately lit as though studded with small stars, and subject to moving reflections throughout the evening. The mirrored wall behind the bar illuminates the comprehensive array of spirits and allows me to subtly check out the other clientele who vary from the besuited business folk to more casual tourists.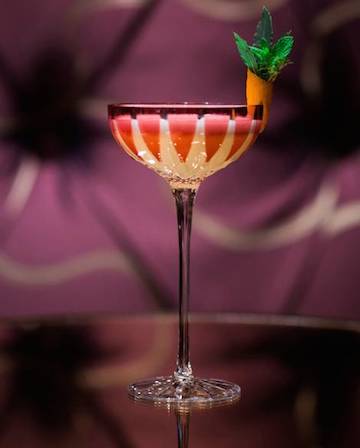 For as much as you are made to feel comfortable at The Bar, it is inherently luxurious without being pompous; from the bespoke glasses, including one drink served in a hollowed out butternut squash, to the divine canapes. Even the art deco font on the coasters allowed me to pretend I was a glamorous extra from a Miss Marple drama from another era.
The staff are unfailingly attentive, knowledgeable and friendly to boot. Simon, the Assistant Bar Manager, has worked there for a hugely impressive 30 years, a fact belied only by his expertise rather than his looks. Not once did he allow me to reach the bottom of my glass, and was able to provide a wise steer on the drinks menu which caters for everyone. The famous bar manager, Giuliano Morandin was not there when we visited but by all accounts he is a cocktail wizard, able to conjure up something to delight any palate. I'm planning to go again to test this notion. Is it easy on the wallet? Not exactly, but there's plenty of other bars in London charging similar prices without any of the opulence or delights of The Bar. If you're going to spend the money, spend it here and treat yourself to a luxurious evening with exquisite drinks.
The Bar at The Dorchester hotel can be found at 53 Park Lane, Mayfair, London W1K 1QA. For more information, visit the website.