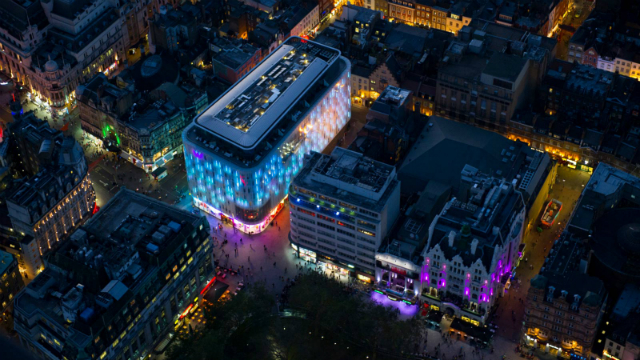 The Men's cocktail has been designed and, in this case, crafted and served by Eric (or 'Pep' as he is known to his colleagues). The head barman of the Wyld Bar & W Lounge at the W Hotel in London's Leicester Square created this palate-pleaser for the 'London Collections: Men's Event', evidently to help those who had spent the best part of their waking day purchasing new rags to relax. The hotel sits on the original site of the Swiss Centre and you will remember, possibly with fondness, the delight of the regular ringing of the bells combined with the little people popping out to say 'Gruezi'. Well, you can kiss that nostalgic, chocolate cuckoo clock nonsense goodbye and say hello to its sleek and, dare I say, sexy replacement – the aforementioned W Hotel.
If you are still carrying a Filofax and have no idea what Google Maps might be then do not concern yourself with walking past without noticing it.  The 10 foot tall W situated outside the entrance on Wardour Street gives you a little clue, but then if you crane your neck back a little, then a little more, and probably some more just for good measure, you'll notice the imposing, geometrically wonderful, round-cornered iceberg that is the hotel. Nip around the corner into the square and crick your neck back and to the left and you will be looking into the windows of the Wyld Bar…so why not join me inside? Pep is standing there mixing a drink. He's a charming chap but his charm isn't what I'm here for, albeit it's a bonus (along with his cheeky grin). No, it's the combination of Talisker (Jack has also been used) and Grand Marnier. These two ingredients form the basis of the 'The Big Smoke', and a story I once heard from a friend returning from a skiing trip in Chamonix which went thus;
"We'd been off piste for about two hours; the sun was getting low and we were probably a little lost. From out of nowhere a chap appeared, waving in a cordial and rather gregarious way. We said hello, talked about where we might be, the fast dipping of the sun and how to get home. Without further ado he pulled out the largest hipflask we had ever seen – it must have held a pint at the very least – and said 'this will blow the snow out of your ears and keep ye warm til ye get back home'. The flask was unscrewed and passed around; we all took a large mouthful, our Gaelic friend an even larger one. Our cockles were instantly warmed and the way home was suddenly clear as day. 'What's in that?' I asked, unsure as to what wonder I'd just consumed, 'Peaty whiskey and orange liquor' he answered, winked, took another swig and was off down the slope."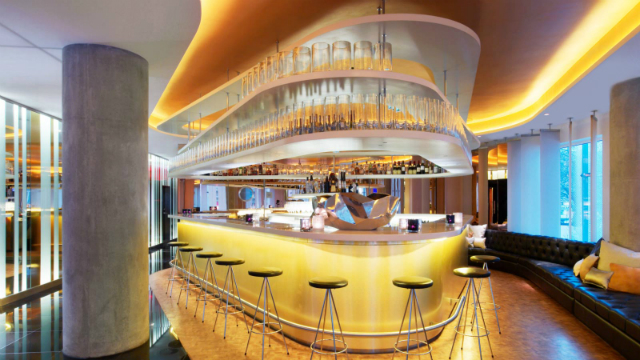 So from the snowy slopes of the French Alps to Cosmopolitan chic of London this particular combination of booze travels well. This was designed for 'London Collections: Men', so what the hell am I doing talking about it now? You can enjoy this drink at any time, and you certainly don't need an armful of shopping bags and the look of a man possessed to admire the balance of sweet and smoke. Neither do you need to be stranded up a mountain with a well-rationed Scotsman. Drink at your leisure, but be prepared to find your own way home, especially if Pep breaks out his Dirty Mai Tai, but that's another story.
'The Big Smoke' cocktail:
50ml Talisker or Jack Daniels Whisky
20ml Grand Marnier Liquor
Dashes of Angostura & Orange Bitters
Rock glass
Orange peel
Harangued look of professional shopper optional
For more information, booking details and a full breakdown of Pep's repertoire, visit the W's website.