Once more into the breach with the Lennon and McCartney of highland whisky, Dr. Bill Lumsden and Brendan McCarron (they can fight about who's who). They are Glenmorangie's Director of Distilling, Whisky Creation & Whisky Stocks and Head of Maturing Whisky Stocks respectively. You may remember them from such palette-shaking booze experiences as the 1989 Glenmorangie Grand Vintage, and the Private Edition no. 9 ('Spios'). Well, if there's one thing Dr Bill really knows about, it's … well, it's whisky, but if there's ANOTHER thing Dr Bill really knows about, it's yeast. The man has a PhD in microbial physiology and fermentation science, for god's sake. What else would drive a man to cultivate his own yeast?
Yeast is the differentiator behind this, the 10th of Glenmorangie's private editions. These are limited bottlings crafted from the behind-closed-doors experiments that have taken place up in Ross-shire for the past couple of decades. Spios was about spice, with smooth, sweet Glenmorangie mixing with brash rye barrels to arrestng effect. But for number 10, the yeast doctor snared some Cadboll barley in the fields, had it analysed, isolated an as-yet unidentified strand called Saccharomyces diaemath, and had it cultivated in a lab.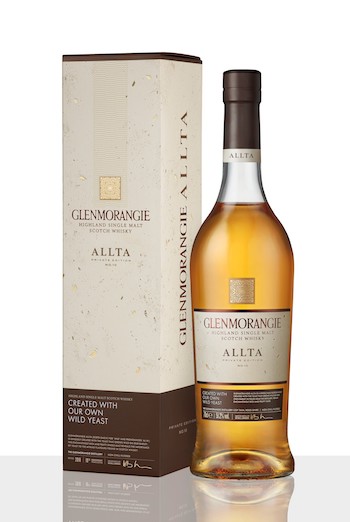 He then exposed the Cadboll barley to the Saccharomyces diaemath in the distillation process, creating what you might call a 'yeast infection', and stuck it in second-fill ex-bourbon casks. To really push things over the edge he eventually bottled it, non-chill filtered, at a decidedly un-Glenmorangie-like 51.2%. The whisky he created is called 'Allta' (meaning wild) and the only conclusion it seems sensible to reach after this mystifying series of choices is that the man is quite, quite mad.
Au contraire. Because here I am in east London, sitting under a massive hanging canopy of barley, raising a glass to my lips and supping it down. Yeast, bourbon, wood, barley, madness – there's something for everyone in the ingredients list, but when it comes to the tasting, Allta is remarkably singular: after a massive nose, it's delicate, fruity, creamy, and muscular in the finish. The good folks at Glenmorangie have constructed a giant playpen filled with Scottish bric a brac for the whisky writers, dotted around which are Private Editions 1 to 9, so we can compare this little number with its predecessors. It's like an escape room but with hugely flawed incentives, as you never want to leave (it's snowing outside anyway).
Joking aside this was high-risk experiment to have undertaken; growing your own yeast is hard, time-consuming and expensive, and it pushes down the yield from the barrels too. But the effect it has on taste is undeniable, and there's also no doubt that it's opened up a new front in Glenmorangie's ability to experiment with flavour, without altering the price point too dramatically. It feels like the Private Editions have the ingenuity to run for another 20 years but where do you go after growing your own yeast? I have no doubt that this time next year I'll be scratching my head all over again, wondering how they surprised us all with another winner.
Glenmorangie Allta is available now from department stores and specialist whisky shops, priced at £79. For more information, including details of other limited edition expressions, visit www.glenmorangie.com.