Sophisticated cider. To the uninformed, this might sound like a contradiction in terms. And indeed, one of my earliest pub memories is of sitting in a West-Country boozer, watching a red-faced punter saunter up to the bar, empty pint glass in hand, and bark, 'Cider me right up, Landlord!'
But cider has been enjoying a well-deserved rehabilitation of late – I'm partial to a glass of the sweet stuff myself – so it was with some enthusiasm that I accepted an invitation to spend a few days at the Château de Sassy, a French stately home where none other than the Queen of England has stayed whilst looking to acquire some new horses.
'Cider me right up, then,' I murmured as I started to pack, wondering if I ought to smarten myself up with a haircut.
After flying from the surprisingly agreeable London Southend to Caen in Normandy, I was met at the airport by the co-founders of 'Maison Sassy', Pierre-Emmanuel Racine-Jourden and Xavier d'Audiffret Pasquier. The two have been friends since they met aged three at primary school. The former grew up in the local village, whilst the latter's family owns the château which dominates this part of Normandy, the Château de Sassy. The château has always produced a small batch of cider and calvados for private consumption, and every September, the young Xavier and Pierre-Emmanuel would join in the apple harvest. The experience clearly made a profound impression upon them, as when they decided to go into business together in 2014, it was cider-making they had in mind.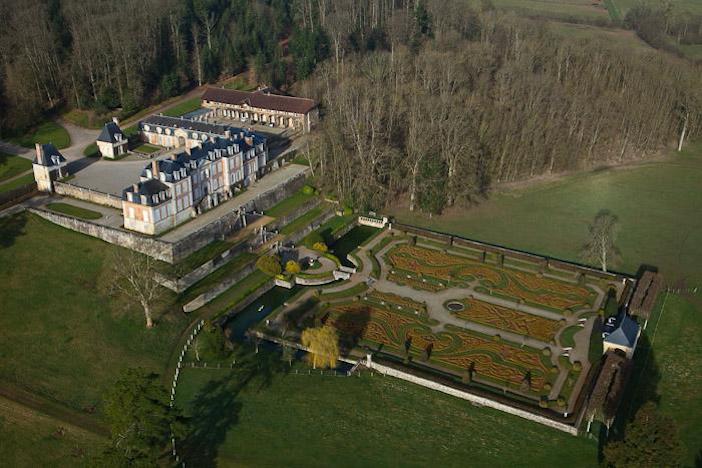 Both were in their late twenties, with successful careers in finance, and the idea of chucking it all in to begin again as 'cidriers' seemed a little rash.
'Our friends thought we were mad,' Xavier discloses in a gently accented English. 'Who on earth drinks cider? Even in Normandy, we have it maybe twice a year, at Epiphany and Mardi Gras.'
'But we knew we could do something different,' Pierre-Emmanuel throws in. 'Our goal was to change the perception of cider. It's considered a low-quality product, but we believe it's possible to make a super high-quality drink at a reasonable price.'
We drive through the village of Saint-Christophe-le-Jajolet, and I catch my first sight of the Château de Sassy rising majestically on the brow of a hill, its wide, imposing façade calling to mind a scaled-down Versailles, an impression strengthened by the close-clipped parterres de broderie extending below the house.
'The formal French gardens were added by my great-grandfather,' Xavier explains. 'They were designed by Achille Duchêne, who was a disciple of Le Nôtre, the creator of the gardens at Versailles.'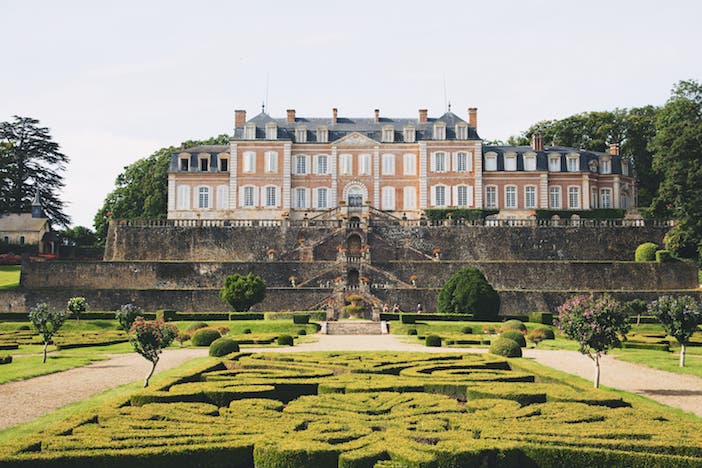 Along with various aunts, uncles and cousins, Xavier grew up in a house on the grounds of the estate, whilst his grandparents occupied the château itself. His grandmother, the Duchess d'Audiffret Pasquier, is still in situ, and as we pull into the courtyard, she emerges from the house to greet us, a spritely 95, terrier at her heel and a no-nonsense look in her eye.
I'm shown to my room, and am just considering a quick look around the magnificent château when Pierre-Emmanuel knocks at the door. 'Time to see where we make the cider,' he says, so I follow him out into the grounds and down a long shady hunting allée, before cutting through some oak woods and into a stable yard.
'This is where Queen Elizabeth came in 1967 to view our horses,' Xavier tells me as he throws open the doors. 'Things are a little different now.'
The cider-making equipment is state-of-the-art. A conveyor belt carries the apples into a stainless-steel rinsing basin, then up into a crusher, which sprays the apple-pulp down into the pneumatic press. This precision-tooled machine was designed for use with Champagne grapes, and it lends the cider its crisp, fresh taste. The juice is fermented in gleaming tanks in the next-door stable, before being transferred into a second set of tanks, where clarification takes place before the cider is bottled.
It's not yet harvest season, but Maison Sassy's Cellar Master, Fernand Fourier, is on hand with a pallet of local apples, so that we can see the machinery in action. Fernand cranks it up, and moments later presents me with a cup of cloudy apple juice.
'If you think that tastes good,' Pierre-Emmanuel says, 'imagine what the cider's like!'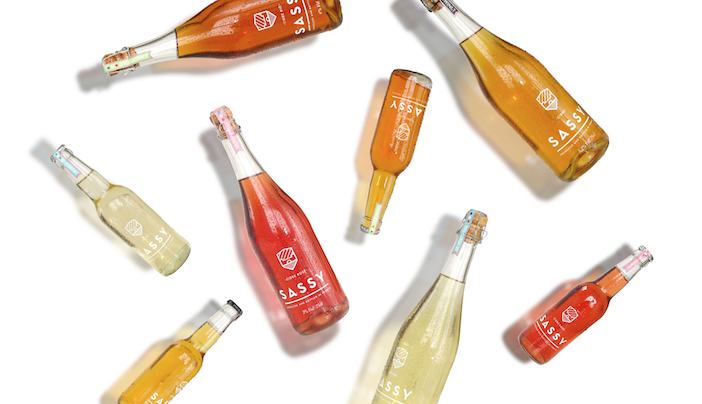 Our next stop is the orchard. Or one of the orchards: the château comprises 800 hectares of land, 13 of which have been set aside for fruit. The first orchard we visit is the newest. Each tree here has been given ample space to thrive, every trunk supported by a wooden stake.
'The saplings need space and stability for their roots to develop,' Xavier explains. 'And we keep our own beehives to maximise cross-pollination.'
Passing a dog-kennel housing some 45 baying boarhounds, we reach the oldest orchard, its gnarled, 80-year-old trees frothing with apple blossom. A small herd of sheep graze around the bases of the trunks. 'If we keep the grass short,' Pierre-Emmanuel tells me, 'the windfall apples are less likely to rot.'
Creating a modern cider, it seems, involves meshing traditional techniques with cutting-edge innovation.
By now, I'm thirsting to taste the finished article, and thankfully it's time to return to the château for evening drinks. We foregather in one of the less formal salons to sample the full Sassy range. There's the classic Brut – a delicious golden-brown cider, clean and crisp, sweet but not too sweet. Then the rosé, its glorious blushing colour issuing from the naturally pink flesh of the Geneva apples from which it's made, with a hint of toffee in the aftertaste. Next comes the poiré – 'Our Norman champagne', Pierre-Emmanuel says – incredibly delicate and, at only 2.5% proof, drinkable in almost unlimited quantities ('You can even have it for breakfast,' Xavier suggests with a grin).
It's clear now why Sassy cider is already sold in 15 countries worldwide. Pierre-Emmanuel oversees the French side of the business, whilst Xavier, who lives in London, takes care of UK operations, and is currently organising a pop-up Sassy cocktail bar for the Dalston Roof Park.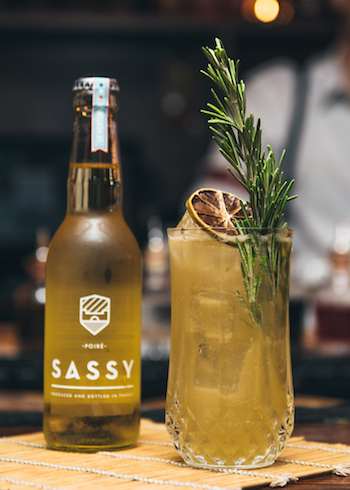 We proceed through to dinner, where I learn how well the various ciders team with rich, Norman cuisine. The walls of the dining-room are hung with huge oil paintings of dogs bringing down wild boar, and seeing them in conjunction with the modern, sleekly designed cider bottles on the table seems to sum up the essence of Maison Sassy – tradition revitalised by innovation.
I sleep well that night, and awaken with no hint of a hangover. Before my departure, I take a tour of the house, visiting the rooms which are open for public visits. Though some parts of the château date from the 17thcentury, it was almost completely rebuilt in the 18th, and the majority of its treasures were collected by Xavier's ancestor, Étienne-Denis Pasquier, a prominent French politician who acquired the estate in 1850.
Pasquier was known as 'L'Inévitable', as he managed to survive every change in regime that was thrown at him, and lived happily at Sassy until the ripe old age of 95, before being felled by an indigestible pear sorbet.
The last room we visit is the beautiful library, its walls stacked from floor to ceiling with over 30,000 leather-bound tomes, three deep to the shelf, with a wooden staircase leading up to a balcony which gives access to the highest books. What a joy it must have been to sit here, I think, and read the fables of La Fontaine or the maxims of La Rochefoucauld. The only thing that would have been missing? A glass of 21stcentury, Maison Sassy cider.
For more information about Sassy Cider, including where to purchase it, please visit www.maison-sassy.com.