Whenever I think of whistling, I think of Pinocchio. You know the song. But there's a very different type of whistling going on in a backstreet in London's trendy Shoreditch, evoking the tastes, smells and atmosphere of an era gone by. And there are no little men with long noses in sight (well, there were a few bankers mingling in among the East London hipsters, come to think of it).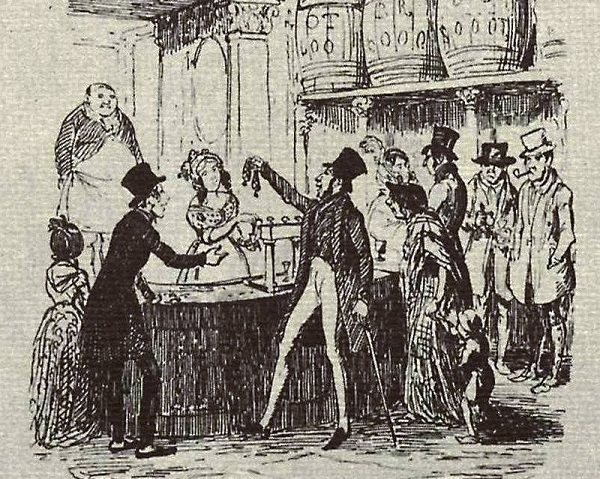 If you haven't yet experienced the Worship Street Whistling Shop, you should. And no, it's not actually a shop, and you don't need to be good at whistling. But you do need to like gin, which is where I come in. The WSWS is marketed as "combining Victorian squalor with the elegance of grand gin palaces". It's also got that 'speakeasy' feel to it, a term the New York Times described in 2009 as "representing one of the strangest exercises in nostalgia ever to grip the public, an infatuation with the good old days of Prohibition".
The speakeasy craze is still going strong in 2012, but the WSWS prefers to position itself among the "experimental Victorian revivalists" bringing back 18th and 19th century drinking practices. Like a speakeasy, however, the WSWS follows the trend in being hidden away in a candle- and lamp-lit basement, where flames flicker in the darkness, creating shadows that dance across the deliberately aged wood and glass panelling. This is definitely a little gem you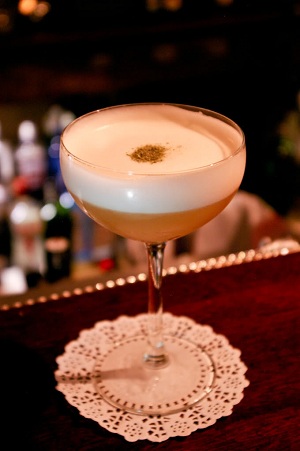 stumble across after one too many gins elsewhere…
If you like to indulge in Victorian-esque foodie fare, then pork cheeks, oysters (from the Whistling Shop's own farm in Loch Creran), pork pies (which come in size XXL), traditional fish and chips and platters of cured and smoked fish will please your eyes and tummy. For that mad scientist-meets-Heston-Blumenthal touch, there's even magic mushroom soup and liquid nitrogen popcorn — try eating it without laughing as the smoke oozes from it. I failed.
Now back to the booze, and if you're a cocktail connoisseur, you'll love the theatrical offerings created by the highly skilled bartender-chemists who make mind-blowing concoctions in the laboratory, from the Jagertee (rum infused with tea), the Jailbait Cocktail (whisky, salt-and-pepper bitters and sugar dust), and the Panacea (whiskey sour with lavender, honey and sage dust; pictured). The prices reflect the detail and work that goes into each glass, but I would pay over and over again for the best Martini in London (no really): the Black Cat's Martini — a mix of gin, dry vermouth and 'removed cream' (distilling cream in gin at low pressure and using the distillate). And there's no freezer involved. Do you hear that, Duke's Bar?!
If you're more partial to a glass of fizz, then ye olde English theme continues with two fine sparkling wines produced in the UK: Chapel Down from Kent and the Sussex Nyetimber.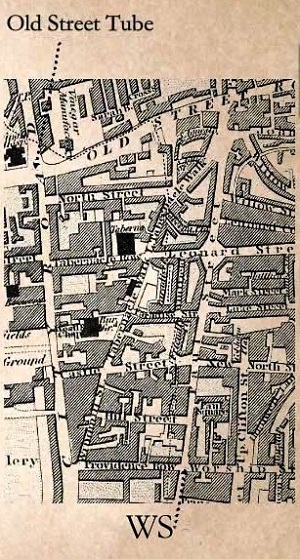 British bubbles — ruddy marvellous!
My favourite experience was the 'dram shop' though, where you're given a key and shown to a private bar where you're encouraged to explore and taste the finest gins ever produced. Go in twos; that way one of you can help the other one back to your table… Ahem.
The Worship Street Whistling Shop is probably as close as it comes to experiencing the ambience of Victorian London, right down to the Dickensian-styled waiters who serve you clad in waistcoats and braces with decorative pocket watches. King George and Queen Victoria even greet you on the cover of the menu. The vibe is magical, and don't be surprised if after a visit to the dram shop, you think you've spotted Charles Dickens tucked away in a corner with his quill in hand. Or two of him, like I did.
Worship Street Whistling Shop, 63 Worship Street, London, EC2A 2DU. Tel. 020 7247 0015. Website.