Marcus Wareing's newly refurbished flagship restaurant 'Marcus', located at The Berkeley Hotel in Knightsbridge, has launched a new five course seasonal lunch menu 'A Taste of Autumn' to entice anyone into hibernation for a couple of hours to enjoy a unique dining experience. Marcus celebrates the best of the season by imparting his trademark technical precision with a genius for balancing woody, smoky, hearty and earthy notes which conjure images of bonfires and misty woodland walks. Not even Keats summed up autumn this well.
Our amuse featured the silkiest of pumpkin veloutés, partnered with artichoke and the king of autumnal festivities, the chestnut. This was followed by tender pieces of wigeon (a rarely observed bird on restaurant menus) lying abreast an earthy yet unctuous bulgar wheat risotto, heady with garlic and pine nuts, and topped with a contrasting pickled red cabbage salsa and shavings of perhaps the woodiest and most indulgent of ingredients – black truffle.
A Maldon cured smoked salmon was contrasted with the warmth of horseradish and the earthiness of beetroot. Besides being partnered with three exceptional wines, every course is imaginatively constructed; from successfully heightening the intensity of each ingredient and ensuring a myriad of textures, to quirky presentation on themed crockery including a hollowed out tree trunk and a plate reminiscent of a snail's shell.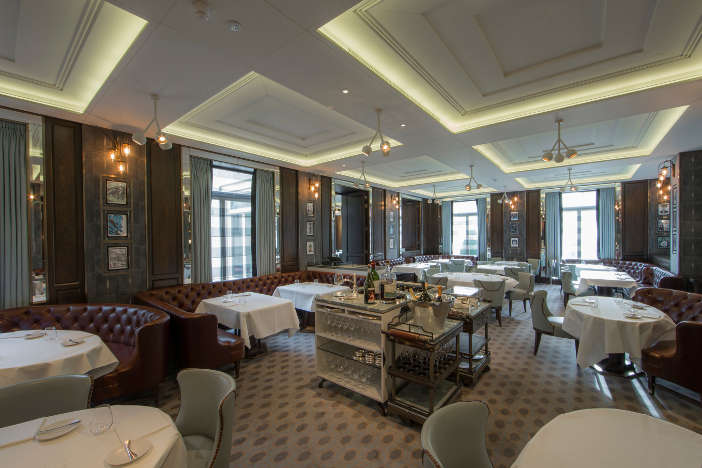 Over just one lunchtime, the diner is taken on an evocative culinary journey through the noble English countryside. The main of bacon collar, split pea and parsley purée enveloped one as snugly as a warm blanket, and boasted the most sophisticated dumplings ever seen – hearty yet somehow light at the same time – again reminding one of the calibre of cuisine being showcased at this restaurant. My guest's Herdwick lamb main was accompanied by soft polenta, ceps and an enlivening hint of lemon.
Chestnut bread and cherry and walnut chutney accompanied the cheese course, followed by Marcus's signature custard and nutmeg as a pre-dessert. Far from being the 'mellow fruitfulness' of the famous poem, the tropical pineapple dessert, paired with a delicious Austrian Muscat, may seem like a surprising finale when most chefs would have dusted off their clichéd apple tarte tatin recipe, but here cleverly awoke the palate from the cosiness of autumn and lured one into fantasising about warmer days on the horizon. This is one lunchtime experience not to be missed.
'A Taste of Autumn' at Marcus includes 5 courses with 3 wines to match and mineral water, plus tea or coffee and chocolates to take home for £75 (£49 without wine). For more information and reservations visit the website.