Stirling takes on an Olympic gold medalist and a stunt women in his latest escapade at the highly-appointed exclusive fitness and well-being club, Equinox.
You wouldn't know it was there; not my physical prowess – although feel free to question it at any point – I'm talking about Equinox.  The exclusive fitness and well-being club in London has a very discreet entrance just around the corner from High Street Kensington tube station, a quick zip up the elevator and you are presented to the boutique, hotel-esque reception which in turn opens into the gym itself.  Although, it's not really a gym, it's a highly-appointed, luxurious pain and sweat emporium.  I'm no stranger to either, the gout always plays up at this time of year and the last mistress I had was a boxer by the name of 'Big Derek'. Ouch.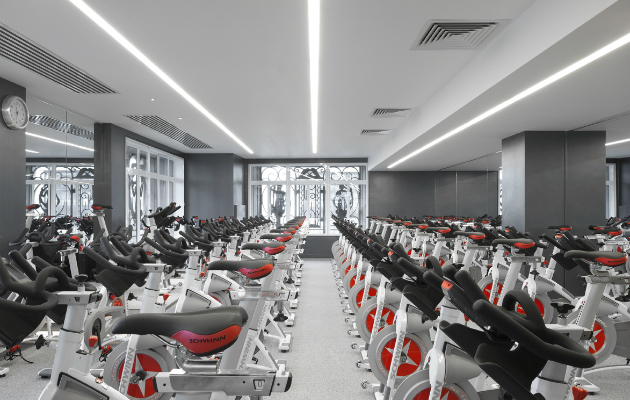 But this evening I've traded up for a different level of pain – lurking in an Ibiza-club-music-blasting spin studio, probably in a darkened corner, were the intimidating pair of Daz Parker, stunt women and triathlete extraordinaire, and Olympic gold medallist, Geraint Thomas – you know, that chap who won gold in the 2012 Olympics on a bike.  I'm sure this spin class will be a breeze.
Struggling to set up the spin machine for what felt like an age, and somehow being seated directly in front of the assassin like gaze of Daz and the far too toned legs of Geraint left me stiffening my upper lip and standing by for serious action.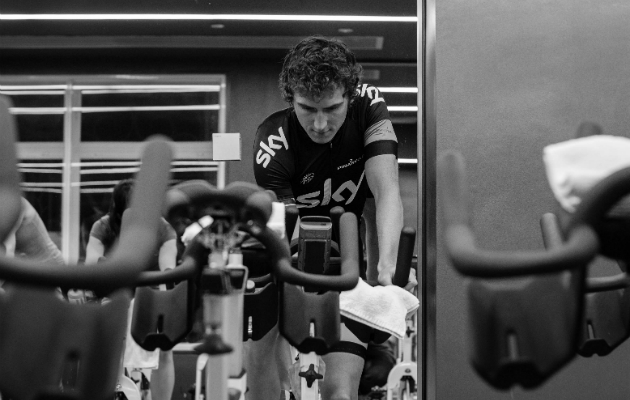 A quick warm up was followed by 'The Watt test'.  A test designed by sports scientists to exact pain and suffering on the unsuspecting while pouring ridicule and disdain upon the less than fit, it might only be 60 seconds of maximum power, but by God you feel it. Geraint managed to beat everyone without breaking a sweat, where as I was left looking like Alec Guinness in a particularly nasty scene from A Bridge over the River Kwai.
Then the class proper – another 30 minutes of steady pace interspersed with sprints and increased resistance on the brake. When the full time whistle blew all faces were red, all bodies hot.  It might have been tough but something inside me stirred, that competitive edge, the 'I have you now' feeling that Lord Vader gets every time he is picking rebel scum off in a dog fight.  If I'm going to beat Larry in our next triathlon, more pain, more demanding Watt tests and a good amount of time in the saddle will be required – I liked this idea a little too much.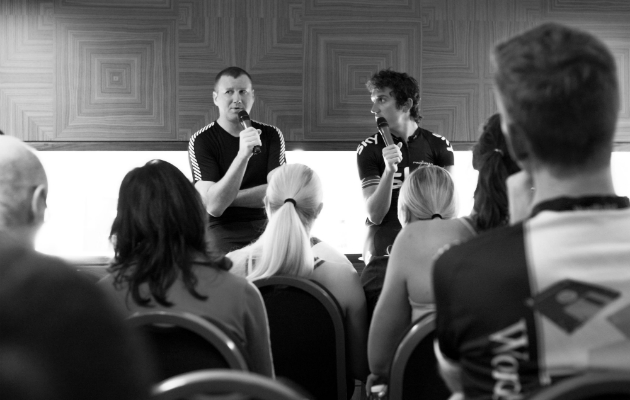 Class over we wobble to the Juicery for a Q&A with Geraint; a lovely chap, who enjoys nothing more than cycling – other than his two weeks off a year when he heads home to party hard with his mates. I recovered my breath long enough to ask what the best option for time poor people would be when training.  His advice, it turns out, is having a laugh and enjoying your time, it's as important as taking Daz's class on a regular basis and 100 mile rides.  That doesn't sound too bad, does it?
The good news? I didn't leave the club beetroot red, nor a hair's breadth from cardiac arrest and in need of a hyperbaric chamber.  The bad news – I decided I could do with a little more of this exclusive brand of fitness and volunteered to go through what I have dubbed '5 days of extreme'.  Five days in a row of the toughest classes that Equinox has to offer.  If I survive you can read about it here in the coming weeks.
Equinox fitness and wellbeing club is found on 99 Kensington High Street, London, W85SA.  Arrange a visit by calling 0207 666 6000 or visiting the  website.